During corona, a British holiday let company with time to spare ran a study to find the most peaceful place in Britain.
"We spent time thinking about what peace and quiet really means: being away from towns and cities, having minimal human contact, staying in low-traffic areas, plenty of surrounding nature, large expanses of countryside, and big skies," say Cottages in Northumberland. Breaking down Britain by counties, council districts and regions, and gathering data on population density, national parks, and Dark Sky regions (amongst countless other criteria), they came up with the Britain's most peaceful place: Powys.
Whether you're lucky enough to live there (and only 120,000 do, at a rate of 26 per square kilometre) or just a visitor, this Welsh county is certainly a beautiful place to be. Very safe, and sparsely populated (Newton, the region's largest town, just about tops 10,000 residents!), Powys is known for its rugged mountains, fertile river valleys, mystical woods, abundant waterfalls, extensive cave systems, and ancient castles. And it's the site of the World Bog Snorkelling Championships – held every August in the Waen Rhydd peat bog – and boasts the most Dark Sky sites (perfect for star-gazing) in Britain!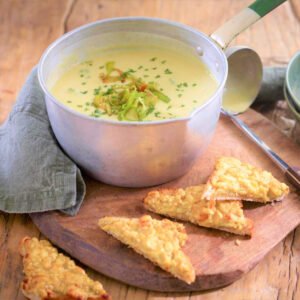 It's also home to any number of award-wining restaurants, which trade on the surfeit of tasty local produce to create incredible meals. But the true foods of Powys aren't created in Michelin-starred establishments. Instead, they're ancient, hearty, dishes designed to keep a hungry Welshman (or woman) strong and healthy!
For time out of mind, Powys has been lauded for both its cereal crops and livestock. Unlike the coastal regions, where shellfish was once the dietary staple, the people of Powys traditionally relied on simple breads – such as bara gwenith (wholemeal bread) – and the ever-popular trelennod blawd ceirch (oatmeal dumplings).
Soups have also been popular through the ages, and include the ubiquitous cawl cennin, a concoction of Welsh leeks and potatoes with a good dollop of cream and a sprig of mint; cheese soup, which mixes fresh local cheese with cornflour, milk, and parsley; and the traditional summer broth, consisting of cubes of Welsh lamb mixed with peas, beans, carrots, onion, turnip and cauliflower.
Along with mutton, goose, ham, and beef have also long appeared on the local menu. Gwydd is a traditional Powys recipe that calls for one large goose stuffed with sage, apple, onion, and liver, served with a spiced apple sauce. Ham cooked in cider (served with a glaze of honey, sugar, mustard and spice) is another age-old dish. And spiced beef (buried in an earthenware dish for 10 days, and salted every 24 hours before being roasted till it's melt-in-the-mouth tender) is a recipe that's been a favourite since the Middle Ages!
In Powys, good food has always been important. And so has good drink – such as a refreshing mug of home-made dandelion beer or elderflower lemonade, enjoyed of a long summer evening in the most peaceful place in Britain… Now that's the dream!