Living in Cyprus does not mean you can't feel like a tourist if you so wish. My staycation took me to the east coast of the island and the beautiful beaches of Protaras. Where going out to eat can be mind boggling. How do all those restaurants stay open? Someone at the hotel had told us about a place off the main tourist strip called Nameless so to save time thinking about where to eat, we decided to give it a go.
Nameless is along Cape Greco avenue, so not too difficult to find. Approaching the restaurant, the aesthetics were a little underwhelming: a plain looking building mounted by a dated, black and white sign (ironically?) displaying the name and a promise of low prices!
The bland entrance wasn't very appealing but the welcoming smile by the friendly man who greeted us was. It felt like we were well known to the establishment and frequent customers.
The menu was brought to us and my eyes widened at seeing how long it was. Thirteen pages! Just as I was thinking that at least it meant there would be something for everyone, I noticed that the menu did not really cater to vegetarians or vegans. Even most salads had chicken in them! This wasn't a problem for me though as I began perusing through this mini book!
But it seemed as though the restaurant isn't quite sure what kind of an establishment it wants to be. Options vary from nostalgic 80s dishes such as gammon with pineapple, shrimp cocktail salad to traditional meze to pastas and omelettes! Just for good measure, they have also thrown in a curry and fish and chips. Many of the dishes were just variations of the same thing such as pork or chicken in a diane, pepper or garlic sauce. Actually, most of the food was described as being in some sauce or another. This, alongside the tiled flooring and 'function hall' wooden seats just felt like a bit of an identity crisis.
I was determined to stray from my usual burger or pork chop option and knew that I could most likely find a much more traditional and authentic meze closer to home. With many of the sauces not really appealing to me, my options were suddenly cut short!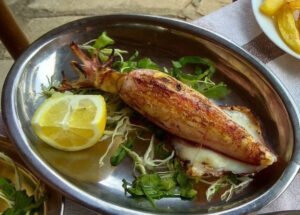 I finally went for the sea bass served with a fresh lemon and olive oil sauce while my partner went for the large grilled calamari, served with the same sauce.
There isn't really much to look at and so it was lucky that the food came out quite quickly. The seabass was a generous size, was opened out and deboned on to a fish shaped plate with the lemon-olive oil sauce in a small pot in the side. The calamari was indeed large and served up on a silver platter. Both dishes had the chips served separately on a small white plate. The chips looked really good, you could tell that they had used good oil from their colour. Alas, despite the generous size of the mains, there weren't many chips to accompany it. Shame, as they were just how I like them!
That being said, the mains were actually very good. Both cooked very well. The knife sliced through the calamari with ease and was very soft. The sea bass was moist and the lemon and olive oil sauce complemented it brilliantly. Yes, they aren't exactly the most difficult meals to prepare but, if not done properly can be a disaster so kudos to the chef for getting it spot on.
We could see other dishes being taken to different tables and I noticed that generally the portion sizes are very generous. The pork chop that I opted to not have looked huge!
The prices at Nameless were very reasonable. Being in an area that is such a major tourist attraction, I half expected to be a little ripped off but I was pleasantly surprised. Good sized portions of tasty food and the promise of low prices on the sign outside was kept! All this, combined with the hospitality we were shown made this a pleasant visit.
VITAL STATISTICS
SPECIALTY International
WHERE Nameless, Cavo Greco Avenue, Paralimni
WHEN Daily 1-11pm
CONTACT 99 273957
HOW MUCH €9-€18 for mains, depending on the dish