New theatre production looks at love, loss and clothes. ELENI PHILIPPOU speaks to the people behind it
 Certain times of life can hold a special significance. We all have a magnet, a gift, an ornament or an object at home that sparks memories – good or bad. Once an item is given a particular meaning, it stops being a mere object and turns into valuable memorabilia. Clothes can carry with them a multitude of tales and emotions, and the upcoming play, in English, Love, Loss and What I Wore brings them to the forefront.
Written by Nora and Delia Ephron, the play and its many monologues, traces women's relationships with their wardrobes and the interaction of the two, using their collection of clothes as a time capsule of a life. It first premiered in 2008 New York, based on the book of the same name by Ilene Beckerman. This coming weekend it's coming to Cyprus for the first time, brought to Nicosia by new female theatre group Women's Empowerment Theatre.
"The play is about women," says director Monica Gavrielides "many, many different women, each highly relatable and true to life. Though we are just seven actors, we portray this whole range of women by taking on numerous roles… As the title says, this play is about how women cope with love, and loss. It's also about items of clothing that hold a particular meaning, in some way or another, be it cowboy boots, be it a prom dress or something worn during a significant event. All this is beautifully and poignantly written. And that is exactly how we intend to bring it to our audiences."
Monica along with actresses Athena Xenidou, Aleen Andreou, Natasha Tavoukjian, Tamara Tutnjevic, Christina Marouchou and Angela Constantinidou, is thrilled to be bringing an Ephron play to Nicosia – Nora Ephron also wrote You've Got Mail, Sleepless in Seattle, When Harry Met Sally.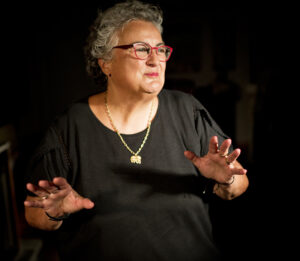 "As a director," she adds, "I'm inspired by the timeless issues that the play touches upon. Issues that are important to every single one of us. Issues that are ingrained deeply in our memories. This is what life is all about, memories that make us want to go on… We found the play by sheer coincidence. As we were searching for a piece that was empowering, with an all-female cast, we fell upon a video recording of this play. We fell in love with it, as soon as we heard the first monologue. It was love at first sight. We ordered the script and the rest is history!"
Its performances at Theatro Dentro aim to see audiences identify with the story, be moved and certainly entertained, as Monica says a good laugh or even a cry is something many people need these days. Love, Loss and What I Wore has a good mix of both, with comic scenes and emotional ones too. And although there are dozens of characters to portray and numerous clothing references, there are just seven actresses and few costume changes.
A dinner with Athena Xenidou and a group of students from her Film & Stage School in 2019 was the starting point for the new theatre group. That's where the women met, all passionate about theatre with the idea to maybe perform together one day. More dinners followed and Women's Empowerment Theatre took on flesh and bone.
"We realised that our mission was to produce good, memorable, serious theatre, the kind of theatre that empowers. And since we were all women, we decided to call our group Women's Empowerment Theatre, or WET for short. Now is the pun intended or not, that's up to the audience to decide," laughs Monica.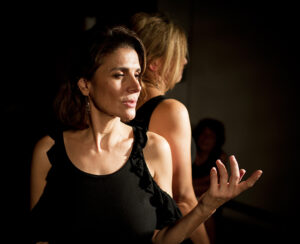 Rehearsals began in October 2019, with a plan to take the stage in April 2020. We all know what happened next, and the play was postponed. When Christina and Angela joined the team this summer rehearsals resumed and now the production will finally reach the theatres.
"It has been one of the biggest accomplishments to have been granted the privilege to direct this play, and with such a brilliant cast," says Monica. "I couldn't be in better company. Each actor is so talented, unique, gifted, giving her utmost, taking my direction and putting up with me. I hope this experience is as memorable to them as it is for me."
Apart from being WET's first production it is also the first time Monica is directing a play in Cyprus. She has previously directed in Rio de Janeiro while part of two English speaking theatre groups and later in the US, directing and acting.
"I was bitten by the acting bug when I was a sophomore in high school, so at an early age, I was passionate about theatre, and am so until today. I regret not having followed it as a career," she admits. "But c'est la vie."
Three performances are scheduled for Nicosia right now and Monica says they would love to extend their dates or even take the play to other cities if sponsorship is found. It's a brilliant script, she says, all about memories, love, life and painful losses. "I guarantee you one thing," she concludes, "this is a play you will remember, the following day and beyond."
Love, Loss and What I Wore
Play by Nora and Delia Ephron, directed by Monica Gavrielides, produced by the Women's Empowerment Theatre. September 24, 25 and 26. Theatre Dentro, Nicosia. 8.30pm and 7.30pm on Sunday. In English. €12. Tel: 99-496226