International creative Yiorgos Bellapasiotis is bringing the real New York into homes across Cyprus with a new segment on a CyBC show. ALIX NORMAN speaks to the man who seemingly never sleeps
It's 3am in New York, but Yiorgos Bellapaisiotis is just finishing a full 20 hours of filming! Nevertheless, he's perfectly willing to be interviewed, claiming a cat nap on the studio floor around 10pm was rest enough…
He's still more lively than anyone else I've spoken with today. But then that seems to be the hallmark of this global creative: an unceasing, unquenchable thirst for meaningful interaction that has led not just to this interview, but also to a fascinating new project for state broadcaster CyBC…
A world-renowned creator, fashion designer, composer, and fine artist, Yiorgos' latest initiative will bring his love for New York (his home for the past 25 years) to the people of Cyprus in 18 eight-minute TV segments, set to air on CyBC's Omorfi Mera Kathe Mera programme from Friday. Entitled 'Art & Culture from New York with Yiorgos', each segment will take viewers on a journey into the true New York: its people and places, arts and culture, mysteries and magic…
"It's the bright shiny elements of the city, but also its darker aspects that make New York so impressive," says Yiorgos. "There seems to be a perception, especially in Cyprus, that everything here glitters. That's not true. Yes, it's a place of uniquely amazing experiences. But it's also worth highlighting the grit: the death, worries and daily struggles to survive.
"I don't want to give away too many specifics," he continues. "But I can say that the segments will look at everything from world-famous art to street murals; speak to everyone from political leaders to struggling go-go dancers; and find humanity in the meanest of places and blackest of moments."
Yiorgos is the ideal presenter for such a segment. Not only is he eminently personable, he also brims with a deep empathy that would make even the most guarded share their secrets with pride. And, despite his stellar reputation, he's truly a man of the people; able – as Kipling would have it – both to talk with crowds and walk with kings.
"I remember, while filming my first segment, experiencing an instant of priceless human connection," he recalls. "We were focusing on the art form of graffiti and, while interviewing the artist, there was a moment of genuine, unexpected emotion that showcased the very best of humankind. It almost made me tearful," he admits. "And, as I realised how often we tend to judge a book by its cover, quite sad. Once again, it showed me that it's not money or power, but the true emotional connection we all have with one another that has the biggest value."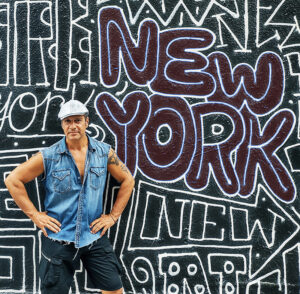 This connection is what inspires each segment. And it's also what drives Yiorgos. Although his career highlights include the Silver Thimble Award from Donna Karan, New York; jobs with Alexander McQueen, Koos Van Den Akker, and Akira; exhibitions of his sculptures at The Metropolitan Museum of Art and the Victoria and Albert Museum; and the production of several number one hits for best-selling music artists, he's still incredibly down to earth. In fact, he's not only presenting, but also researching, directing, and producing each of the upcoming segments himself, as well as composing the music and creating the graphics for each.
"I've never presented before," he reveals. "Nor am I a journalist, or researcher. For me this is an entirely new art form. And that's great, because I love experiencing new things: they push me to discover new creative boxes within myself. I guess the one thing I am super confident about," he adds, "is that I will be able to convey to viewers the pure excitement I have for such a unique city…"
It's diversity, he continues, which sets New York apart. Here, the air is alive with the sights, sounds, and smells of countless cultures. "But even though it's home to millions, there's still an ease to life," Yiorgos continues. "And I think that comes from so much acceptance and such diversity: people here don't need 'likes', they don't require approval. They just accept, move on, and keep going."
However, despite the differences, parallels between NYC and Cyprus do exist, Yiorgos adds. "I've certainly noticed a common element in terms of drive for achievement. Cypriots are born with the drive to achieve; often a familial or societal pressure. In New York, the drive comes through personal choice," he notes. "But it's still there, adding vibrancy and zest to the city's every waking moment. And one of my aims with these segments," he continues, "is to highlight these parallels: discovering the effects of Greek Cypriot culture on New York city and beyond, as we travel to other regions of the States, examining perception of and integration with local cultures."
One thing he's quite sure of: "I won't be teaching anyone!" he laughs. "These segments are about experience, not instruction. They're intended to bring another perspective to viewers' lives – a perspective many of us are aware of but have never experienced in person. And each will focus on one particular subject," he adds. "But that subject may encompass multiple fields: a piece of art, for instance, is a reflection of social, economic, political, and cultural elements. So we have the freedom to embrace multiple fields."
The upcoming segments promise to be a highlight of CyBC's autumn programming. As Yiorgos uncovers the true NYC – granting audiences access to exclusive archives, behind-the-scenes snapshots, and moments of both glitter and grit – audiences will be transported both by content and presenter.
"Not everything here in New York glitters," Yiorgos concludes. "But there's gold to be found in every place, person and interaction. It's a multi-faceted city, and it never sleeps. Sometimes," he laughs, "neither do I!" And as the clock strikes 4am, he's off once more into a brand new day. A day full of the promise and possibility you only find in New York!
'Art & Culture from New York with Yiorgos' will air on CyBC's Omorfi Mera kthe Mera programme every other Friday, starting on October 8. Each segment will also appear on Yiorgos' YouTube channel. You can follow Yiorgos' newest projects on Instagram @yiorgosartnyc