A new style of education is encouraging self-directed learning through outdoor experiences. ALIX NORMAN finds out how it works
I learnt fractions with Marmite toast: this is a whole, this is a half, how many quarters? Geography and science were road trips ('Here's the map, take us to Troodos' / 'Why is it cooler in the mountains?') and biology happened in the garden – quite literally amongst the birds and the bees.
It was a practical, comprehensive early education that stood me in good stead. By the time I went to school, I had developed a healthy curiosity about how and why things worked. And that drove the teachers mad. Because, back then, formal learning adhered to a strict curriculum, and kids were certainly not encouraged to learn at their own pace!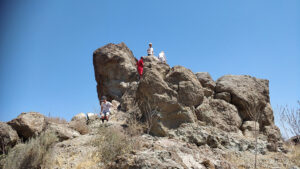 Today, as educators become aware of each child's individual needs and abilities, all that is changing. In England, 'self-directed learning' is a buzzword in schools, and there's a much greater focus on practical skills and real-life experiences – the stuff that will, one day, actually help you file your tax returns or fix a chair!
In Cyprus, the movement is taking a little longer. Here, most schools still emphasise grades over understanding, and tests over comprehension. But there are at least three local extra-curricular programmes that are working to redress the balance: teaching traditional subjects through real-life experience, and allowing children to learn at an individual pace. Stemming from a concept called 'Forest School', it's taught outside, and is known as 'Outdoor Learning'…
"For years, outdoor learning has been popular in Scandinavia and Germany," says Tia Stahie, a qualified teacher and practitioner of the method. "It's taught across Australia and the States; has been integrated into many schools over the last three decades; and has come into its own during the pandemic, when the outdoors is far safer than a stuffy classroom."
Primarily aimed at kindergarten ages, outdoor learning focuses on the experiential, offering self-directed learning and authentic real-world skills or experiences governed by a child's choices. "Children learn at different paces," Tia explains. "Traditional schools expect conformity; learning the same skills at the same time in the same way. But many kids just don't work that way: they might be more practical then academic; maybe they'll learn faster or slower than their peers; perhaps they're disinterested in learning a particular subject in a formal manner."
Outdoor learning addresses all these issues. "If you're outdoors, in the fresh air, learning to cut a twig in half, you need to know what half is. When you're planting seeds, you'll need to read and write their labels. If you're identifying plants and trees, you're building recognition and visual acuity. These are all key skills in any school curriculum," she adds. "They're just being taught outside, in nature."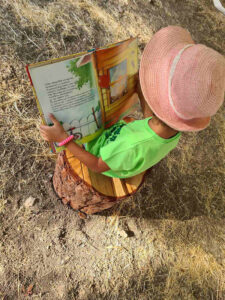 Being in the fresh air is a key aspect of this learning style, Tia continues. "So many children have almost no access to the wild spaces, especially in Cyprus, where kids often have full schedules, structured by adult criteria and interventions. But being outdoors, learning in nature, children discover who they are and how they engage with the world, boosting self-esteem and the desire to learn. They experience real-life issues, stretch their boundaries, and build resilience in a mixed age group where older kids often help younger through techniques known as modelling and mastery."
Taking place year-round – "the link with the seasons builds resilience, challenging the senses and ideas," says Tia – outdoor learning is currently offered by Tia's own 'Playscapades' (under-7s in Pyrgos and under-9s in Polemidia Forest) and two other local groups…
Maria Elia and Panagiota Koutsofta run 'Sparkle in Nature', an outdoor learning group for ages four to eight, which takes place each Saturday morning, also in Polemidia. "We work with groups of 15 children," she explains, "and our philosophy is to bring our students into contact with nature, giving them the free time to play, explore, and draw inspiration from the natural world. Thus we learn, in an outdoor setting, skills such as cooking, history, drama, and ecology, as well as important social and developmental abilities, including teamwork and confidence in the world around us."
Building common sense and approaching risk from a 'why, not what' point of view – "in this environment, children learn why certain things are risky; they make informed decisions, and evolve a sense of safety you wouldn't get in a classroom setting," explains Maria – Sparkle in Nature aims to free children to be themselves. And to learn in the process: "To imagine, explore, and express feelings in a healthy manner."
Frederik University has also recently launched a Forest School programme for children aged three to five. Taking place each morning, it's headed by Nicoletta Christodoulou, the University's Associate Professor of Curriculum Studies and Instruction within the School of Education and Social Sciences. "We're located in Kornos Forest, in a space that's about 5,000 metres square," says Nicoletta, "a wonderful landscape that provides the children with rich experiences."
Centred on the project's own geodesic dome, the programme puts its surrounds to good use: "There are so many materials to work with, so much space in which to explore and play, to construct and create and build with the natural things – tree branches, stones, soil, and water – we find around us," Nicoletta reveals. "The kids become very creative in this abundant environment; they feel free. And they learn to manage this freedom in a responsible manner, setting their own boundaries, respecting synergy with nature, and acquiring skills in a magical, organic way."
Currently, outdoor learning is most popular in Cyprus for kindergarten-aged children, and all three programmes focus in the main on pre-school or primary ages. But in time, say our exponents, it will creep into senior curricula. Already, the Forest School has run several workshops for ages seven to 11, teaching children to work together, explore their environment, create, and learn through play. And it won't be long, agree all the teachers, before students island-wide are reaping the real-life rewards of outdoor learning.
For more information, visit:
https://www.facebook.com/playscapading/
https://m.facebook.com/sparkleinnature/