A trail running will take sports enthusiasts through picturesque villages of Cyprus on a gruelling event. Alix Norman finds out more
Cyprus is often billed as the island on which you can swim in the morning and ski in the afternoon. But it's assumed there'd be a car involved in moving between, say, the sands of Larnaca and the slopes of Troodos. Few, if any, would want to run the distance – especially in one fell swoop. And yet that's exactly what the participants of Sea-to-Sky Cyprus will be doing this autumn.
The first of its kind on the island, this unique trail run will take place on November 21 and 22 over a period of 24 or so hours. At 130 kilometres in length, it begins on the beaches of Alaminos village (just west of Larnaca) and ends on Troodos. So it's certainly not, say organisers Bryan Pearson and Christelle de Jager of the Cyprus Trail Runners group, an activity for the faint of heart!
"Originally," Bryan reveals, "we had hoped to offer a Sea-to-Sea, asking runners to ascend Mt Olympus en route from Limassol to Polis. But we quickly realised what an enormous undertaking this would be, both for organisers and participants. Not wanting to abandon the idea altogether, we then decided on the Sea-to-Sky: starting on a beach and heading to the highest point of an island along trails and tracks."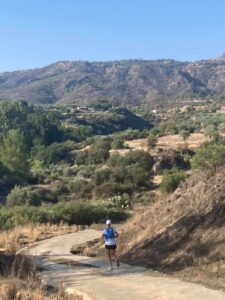 An event that's becoming increasingly popular among trail runners around the world, Sea-to-Sky events are a gruelling test of one's endurance. But not the ultimate, says Bryan: "This is a tame event by international standards! In Greece, for example, every September the Spartathlon is held – covering the distance from Athens to Sparta, 250 kilometres within 36 hours. In the UK, the Montane Spine Race is a brutal 268-mile, non-stop, winter mountain marathon!"
Nevertheless, with its positive elevation of 6,000+ meters and off-road aspect, Cyprus' first Sea-to-Sky promises to be highly demanding. But the payoff in terms of views will be huge, says Bryan!
"The course is an exciting tour of rural Cyprus, taking in wheat fields, vineyards, olive groves, orchards, river courses, reservoirs, pilgrimage sites, historical Unesco buildings, forests, and farmland. From Ayios Theodoros we find our way to Dipotamos dam, and then on to the Lefkara reservoir, passing by the abandoned settlement of Kypravasa. Then we head on up to Kionia peak, the first major climb…"
Using nature trails, jeep tracks, pathways, goat tracks, and – on occasion – no paths whatsoever, the 130-kilometre route passes through the villages of Lazanias, Fikardou, Gourri, Palaichori, Ayios Theodoros, Ayios Ioannis, Agros, the Adventure Mountain Park in Kyperounda, and Platania, eventually topping out at the summit of Mount Olympus before circling back to the Jubilee Hotel. "Aside from Kiona and Olympus, runners also have to navigate the Papoutsa and Madari peaks," Bryan explains. "So it's not for the faint of heart!"
The extreme distance and challenging terrain means that many runners will still be going on the second night. Having started in the dark on Saturday, they'll have covered 50 or 60 kilometres before the sun even begins to rise, and will push on through the following night, trying to beat the 32-hour cut-off time at 8am on Sunday.
"The leaders, however, ought to finish by twilight on Saturday," Bryan adds. "And because those who intend to take part need to demonstrate that they have completed another trail ultra within its cut-off time – traversing mountains in the dark can be dangerous; we don't want inexperienced runners tackling something unfamiliar –  we're expecting some big names from around the world. Trail runners from the UK, Ukraine, Jordan, Israel, Russia, and Greece are planning to come to Cyprus especially for the event!"
A core group of locally-based trail runners are also lining up to take part, though places are limited to 50 given the logistical and environmental criteria. "But we're expecting to fill each slot by the time entries close on October 31," says Bryan. "Trail running is rapidly gaining in popularity, both here and abroad. And the race is attracting the sort of person who loves to explore the outdoors and appreciate the beauty of the landscape. It isn't about being the first to cross the finish line. The joy of this sport is being out in the wilds…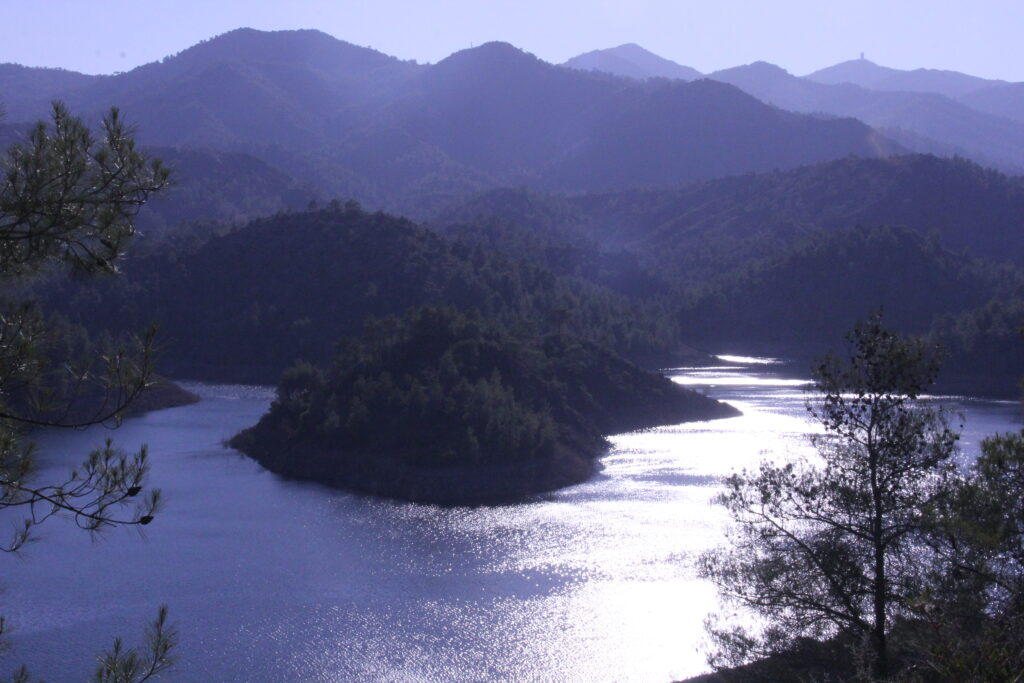 "It might surprise you to know," he smiles, "that most trail runners stop to remove caterpillars, beetles, chameleons, and even ladybirds from the trails so that other runners don't tread on them – even if this means they sacrifice their position in the race. The ethos is not winning at all costs, but rather completing the race while doing as little harm to the environment as possible!"
There are, however, prizes for the first three home. And the winners of the two parallel events – a 'Hilly' ultra involving a climb of 2,600 meters over 54 kilometres, and a 25-kilometre 'Fun Run' that ascends just over 1,000 metres – will receive hampers packed with products such as olive oil, honey, lacework, loukoumades, carob chocolate, and wine from the villages they pass en route.
"There's no monetary award for the Sea-to-Sky," Bryan concludes. "The reward is in the life-enriching experience… As organisers, we've spent many enjoyable months running up and down, backwards and forwards to work out the route. And now, we're offering others the full tour of Cyprus' most beautiful views as they run from the sea to sky!"
For more information visit www.seatosky-cyprus.com