Although conditions are not as favourable at the moment, Cypriot university students are still attracted to the prospect of studying in the United Kingdom.
"With the effects of Brexit and the coronavirus pandemic, these have been difficult times for education in the UK, so it's interesting to observe Cypriots still wanting to come here and study," Meraki Student managing director Ryan Hill told the Cyprus Mail.
Meraki Student offers student accommodation in the UK to local and international students, having previously worked with students from Cyprus, Greece, Jordan, UAE, Qatar, China, Thailand, and India.
Despite Cypriots interest in UK universities remaining strong, numbers paint a harsher version of reality.
According to a report from the Universities and Colleges Admissions Service (Ucas), Cypriot residents applying to UK universities suffered a massive 46 per cent year-on-year drop in 2021, with the rise in fees being attributed as the primary reason.
"The UK remains a key destination for university students, but competition is heating up with the Netherlands and the United States," Hill said, explaining that these are markets that Meraki Student is also interested in forming partnerships in.
"The UK needs to do more to help students come here, including providing special fees, especially for countries with which it has a longstanding connection such as Cyprus," Hill added.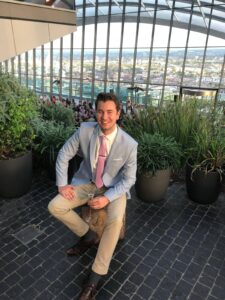 Although Meraki Student works with students from around the world, Hill has worked closely with Cypriot students.
"Working in the property and student accommodation market while based in Reading, I ended up meeting a lot of Cypriot students and their parents, creating a connection with them in the process," Hill said.
"I noticed that in the UK Chinese students have become the main market for student accommodation, which is good, of course, but this can lead to students from smaller countries being neglected," he added.
Hill has identified a common theme among new students which is that they can find the student experience somewhat overwhelming.
"Although Cypriots accustom to the UK very quickly and generally speak the language quite well, they still need a bit of guidance, especially with the more technical aspects of renting properties," he said.
"For example, the issue of property guarantors in the UK, something that cannot be avoided due to them being international students," he added, explaining that some student accommodations are not particularly helpful with such matters.
One recent example of how things can go wrong for new students involves the University of York, which made the headlines this September for not being able to house all the new students it had promised accommodation to.
"Everyone turned up and there wasn't enough room for them, with some students even having to cancel their year at university," Hill explained.
Scrambling to find a solution, the University of York ended up striking up a deal with the University of Hull, offering 150 students the chance to live 72 miles away from campus.
A similar scenario played out in August when 300 University of Bristol students faced the prospect of having to be housed in Bath, 13 miles away from the university's campus.
"This is the type of situation where we would come in," Hill said.
"We help deal with something like this, including talking to potential landlords who may also not be very helpful," he added.
Meraki Student has also worked with the American Academy in Cyprus, helping final year students with their accommodation in the UK.
The company is also in talks with a second private school that also wishes to provide this service to its students.
"Students have asked us about accommodation, which is natural, but they have also sought guidance with Covid-19 rules and we have done our best to help them as much as possible," Hill said.
Hill has seen first-hand how the pandemic has been a source of change in the student accommodation sector.
"For example, there is now demand and a market for self-contained studio flats, with your own shower, kitchen, and bed, because this helps social distancing," Hill said, explaining that universities are not generally able to offer this.
"That's definitely a trend we've seen and the parents want that for their children to avoid catching Covid-19," he added.
Another trend that Hill has observed is the demand for high-end accommodation, which is something the private sector generally provides.
"It's something universities don't want to be seen offering," Hill said in reference to pricier accommodation. "It would be unpopular in the UK," he added.
And what do these high-end student properties have to offer?
"Depends on the student's budget, but some student accommodation may have their own bar and club area with rentable security for special events such birthdays, or they may have dedicated cinema and games rooms," Hill said. "They can be quite unique," he noted.
Hill is now based in Cyprus and is looking forward to seeing how the student accommodation market continues its recovery.
"The market is bouncing back quicker from the pandemic than what we expected," Hill said.
"So I'm excited to be working here in Cyprus, especially since people have been really welcoming and making it easy for me to adapt as a Brit," he concluded.