By Sarah Coyne
One evening we found Vitro Osteria quite by accident, as one of our favourite restaurants nearby was fully booked. To be honest, I really loathe sharing this new Osteria, as I worry it will get too busy and I won't get in again! Described as 'a real taste of Italy in the city centre of Paphos', this lovely new restaurant is situated on the road opposite the main CyTA offices. Set back from the Municipal Gardens, it offers both inside and outside dining. Outside is perfect for this time of year, as there are a variety of tables offering shade with giant umbrellas. A restaurant and café bar open all day, it seamlessly slips from an extensive brunch menu to lunch to dinner.
Vitro's is a real family affair, owned by Marina Ioannou and Andros Pericleous, with both of their daughters working in the restaurant. They all share a passion for Italian food, using the finest ingredients. In this venture they have been joined by Italian chef Giorgio Manganiello, who has appeared on many cookery programmes and has written a book called Italian Cuisine.
We visited for dinner and were very impressed with the menu. As you would expect, there are the usual pasta and pizza options but it also offers some very impressive main courses. The variety of Antipasti to start included many choices such as Tartare di Tonno, Cozze Alla Marinara, Fresh Black Mussels in a Bisque sauce plus many more. We opted to share their Trilogia Bruschetta Miste: three bruschettas, one with tomatoes, garlic and basil, another with the addition of cheese, and the last with incredibly tasty anchovies and capers. A nice touch was the Garlic Bread which was presented on the table free of charge.
Having lived in Rome and often reflected on (and missed) the superb Italian cuisine of years gone by, I was amazed and impressed by my main course of Giant Gnocchi di Patate. It took me straight back to authentic Italian cuisine at its best. The dish was homemade Gnocchi filled with Spinach and Ricotta and served with a delicious Four-Cheese sauce.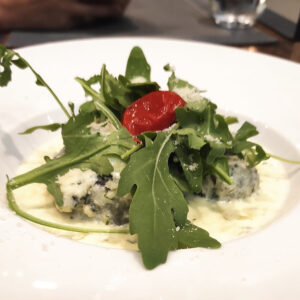 One of our diners exclaimed the Pepperoni Pizza to be the best he had experienced for a long, long time. It was not greasy, with the Pepperoni generously distributed on a perfectly light base, covered with San Marzano tomato sauce, mozzarella, edam, salami and cherry tomatoes. Any pizza lover would be highly recommended to try one of the Vitro stone-baked pizzas.
Our guest, who had come down from Limassol for the evening, chose Tonno Alla Griglia, a grilled Yellow Fin Tuna, served with a Celeriac Purée. On the side was a generous serving of vegetables, including roast new potatoes, asparagus and bell peppers. He found the tuna cooked to perfection, soft and juicy, with a very light sweet and sour sauce.
Wine and cocktails are important at this restaurant, and there is a serious selection. As well as Italian and international wine varieties, there is also a long list of Cypriot and Greek wines. We opted for one of our favourites, The Black Sheep from Nico Lazaridi. For the cocktail lover, there are some very innovative combinations.
They have a small selection of desserts to finish, including a Fruit Platter for two, Panna Cotta and Tiramisu. I would imagine that the Tiramisu would be to die for, as it is their speciality, but we were regrettably too full to find out. There is also a selection of ice cream by a famous American brand, which seemed a little at odds considering the Italians are renowned for their own.
Even though the restaurant was nearly full, the service was excellent. We never felt rushed, despite being the last to leave. Another charming aspect at Vitro's is that the owners, and the chef, spent time going around the tables, checking that everyone had enjoyed their meal. This is always good to see, and only a brave and confident chef would ever leave the kitchen. We shall visit again very soon!
SPECIALTY Authentic Italian
WHERE Vitro Osteria, 25 Martiou Street, Paphos
WHEN Daily 8am to midnight. Kitchen closes 10.30pm
CONTACT 99 365769, www.vitro-osteria.com
HOW MUCH Pizza from €9.50, Pasta from €9.50, Mains from €15.50