November is just around the corner and it brings with it several new art exhibitions. In the first week alone five new exhibitions are scheduled to open. Photography, paintings, fine art prints and projects merging art and technology will take flesh and bone.
Coming up first is an analogue photography experience by artist Eliza Kozakou in a new body of work titled Thirty5 Millimitres. Held at Cascadeur bar in Lympia from October 29 until November 5, the exhibition features a combination of experiences through an analogue way of looking at things. The displayed art entails double exposure images captured on a 35mm film depicting faces, nature, places and everyday experiences.
Over at CYENS Thinker Maker Space, the first Work in Progress (WIP) showcase will take place. From November 1 to 3, the arts and technology focused initiative will bring together creatives and technologists – local and visiting – with the aim to initiate a dialogue between disciplines and establish future collaborations.
Though not an exhibition in the traditional sense, WIP is still a showcase that features the arts and specifically its process and technological creative wonders. Work in Progress will present three clusters of projects by university students, cultural institutes and the CYENS teams. During the event, visitors will have the opportunity to join a series of Virtual Reality experiences along with lectures and workshops offered by industry experts. The exhibition will open throughout all three days but to attend the parallel lectures, interested participants must fill in the registration link on CYENS' website.
Gloria Gallery has another exhibition opening at the same time featuring the printmaking art of Evgenia Vasiloudi. Her exhibition titled Grid Texts opens on November 2. At the core of Evgenia's artistic interest is as always nature, the environment and female identity, all elements that this exhibition will embody through traditional printmaking techniques but also experimental methods using 3D installations with sound and imagery.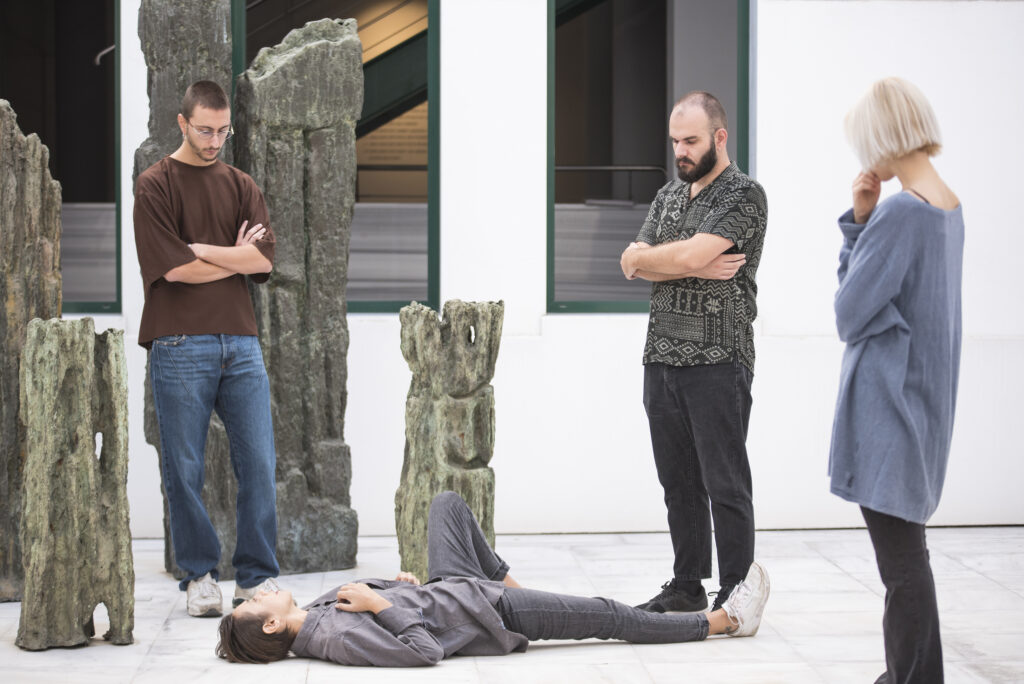 A few days later and another exhibition will open in Nicosia, this one featuring a series of works created during Serbian artist Milenko Stevanović's six-year stay in Japan. Presented at IN-TOTO, the exhibition titled Nichijō – Japanese for every day – explores a visual story of beauty found in unsuspected places, in the commonality of the every day. The artist aims to present an aesthetic journey through a collection of paintings, drawings, and fine art prints, and three guided tours on November 12, 19 and 26 will take interested art lovers deeper into his art and the beauty of daily life.
In Limassol, Themi Themistokleous presents paintings that honour women. From November 5 to 9, the Panos Solomonides Cultural Centre will host her work. Also on in Limassol is another exhibition from November 5 to 7 at the Old Vinegar Factory called Identity in Between. Conceptualised by artist Efi Spyrou, the exhibition will include six short documentaries featuring the performances of five Greek artists.
The video-performance In Between will also be featured at the exhibition and is a performance that took place last year in Thessaloniki filmed by Efi Spyrou to be part of this exhibition in Limassol. Between video, paintings, workshops, tours, photography, prints and virtual reality, the first week of November seems promising and full of art!
Thirty5 Millimitres
Exhibition with double exposure analogue images by Eliza Kozakou. October 29 – November 5. Cascadeur bar in Lympia, Nicosia. Tuesday – Sunday: 6pm-12am.
Work in Progress
Exhibition, virtual reality experiences, student projects, workshops and lectures. November 1-3. CYENS, Nicosia. www.makerspace.cyens.org.cy
Grid Texts
Solo exhibition by printmaking artist Evgenia Vasiloudi. November 2-22. Gloria Gallery, Nicosia. Opening night: 7.30pm. Monday: 5.30pm-8pm. Tuesday-Friday:10.30am-12.45pm and5.30pm-8pm. Saturday: 10.30am-12.45pm. Tel: 22-762605
Nichijō
Solo exhibition by artist Milenko Stevanović featuring works from his six-year stay in Japan. November 5-December 4. IN-TOTO, Nicosia. Guided tours on November 12, 19 and 26. Opening night: 7pm. Monday-Friday: 4pm-8pm. Saturday: 10am-1pm and 4pm-8pm. Tour reservations at [email protected]
50 Years Dedication to Women
Solo exhibition by Themis Themistokleous. November 5-9. Panos Solomonides Cultural Centre of the Limassol Municipality, Limassol. Opening night: 7.30pm. Every day: 10am-1pm and 5pm-8pm. Tel: 99-608733, 25-568560
Identity In Between
Exhibition with short documentary screenings and installation performances. Concept by Efi Spyrou, presented by RUNONART and BPRarts Cultural Management. November 5-7. Old Vinegar Factory, Limassol. Opening night: 7.30pm. weekend: 11am-1pm and 3pm-9pm.