"The role of the CFO has always been key not only within a company but also in the business world. However, this pivotal role has undergone a profound transformation in recent years. Traditionally, the CFO had three main tasks: maintaining the books and records of the company, financial reporting, and statutory compliance. The role and profile of the CFO of today is fundamentally different from that of the past."
Eliza Livadiotou is the Group CFO and Executive Director of the Board of Bank of Cyprus
What are the key skills and competencies that a CFO must possess to fulfil their duty?
"Today's CFOs drive the direction and success of the organisations they work in, using their financial knowledge and understanding as well as their broader business acumen. Nowadays, the CFO is a business partner with strategic and operational focus, leading a cost-conscious organisation. CFOs must use financial data to challenge the business and contribute to strategy formulation and decision making, whilst being catalysts in business transformation. Last but not least, the CFO plays a key role in stakeholder management, both internally and externally, ranging from the business community and customers to shareholders, debt investors, regulators and the government."
As CFO of Bank of Cyprus, how have you guided the organisation's strategic planning, as well as its successful implementation, cognizant of risk management and market developments?
"The key when formulating strategy is to understand the operating landscape, emerging trends and risks and partner with the CEO to build a strategy that is ambitious but also realistic. At Bank of Cyprus the formulation and implementation of strategy is very important; in fact, it is becoming more important nowadays than it was during the post-2013 period when the de-risking and shrinking to strength strategy was not only obvious but necessary.  The strategic focus has now shifted towards delivering shareholder returns through profitability and the strategic choices made in this regard are key to the achievement of a successful outcome.
In my mind, the CFO must be a catalyst in the strategy formulation journey, both in terms of partnering with the CEO on the high-level issues and brainstorming on new ideas, as well as in working with the business lines and control functions to arrive at a balanced strategic plan.  And this process entails a lot of teamwork, healthy debate and sometimes even disagreement.  Expressing a different view, when justified and backed up with arguments, is a core part of the CFO's role.
And, of course, the successful implementation of strategy cannot be left to luck.  The monitoring of results and progress is important for the early identification of issues and the implementation of backstop measures. This is done both through the financial results but, equally importantly, through the daily interactions of the finance team with the business lines for insights and market developments."
Since its peak in 2014, Bank of Cyprus has reduced its non-performing exposure by 89% to 1.6 billion euros and cut its NPE ratio by 48 percentage points. Is Bank of Cyprus on the right track to de-risking and reducing the non-performing loan ratio to a single digit by the end of 2022?
"I would dare say we are. Almost eight years after the 2013 crisis when NPEs peaked at 63%, we can claim that we see light at the end of the tunnel. The reduction of NPEs was a difficult and costly journey but a vital one.  We initially started by organically reducing NPEs using all available tools and, once a track record of organic delivery was established, we felt that the time was right for our first NPE disposal, Helix 1 comprising €2.8bn corporate exposures, which was signed in August 2018.  On the back of this landmark transaction, we launched Helix 2 comprising of €1.3bn NPEs, which was completed in June 2021.  In total, 68% of our NPE reduction was organic and the remaining through trades.
Our NPE ratio in June 2021 was at 14.6% of gross loans or 6,4% on a net of provisions basis.  The NPE provision coverage ratio stood at 60%.
As we have already publicly stated, we continue to actively explore strategies to accelerate de-risking including further portfolio sales and remain on track with achieving a single digit NPE ratio by the end of 2022."
While acting as the bank's financial guardian, how have you used technology to drive transformation forward?
"Technology has been the mover and shaker of the financial industry during the recent years. This was identified early and in 2017 we designed and launched our digital transformation journey, which is currently in year 4 and is progressing well. During this period, we continuously revaluate and refine the end-goal in line with market and technological developments as we always aim to be market leaders in this respect.
As part of the Bank's Digital Transformation Programme, new technologies and tools have been introduced that have drastically changed the employee experience and improved collaboration and knowledge sharing across the organisation. Technological advancements are being enabled for managing complexity and driving productivity. Therefore, the investment in digital technology is vital.
Parallel to the Group-wide initiatives, we have also designed and are implementing a Finance Transformation Project, which includes several important projects for the Bank, covering a large range of topics from financial accounting to regulatory reporting, procurement, and planning.  This is key to enable the finance team to have easy and immediate access to information to facilitate the analysis and assist in the decision-making processes."
 The growth of digital banking has reduced the cost of doing business tremendously. How has this helped entrepreneurs in modern days, particularly those involved with businesses on foreign soil?
"Digital banking is a huge advantage not just for entrepreneurs but also for every person that has any kind of relation with a bank or wants to start one. At Bank of Cyprus, we have invested heavily in our digital transformation programme that started in 2017, allowing us to provide innovative and easy to use products and services to our clients. In the last few months, several new features promoting self-service functionalities have been made available to subscribers through our mobile banking app.  The second phase of the digital KYC review was also rolled out, that included the functionality of the automatic and live ID verification process. It's clear that digital adoption, whether it is products or services, is constantly gaining ground. At the end of August 2021, 88.3% of the number of transactions involving deposits, cash withdrawals and internal/external transfers were performed through digital channels (up by approximately 23.7 percentage points from 64.6% in September 2017 when the digital transformation programme was initiated). In addition, 77.8% of individual customers were digitally engaged (up by approximately 18.2 percentage points from 59.6% in September 2017), choosing digital channels over branches to perform their transactions."
How does Bank of Cyprus support startups financially at each stage of development (early stage, flight stage, maturity)?
"Bank of Cyprus is one of the pioneers of the startups ecosystem in Cyprus. Since 2015 we have established the IDEA Innovation Centre whose target is to assist startups and young entrepreneurs. Today, IDEA is the largest non-profit incubator-accelerator for startups. Since 2015, it has supported 130 entrepreneurs. In 2020 alone, 11 new startups joined the Centre which offered €84,000 as financial support and another €528,000 as pro bono services. With the support of IDEA, seven new companies were established."
As Bank of Cyprus works towards helping stakeholders manage risks associated with sustainability, you are increasingly focusing on ESG concerns. How do you go about leading the change towards standardisation?
"It is our strong belief that for the Bank to flourish, so must our clients and society in general. This is deeply embedded within the Bank's DNA.  Our market position as the leading Bank in Cyprus makes this role even more important and we take this responsibility very seriously.
The Bank is a leader in the Social and Governance Pillars of ESG and it has a strong track record to demonstrate this. Our focus is now increasingly shifting towards the Environment, and we are currently in the process of formulating an enhanced Climate strategy with an aim of reducing our impact both from own operations and our client chain. We already place special emphasis in Sustainable Development and Sustainable Finance, and we believe we can do a lot more in this regard.  Given the market position of the Bank in Cyprus we consider that we have a significant role to play in the transition to a more sustainable future.  Our ESG agenda and initiatives are overseen by our dedicated Sustainability Committee initiated towards the end of 2020. We currently have an ESG rating of 'A' by MSCI and we are looking to improve this going forward."
You have recently launched a new communication campaign. What is the main target of this new campaign?
"We want to prove that Bank of Cyprus is much more than just a banking institution. Our purpose is to serve the Cypriot society and economy by going beyond banking.  At the same time, we want our customers to dare and make the next step knowing that we will be by their side, providing them with the necessary resources to achieve their goals."
How do you see the future of banking in Cyprus?
"After a very challenging period, the future of the banking system in Cyprus looks much more optimistic. There are still significant challenges, such as the management of legacy exposures, further possible spill over effects of the pandemic, the low interest rate environment, cost inflation and the overall need for sustainable profitability. If we add to this the continuous technological disruption, it is evident that this is not an easy ride, but we are used to challenges.  We believe that the medium-term prospects for the return to sustainable operating profitability are good. In this regard, our medium-term target is for a 7% return on tangible equity."
What are Bank of Cyprus' core company values that help shape your culture and inspire your employees?
"Our mission is to provide support for our clients in the most important events of their lives as well as in their daily needs. Our five core values are integrity, reliability, collaboration, professionalism, and innovation. To ensure the quality of our services, we invest heavily in our human capital, and we employ top quality professionals. Bank of Cyprus has more than 3,000 employees and we strive to offer them a fair working environment, equal opportunities, well-being, continuous training and education and a strong sense of belonging."
You have recently been appointed Executive Director of the Board. What does this mean to you? 
"I have been with Bank of Cyprus since 1999 and have worked at various positions since then. To become an executive member of the Board of Directors of Bank of Cyprus is a great honour and I will do my outmost to exceed the Board's expectations."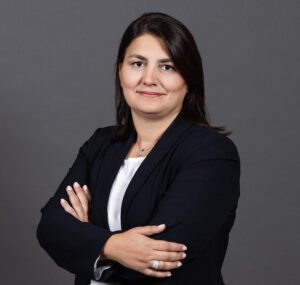 Eliza Livadiotou is the Group CFO and Executive Director of the Board of Bank of Cyprus