By Sarah Coyne
As we enter the winter months, our attention suddenly turns to restaurants with cosy indoor seating, to protect us from the elements. Ironically, on my visit to this restaurant we experienced our first rain shower after many dry months. The Londos Perasma Restaurant is right by the B6 road in Timi, on the way to the airport. Driving past regularly, I had always observed it to be a very popular. This was my mistake! Two recent meals and a takeaway later, I rate this place very highly for traditional Cypriot food. It is the perfect choice for a full Cypriot meal or just a snack, as well as an extensive selection of pittas, omelettes and salads.
Londos Perasma originally opened over 40 years ago, by the parents of the two brothers who run it today. Pambos and Andreas Socratous took over from their mother and father just over four years ago. Their mother, Ioulia, still works in the kitchen today and advises on the more traditional dishes – it's a real family affair. The main attraction with the menu is the many things I hadn't tried before. Another positive is that we found all the dishes to be very reasonably priced.
Today, the restaurant has an extensive vine-clad outdoor terrace that curves around the building, away from the road. So, while the road is busy, it is not intrusive on your time spent inside. They also have a large indoor area for the colder months with an open fire. Service is very friendly and efficient, even when they are swamped with guests and under pressure with a traditional taverna feel.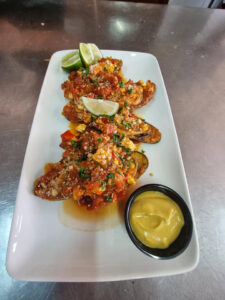 To start the meal, they offer a great selection of unusual traditional dishes side by side with the typical dips, Halloumi and Lountza. For our dinner, we enjoyed a portion of Graviera Saganaki – Greek cheese fried in butter and served with hazelnuts, honey and mustard. We also enjoyed a very generous portion of their Fried Feta Cheese in a light filo pastry, with a touch of honey. The pastries were divine and were easily shared between four. Finally, as if we had not had enough cheese, we selected a Homemade Baked Aubergine Dip with feta cheese, peppers and garlic. The combination of these three starters can only be described as superb but the next time we go, we will definitely try the Bouyiourdi – feta cheese cooked in the oven with olives, onions, peppers, garlic and spices in a tomato sauce.
Main course options are mainly from the grill. They have a Meat Platter to share for a minimum of two but on both nights we visited I went for the same main dish as I loved it so much – Lamb Kofta served with Tzatziki. The kofta was not huge but was spicy and tasty and paired perfectly with the yoghurt dip. I actually begrudged sharing this one! Also selected at the table were colossal, crispy and succulent Pork Chops, which were devoured very quickly. All the main courses were accompanied by individual bowls of homemade chips and the freshest of salads.
Their special dishes section offers homemade Moussaka, which will be my choice on our next visit if I can tear myself away from the kofta. Any future diner should also consider the Cyprus Meze, priced at €17. With their variations on certain dishes, I can imagine this would be an inspiring dinner and different from the norm. With the selection of starters, this is also an excellent place for a vegetarian or pescatarian guest.
Our friends who introduced us to the restaurant seemed big fans of the dessert section, which includes Chocolate Cake, Apple Pie, Cheesecake and Trifle. We decided to share a Chocolate Cake, which was scrumptious and decadent. Unlike some places, this restaurant offers an extensive selection of coffees, so we all ordered a smooth Americano. All the drinks are reasonably priced, including their wines from the local Lazarou winery in Choulou.
Londos Perasma is highly recommended for those who love Cypriot food with an original angle. The menu certainly offers something for everyone. On our last visit as we left, the restaurant staff were busily preparing a large table for a rather famous Paphos politician, who obviously knew before me where to go for excellent food!
VITAL STATISTICS
SPECIALTY: Cypriot
WHERE: On the B6 Road, Timi, Paphos
WHEN: Tuesday to Sunday 9am-9.30pm
CONTACT: 26 422189, booking advised
HOW MUCH: Grills from €10