By Ella Walker
Cookbooks are not just a record of recipes, but a record of meals cooked and eaten together, of travels and gatherings, events and moments both ordinary and extraordinary. They are effectively records of life, and for Irish presenter and food writer Donal Skehan, every one of his cookbooks "ends up being a little bit semi-autobiographical" in the sense that they "come with, or identify, a purpose in my life that needs recipes."
The 35-year-old's latest, Everyday Cook, is no different. Skehan and his wife, Sofie Larsson, have two boys under three (Noah and Oliver) and have moved three times in 18 months, on top of a pandemic – and so this, his 10th book, is a "real celebration of family life" and the doable recipes "we come back to; the ones that get us through."
And schedule allowing, the former boy band singer really does cook every single day. "Hate is too strong a word, but I've grown to love less the travel and all the things that go alongside the job I do," he says with a diplomatic grin.
Having kids has undoubtedly shifted things "pretty drastically" he admits with a laugh. There's less freedom to "freewheel it" in the kitchen, but it's not all bad. "I feel like one of these cliché parents," he says in mock horror. "I don't hide veggies! But I sneak a lot more vegetables into my dishes than I ever did before." And his children happily appreciate him making finger food out of "leftover crap from the bottom of the fridge. It's actually made me use my kitchen more actively and more efficiently," he says.
The cookbook falling now, when they finally have a house to settle in and a reliable oven ("It's functional, it works, the gas hob, for God's sake, I just wanted a gas hob! I've been working off an Aga that doesn't heat up!") feels not a little serendipitous. "I don't know if I was writing for future me," Skehan ponders.
In times of tumult, cooking can often be a marker for how Skehan's feeling in himself. "At my very best, I am cooking every day and for me, cooking has always been a moment of solace," he says when asked about his experiences of burnout and mental health. "Even as a kid growing up, my mum's kitchen was that place of warmth," he continues. "I would come in from school in the autumn days, steamed-up windows, knowing there was a pot of stew on. There was always that place of warmth."
Charred Lamb Kebabs with Pickled Onions and Saffron Yoghurt
Serves 4
800g (1lb 12oz) lamb leg, diced into chunks
5 garlic cloves, grated
1tbsp (heaped) ras el hanout
2tbsp olive oil
4 large pitta breads
200g (7oz) hummus
Handful of flat-leaf parsley or coriander leaves
Sea salt and freshly ground black pepper
For the lemon and saffron yoghurt:
Small pinch of saffron strands
2tbsp boiling water
200g (7oz) Greek yoghurt
2 garlic cloves, finely grated
Zest of ½ lemon
For the pickled onions:
2 red onions, thinly sliced
1tbsp coriander seeds
Juice of ½ lemon
Pinch of sugar
1tbsp extra virgin olive oil
Put the lamb into a large bowl with the garlic, ras el hanout and the olive oil. Season with sea salt and toss to combine completely. Leave the lamb to sit, covered with cling film, in the fridge for at least one hour. Alternatively make this ahead of time and leave to marinate overnight.
While the lamb marinates, prepare the yoghurt sauce: infuse the saffron strands in the hot water in a small bowl and leave to stand for five minutes. Add the remaining ingredients and mix well to combine. Season to taste and set aside.
To make the pickled onions toss the red onions and coriander seeds with the lemon juice and sugar and season generously with sea salt. Set aside to let the onions soften and pickle.
Once the spices have permeated the meat, thread the lamb pieces onto eight metal skewers and arrange on a large baking sheet. Place the lamb skewers to cook over a hot barbecue or a scorching hot griddle pan for three minutes on each side, or until medium rare. Turn as needed until you have a lightly charred exterior and a blushing pink interior. While the lamb cooks, toast the pitta breads on the barbecue or just in a toaster.
Spread each pitta with hummus, slide the lamb off the skewers and place on top of the pitta with the pickled onion and herbs. Drizzle with the yoghurt sauce before tucking in.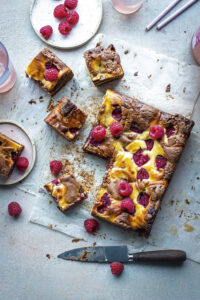 Fudgy Dark and White Ripple Brownies with Raspberries
Makes 16 squares
100g dark chocolate, broken into pieces
100g white chocolate, broken into pieces
150g unsalted butter, softened
200g caster (superfine) sugar
75g soft light brown sugar
3 large free-range eggs
1tsp vanilla bean paste
150g plain (all-purpose) flour
150g raspberries
Preheat the oven to 180C and grease and line a 20cm square cake tin with baking parchment.
Melt the dark chocolate in a heatproof bowl set over a pan of just simmering water. Set aside to cool a little bit. Do the same with the white chocolate in a separate bowl.
With a hand-held electric whisk, beat the butter and both sugars together until light and fluffy. Beat the eggs together in a small jug then gradually pour them into the butter and sugar mixture, whisking the whole time until you have a fluffy smooth mix. Beat in the vanilla bean paste and then the flour. Divide the mixture in half.
Gently fold the melted dark chocolate into one half of the mixture and the white chocolate into the other half.
Roughly dollop the mixture like a checkerboard into the prepared tin and push the raspberries into the mixture. Use the end of a teaspoon to swirl the two colours together.
Bake the brownies for 35–40 minutes so that a skewer comes out almost clean but still a little bit sticky. Leave to cool completely in the tin before cutting into squares.
Everyday Cook by Donal Skehan is available now