Some of the trees planted in fire-stricken areas this year have dried out after being deprived of water for weeks amidst a mix-up over who is responsible for their maintenance.
Following the catastrophic fires in Limassol and Larnaca in the beginning of July, several environmental NGOs, political parties and other bodies have organised various tree planting events. The initiatives saw several thousand saplings being planted across the island, but especially in the ten communities affected by the fires.
In Arakapas alone, where the fire appears to have originated from, around five tree planting events have taken place in recent months during which 1,500 trees were planted.
But not all trees will grow to become part of the revived forest area.
Photos taken by residents of the area showed several dehydrated young trees, despite a watering hose next to them.
"About 20 to 25 per cent [of trees] are lost in the process due to various reasons," said Demos Georgiades the coordinator for Disy's one million trees initiative that held a planting event there on October 24 in collaboration with Prasini Aspida (Green Shield) movement.
He said experts from the forestry department and agriculture workers in the area had warned them of the loss and it was expected.
"It is inevitable and almost impossible" for all the trees planted to survive, Georgiades added.
But the expected loss did not explain why the trees were left without water for more about a month.
The 26-year-old politician said they had made arrangements with Prasini Aspida for the trees' maintenance. However, the president of the movement, Kyriacos Andreou, told the Cyprus Mail that they in turn had the "commitment of the community leader" that he will oversee the watering process.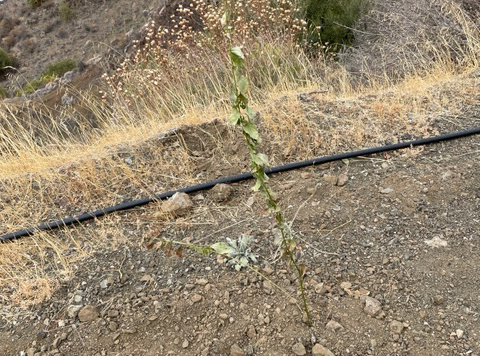 "We also have received messages that they [local authorities] do not water them [trees] and leave them to dry out," Andreou said. He added that he already spoken a few times about the issue with the community leader Vasos Vasiliou and offered to send volunteers and take water tanks there to water them.
In turn, Vasiliou, who participated in two more tree plantings in the area last week, said that "we water the trees every week" and that only "two small trees" dried out because they were not planted properly, he said.
The community leader explained that not all the hosepipes were connected to a water supply as there was not enough water in the reservoir of the area and that a local fire engine was used for watering the new trees.
He said that some arrangements to resolve the water issue of the area were expected to be made by the relevant government departments.
On a positive note, both the community leader and the forestry department appeared keen on resolving the issue.
"We will replace any trees that might have dried out," Vasiliou said.
Meanwhile, district forestry officer in Troodos Loizos Loizou told the Cyprus Mail that "we will resolve the issue within the week."