Touristy? Yes. Noisy? Quite. Overpriced? Slightly. Then why, one might ask, did I decide to review the somewhat wilting Kathodon tavern in Nicosia?
Because, despite its shortcomings, as one of the first restaurants I visited after moving to Cyprus, I have a soft spot for it; it will always represent the beginning of my life on the island.
That said, Kathodon is not just a mere sentimental choice for me. Its blend of Greek and Levantine cuisine actually make it one of the most original restaurants in town.
On top of that, the uber-central location, in the heart of old Nicosia and a stone's throw away from the Ledra street crossing, add a je-ne-sais-quoi to the establishment, perhaps thanks to the nearby reminder that we remain in the only divided capital in Europe.
Food-wise, the choice is vast and more creative than similar places. Among the usual suspects found everywhere in Cyprus, such as souvlaki, pork chop and halloumi, the menu features some gems of the Greek and Turkish cuisines.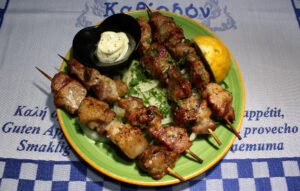 If I had to suggest a meal to the first-time visitor, I would start with the stuffed Florina pepper, typical of the northern Greek region of Western Macedonia and a serving of Smyrne meatballs (soutzoukakia) served in tomato sauce, a dish brought to Greece by refugees from Asia Minor.
I would then move on to the main courses and go for the kleftiko, slow-baked lamb on the bone, marinated in garlic and lemon juice and originally cooked in a pit oven.
Alternatively, another great choice would be the shish kebab giaourtlou, another Levantine cusine staple, accompanied by a mouth-watering and very garlicky yogurt dressing.
To finish off the meal, for a dessert I would choose the samali with Aegina pistachios, a dish that was born in the streets of İzmir and that is now popular all over Greece, as well as Cyprus.
As you probably already figured out, the menu is heavily influenced by those migratory flows between Turkey and Greece – mostly forced and dramatic – that ended up affecting people and lives, just as much as they affected what they ate.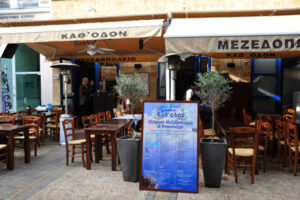 I recently watched the movie Politiki Kouzina, a 2003 Greek film that tells the story of Fanis, a young Greek boy growing up in Istanbul, whose grandfather, a wise gourmand, teaches him that both food and life require a touch of spice to make them worth eating and living.
For some reason, it made me think of Kathodon. The atmosphere, the spices, the drinks – retsina or ouzo would be the best choice – the menu intertwined among three countries of the same region sharing the same past.
The food at Kathodon is a celebration of both the similarities and the differences between Greek and Turkish cuisine. And, yes, it may be busy, slightly overpriced and a little tired, but it will definitely make you feel like you're navigating the Aegean Sea without having to leave Nicosia.
VITAL STATISTICS
SPECIALTY Greek-Turkish
WHERE Ledras 62D, Nicosia
WHEN Monday to Sunday 10am-11pm
CONTACT 22 661656
HOW MUCH Starters €5 to €8, mains €7-14, meze per person €15-19