Around 300 people demonstrated in Nicosia against government plans for the Akamas peninsula, which they say fall well short of protecting the environmentally sensitive area.
The protesters marched from Eleftheria Square to the interior ministry, the European Union House, parliament and the town planning department.
Environmentalists say the fight to preserve the Akamas has never been between wildlife conservation and the well-being of local communities.
Rather it is a struggle against the interests of big landowners and the speculative aspirations of land developers, uncontrolled growth, and scattered construction, as well as inadequate environmental policies and destructive development plans promoted by the government.
The organisers, the initiative for the protection of Cyprus' natural coastline and the Save Akamas/Save Cyprus group, said the government was trying to present the problem as a conflict between "overprotection" on the one hand and "land overgrowth" on the other, which they added, was just a PR stunt.
The Akamas peninsula covers an area of 200 square kilometres and is equal to only 2 per cent of the total area of Cyprus but it hosts around 50 per cent of the island's biodiversity.
As part of the area's master plan, the town planning council proposes among others the registration of dirt rural roads as part of the public road network, between the protected area and the local communities and the construction of isolated houses and farms open to visitors throughout the countryside, they said.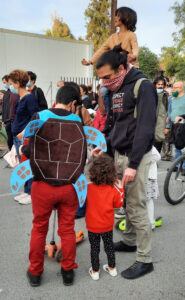 The suggestions also include designating locations of specialised developments of large and complex uses in environmentally sensitive areas (the Androlikou-Droushia gorges, Inia Rocks and the Pano Arodes – Kathikas gorges), and the creation of a new quarry zone in an area of  special ecological value (Neo Chorio – Androlikou gorges).
The unjustified expansion of residential zones (Droushia Rocks and Pano Arodes- Kathikas gorges), the upgrading of tourist zones (Asprokremmos – Halavron beaches in Neo Chorio) and the creation of tourist zones (Inia Rocks), is also among the suggestions.
A 2009 proposal to exchange land, transfer development rights, and compensation to landowners was never realised.
The government has come up with a fresh plan, which conservationists say falls well short of protecting the area. From the opposite side, communities have also rejected the plan because it does not go as far as they would like as regards development rights.
For decades, communities in the Akamas peninsula and Polis Chrysochous, whose areas fall within the EU Natura 2000 network, have been pushing for more development, arguing that due to strict town planning regulations they have been unable to exploit their properties. They also argue that this leads to the decline of their area since young people opt to move to urban areas to seek employment, due to lack of prospects in their communities.