A report released on Monday by the health ministry showed that Covid-19 infections on a weekly basis doubled from early November to early December, with six to 11-year-olds accounting for a large increase.
The report breaks down the infections according to age groups in four-to-five-year bands, beginning with the infants and young children (0-5 bracket). Amongst that group, from November 6-12, 61 infections were recorded but by November 27-December 3 this had risen to 126.
An outlier point appeared to be that within the 0-5 bracket infections in the first week of the report went from 61, to 133 in the following week but decreased to 73 the week after – but then shot back up in the final week to 126.
Some have offered that a higher number of infections are being picked up amongst school children generally as they are still a largely unvaccinated group and testing for the under 12s was only introduced last week.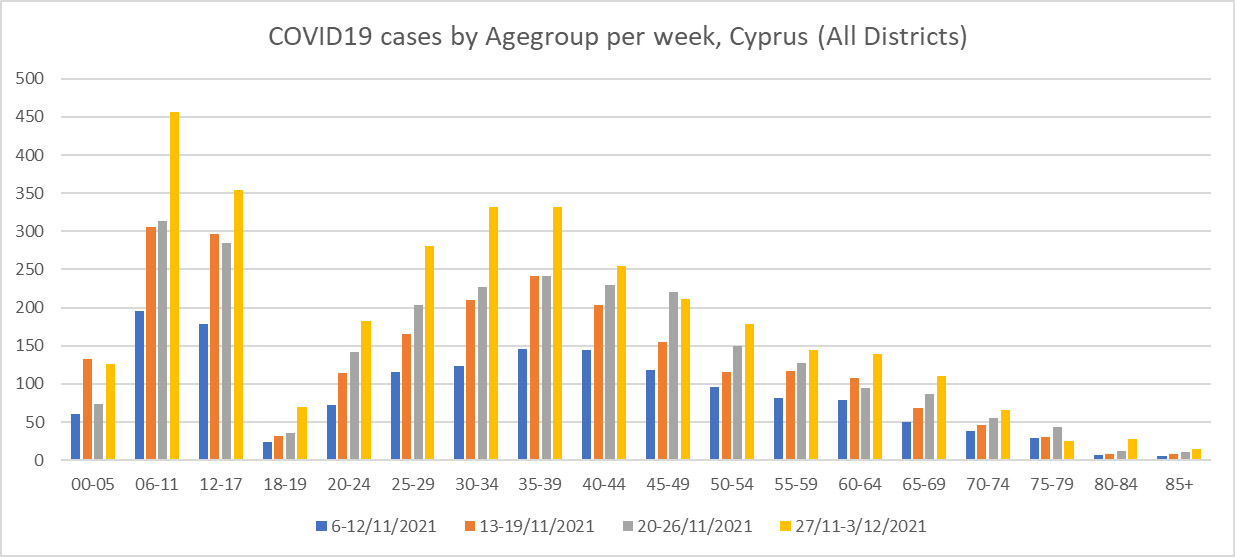 Another notable point is that the within the 75-79 bracket, infections were recorded at 29 in the first week but had decreased to 25 by week four.
The general trend however is broadly in line with the rest of the age groups.
During the same period, the first week shows that six-to-11-year-olds accounted for 195 infections, but this later rose to 456.
The 12-17-year-olds went from 179 to 354, 18-19-year-olds from 24 to 70, the 20-24-year-olds from 72 to 183.
A more noticeable rate of increased was observed in the 25-29-year-olds which went from 116 to 281. The 30-34 group went from 124 to 332. The 35-39 went from 146 to 332.
At the other end of the table, the older age groups, generally accounted for far fewer infections but still saw notable increases.
The 65-69 group went from 50 to 110 infections, 70-74 from 38 to 66, and the 80-84 from seven to 28.
Total reported infections during the surveillance period rose form 1565 in week one to 3306 by the fourth week.