How the academic and research community can transform their findings into innovative, real-world solutions and applications was the focus of an event last week that looked at the growing technology sector in Cyprus.
"Cyprus' considerable investment in research is reflected in cutting edge research results," author and leading expert in technology transfer Tom Hockaday told the University – Industry Relations: A Walk Through the Knowledge Transfer Process event.
The event was also held under the auspices of the Deputy Ministry of Research, Innovation and Digital Policy.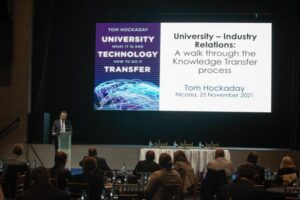 Hockaday, who led the technology transfer activities at the University of Oxford for ten years, added that while transferring the results and insights of that research to the real economy is difficult, "it is still necessary in order to benefit society at large".
He also extolled the value of promoting knowledge transfer, explaining the crucial part that synergies play in the conversion of research results to innovative products and value-adding services.
Meanwhile, the state's Chief Scientist for Research and Innovation Nikolas Mastroyiannopoulos said that the partnership with Hockaday includes the creation of specialised programmes to boost knowledge transfer from the various research centres to the private industry.
"Research and innovation in Cyprus are evolving and we can say with certainty that we have come a long way," Mastroyiannopoulos said.
"However, we still need to fully embrace impact-based creativity, fuel cutting-edge innovations at all levels of education, society and industry, diversify the economy, instil an entrepreneurial mindset and create the right conditions to create new perspectives, and to turn challenges into viable, scalable business opportunities," he added.
The partnership between the island's Research and Innovation Foundation and Hockaday was first announced in March.
"Tom Hockaday has been selected as an external consultant to provide strategic advice, expertise and know-how on the establishment of an effective institutional framework, funding programmes and complementary services of RIF's central KTO to support knowledge transfer in Cyprus," the RIF said at the time.