A boat currently docked in Cyprus is an exact replica of an 18th century Russian naval vessel. Evie Andreou takes a look around and talks to those on board, sailing it around the world, but draws the line at going up the rigging
Anyone at the Limassol marina recently can't fail to have noticed the mast and rigging of an 18th century tall ship among the masts of modern yachts projecting into the horizon behind the harbour master's building.
They belong to the Shtandart, a replica of the first vessel Russian Tsar Peter the Great built in 1703 – the flagship of his naval fleet – is in Limassol until the end of next week. This is the vessel's first trip to Cyprus and the easternmost point it has so far sailed to.
Its builder and captain, Vladimir Martus has been living onboard the vessel for 22 years, travelling around Europe and Africa with a small crew and a group of volunteers.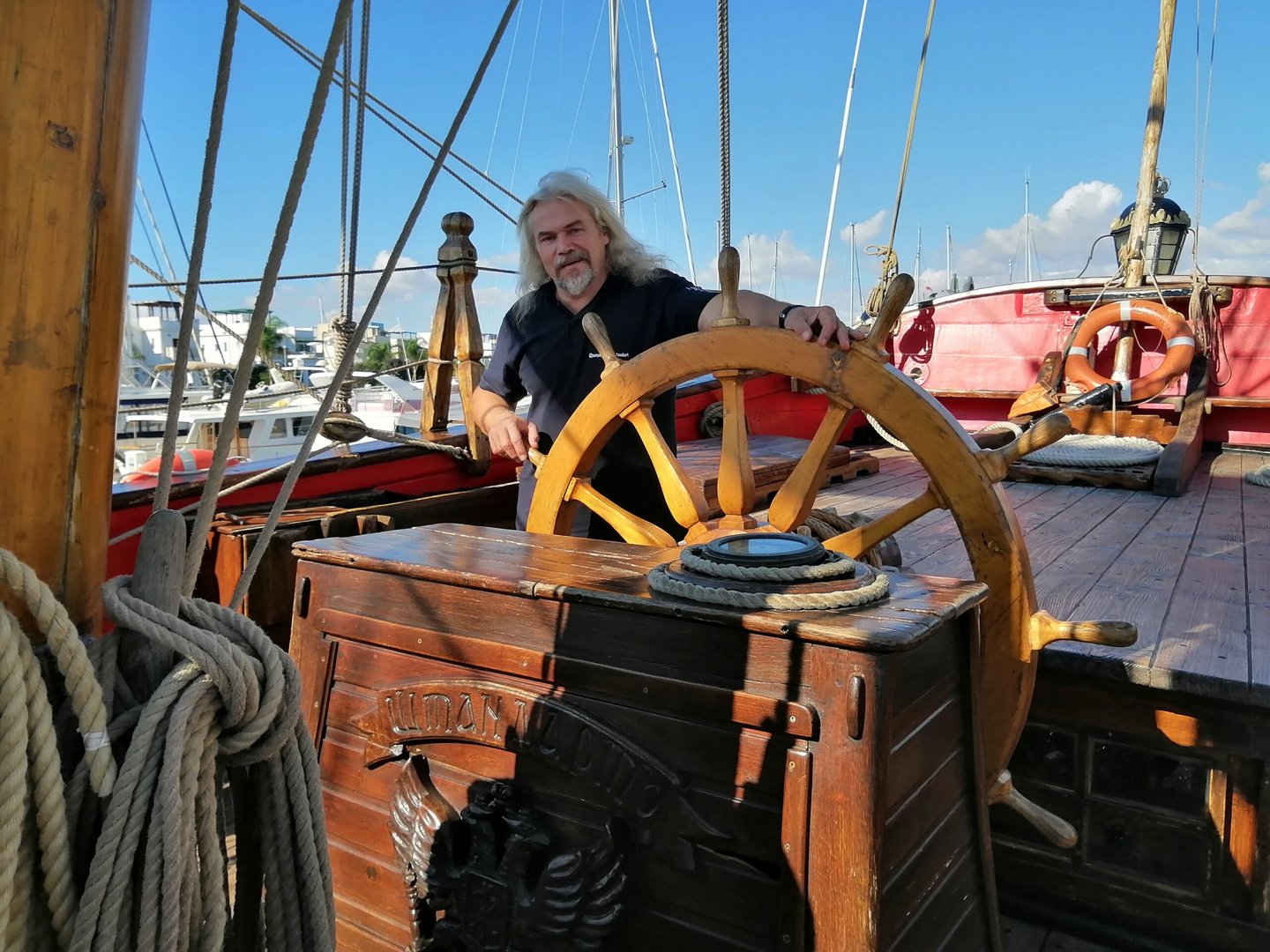 But despite it being a small, confined space, he said it never gets boring. "There are lots of positive emotions when you travel to so many places in your home," he told the Cyprus Mail from the deck.
It all began in the early 1990s when Martus came across a small model of the Shtandart at the Hermitage Museum in his hometown of Saint Petersburg.
An admirer of Peter the Great, Martus decided to build an exact replica of the original ship the Tsar had named after his Royal Standard.
"I saw the replica. I was impressed, got some money and bought a chainsaw," he said. Along with two friends and limited means, they started a training mission and the construction of a tall ship using traditional tools, including an incredible 8,000 nails all made by hand.
The only modern tool they used in the six-year process was the chainsaw, to cut down timber, he said. Gradually more people became involved and the vessel was completed in 1999.
"We started as a training project and we remained one," Martus said, sitting in the admiral's lounge and office, a place that was off bounds to anyone who was not an officer back in the 18th century.
As bold a move as creating the vessel was, it wasn't the first vessel Martus built with friends.
As a naval architect student Martus built a copy of the historic schooner St Peter which ended up being seen around the world as the Black Pearl in the Pirates of the Caribbean film.
"I'm quite proud the schooner was used in such a film," Martus said as it inspired many people to take up sailing and show interest in tall ships.
Apart from participation in tall ship races, festivals and films, the Shtandart offers training for a fee, which is used for food, water and other expenses, to anyone who would like to go on board for a few hours, days, weeks, even months. After undertaking such an experience some stay onboard as volunteers.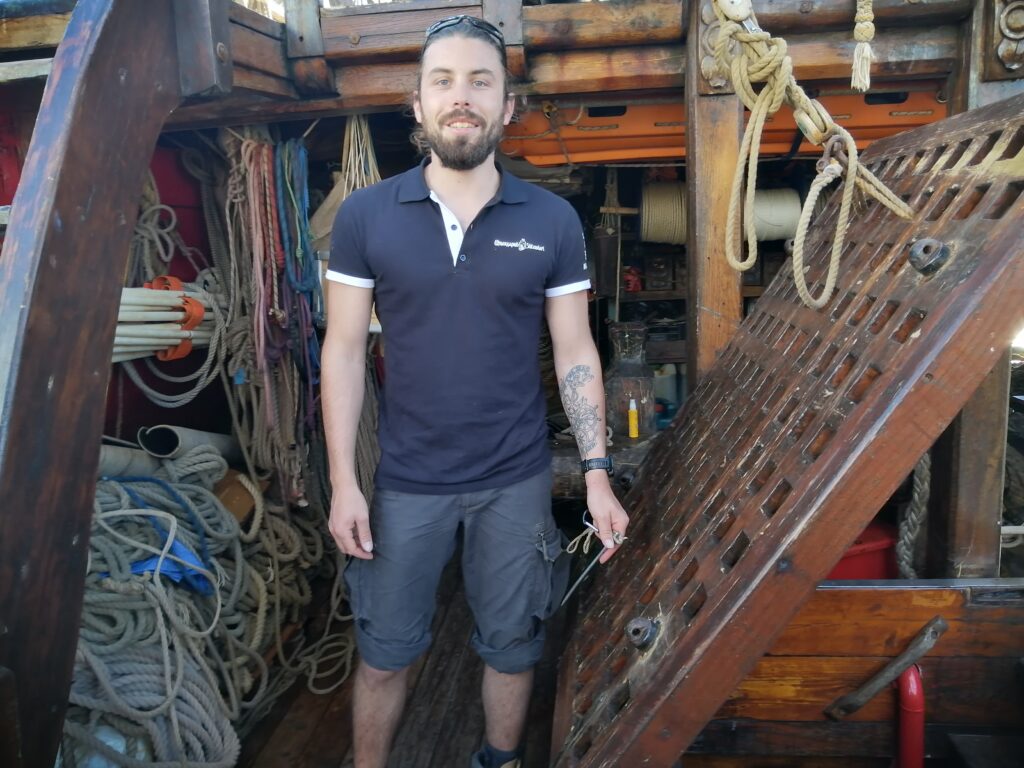 Joining the Shtandart on its journey from Greece to Limassol in this role is 28-year-old Thibaud from France. "I flew from France to Greece to catch the ship," he said. Thibaud, who has just finished a second degree in bioinformatics, trained in the past on the Shtandart for a day when the vessel was visiting a port near his hometown, but this is the first time he has spent a longer period onboard the vessel.
"I have sailing experience, I learned on my grandfather's boat, but I wanted to also learn on such a ship," he said.
Life on board, except training those who come aboard for the experience, consists of doing what needs to be done, according to Anya, 37, a repeat volunteer from Saint Petersburg. "Painting, varnishing wood, repairing the ropes, mopping the deck, preparing meals, cleaning the mess, the toilets," she said. Those onboard have three shifts that change every four hours rotating their duties, she explained.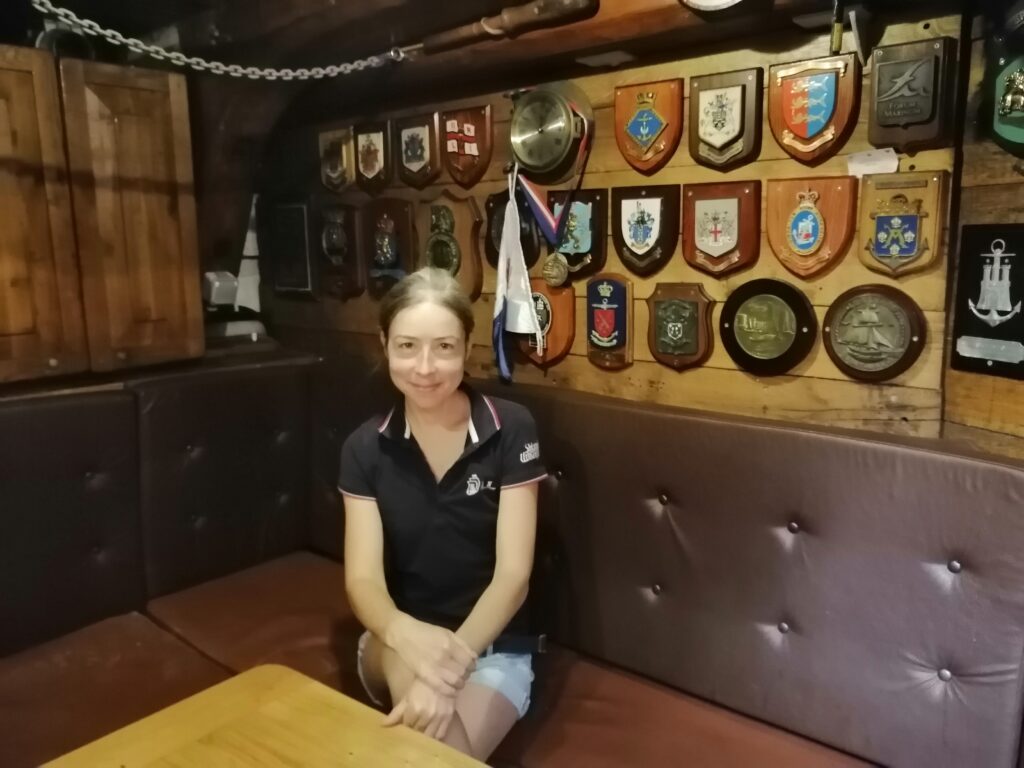 Anya, with a digital science background, has been onboard for around two and half months and would like to stay a couple more. It is her fourth year of volunteering, staying for a few weeks at a time, as much as other obligations allow. "It is a great experience," she said.
The vessel hosts volunteers of many nationalities joined together by their thirst for adventure and love of sailing.
But one activity they all love, according to Martus, is being sent up to the rigging to adjust the position of the vessel's sails. Despite the initial fear some might feel, he said, they like the view from up there.
"It is about sail training, building character and human relations," the captain said describing what people experience during their time onboard.
Offering a glimpse into life in an 18th century boat, the vessel offered tours to the people of Cyprus last weekend which continue, but also sailing trainings. It also offers private sailing cruises for small groups and is available for corporate and children's events.
Martus is now working on his new vision, to construct a true replica of the 19th century Cutty Sark tea clipper which is three times as big as the Shtandart. The original ship is now a visitor attraction in Greenwich, London. He is looking for sponsors and volunteers to assist in carrying out this vision. Martus believes Cyprus would be ideal for such a project to materialise due to the good weather conditions and willingness of people to travel to the island to volunteer.
"If you have a dream share it with people," the captain said with a twinkle in his eye, "they might share the same vision".
For more information on the Shtandart's activities in Cyprus see here