Weekly rapid tests also for the vaccinated and a small extension of the school holidays were among the suggestions discussed on Monday by the health ministry and the scientific advisory committee in a move to contain the spread of the coronavirus pandemic.
During the meeting, some suggestions were agreed on to be submitted to cabinet on Tuesday, sources within the health ministry said.
According to the Cyprus News Agency, restrictions on the number of people in social gatherings over the holidays, which is now at 20 people, was not among the suggestions.
The same sources said that among the suggestions to be submitted to cabinet is extending the school holidays to January 10, and the requirement for a rapid test not older than 48 hours for all pupils and teachers on the first day back.
Weekly rapid tests for those vaccinated with two doses is also a suggestion. Another suggests 24-hour rapid tests for the unvaccinated and 48-hour rapid tests or self-tests for the vaccinated to be able to take part in social gatherings.
It was also suggested that children aged 12 to 15 can enter some areas where a vaccination certificate is necessary with a rapid test if they are escorted by parents who have completed their vaccination regimen.
President Nicos Anastasiades said further restrictions might be necessary if people fail to abide by the existing measures but expressed the hope that a blanket lockdown can be avoided.
He added that relevant authorities "try in the best possible way to manage the freedoms of the citizens and professionals" compared with what is happening either in Europe or in the rest of the world.
With coronavirus hospitalisations rising and a continuing upward trend of the daily cases, experts submitted new proposals on Monday during their meeting with the health minister.
"The easiest thing for us was to have a lockdown like they do in other countries and there would not be any issue.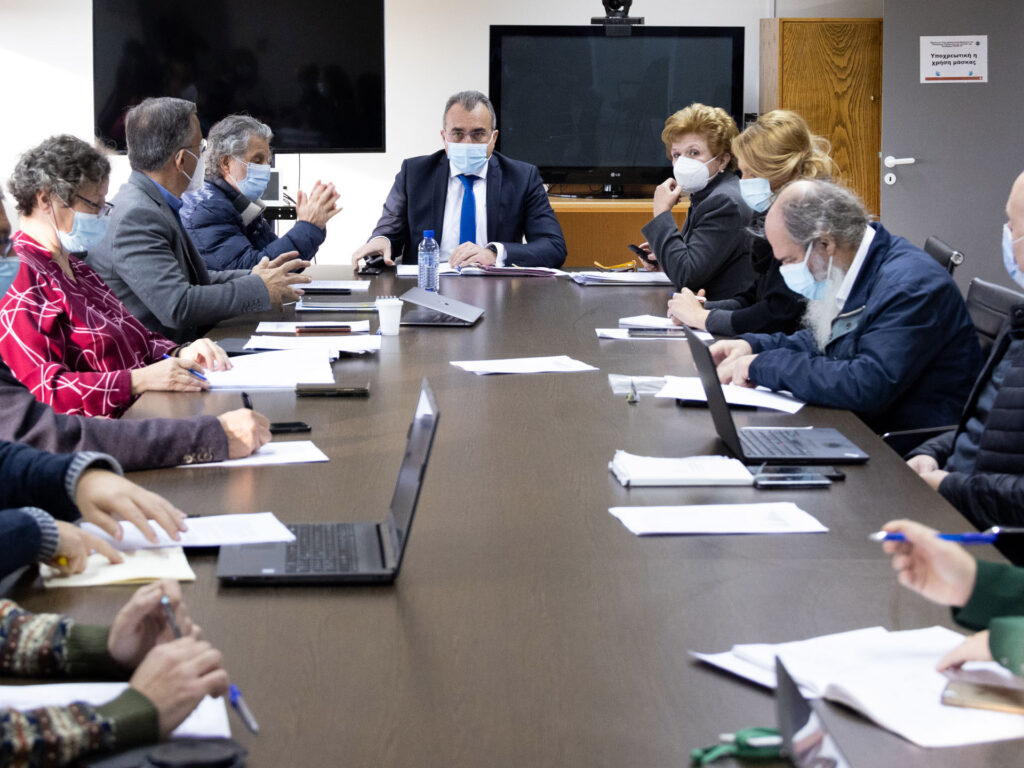 "But we are trying the hard way, to implement measures we must abide by and as it seems right now, the measures bring very good results," Health Minister Michalis Hadjipantelas said before the meeting.
Among the proposals is to restrict the maximum number of people at social gatherings including at houses, as well as to establish mandatory coronavirus testing for entry into certain spaces, regardless of vaccination status.
There is "huge responsibility" to keep businesses open, Hadjipantelas said and to "give the opportunity to people to celebrate Christmas with their loved ones".
Netherlands began a lockdown on Sunday aimed at limiting an expected Covid-19 surge caused by the rise of the Omicron variant. Germany banned travellers from the UK while Israel banned those travelling from the US citing increased infections in both countries.
Any new measures are expected to be announced on Tuesday following a cabinet meeting at 9.30am chaired by the president.
According to member of the advisory team and professor of microbiology/molecular virology at the University of Nicosia Medical School Petros Karayiannis, any measures discussed will seek to limit transmission.
"We know very well that this is done through vaccinations and through self-protection measures and compliance with protocols. The latter are entirely based on the responsibility of each of us. Therefore, we emphasise it repeatedly, but we still see incidents both in the workplace and within families now," he told the Cyprus News Agency.
He also pointed out there was uncertainty about the impact of the Omicron variant.
"We know that it is transmitted much more easily but there is not yet a clear picture whether it is a mild disease or some say it is the same as Delta," Karayiannis said.
It seems, he added, that two vaccine doses, especially if they have been administered a while ago, are not enough to tackle Omicron.
He added that as immunity declines, it does not appear to adequately protect from the Omicron, so a third dose is necessary, while it seems, high levels of antibodies are also needed.
Karayiannis expressed concerns about possible spread of Omicron within the community through people who have not been detected as positive adding that, daily, around 40 people are tested positive at the Republic's points of entry, which, he said, "is a fairly high number of cases, which we do not know if it is Omicron."
He said it was important to continue focusing on arrivals from the UK in a bid to prevent Omicron cases from entering the community.
On the self-tests available to vaccinated people from pharmacies on Tuesday, Karayiannis said that if they are used properly by individuals they can be a useful tool.
Last Monday, the health ministry announced additional restrictions following the appearance of the Omicron variant in the country.
So far, some 33 confirmed Omicron cases have been detected in the government-controlled areas.
On Sunday, there were 175 patients with Covid-19 in hospital, 60 of whom in serious condition, including 22 who were intubated.
The majority, 79.3 per cent, of hospitalised patients were unvaccinated, the health ministry had said.
In a bid to increase the national vaccination coverage, entry to key sectors of the economy including restaurants, cafés, pubs as well as weddings and baptisms among others, is only allowed to those with at least one vaccination dose as of last Wednesday.
Those with one vaccine dose must also present a negative coronavirus test.
In addition, people who have not had the booster dose up to seven months after their latest jab, must also present a negative coronavirus test in areas where a SafePass is required.
Officials say that vaccinations have picked up over the past few weeks, with close to 10,000 jabs administered daily, the majority of them booster doses.
Some 86 per cent of the adult population has received one dose, while 81.2 per cent has completed their vaccination.
As of last Friday, Cyprus also started vaccinating children aged 5 to 11.