DISY chief Averof breathed some much-needed life into the dead political scene on Friday by calling out Nikos Christodoulides and challenging him to an election showdown for the leadership of the party in yet another desperate attempt to make his scheming and sly fellow-Paphite come clean about his presidential intentions.
The deadline for the submissions for the Disy presidential candidacy is this Monday and with all indications being that the closet candidate had no intention of putting his name down, Averof decided to raise the stakes, putting his leadership on the line. If Christodoulides submitted his candidacy, Averof said he would resign as leader and call leadership elections with the winner taking charge of Disy and being the candidate.
This was an answer to the behind-the-scenes operator's claims, conveyed through his media cheerleaders, that he could not win a contest for the candidacy because the 1,800 strong Disy supreme council which would vote was under the control of Averof. In a leadership contest all 51,000 Disy members would be entitled to vote and not even Christodoulides' rumour-spreaders could claim the voters would take orders directly from Averof.
The party chief may have placed microchips in the brains of the 1,800 members of the supreme council so they would do as he tells them but doing this to 51,000 party members is impossible even for a politician as capable as Averof.
CHRISTODOULIDES will not take on Averof because he does not have the cojones for confrontation as his career so far has shown. Everything he has achieved is by buttering up people in authority, flattering journalists and pandering to his audiences be they made up of two or a 100 people.
Never in his political career, which began when Prez Nik took him to the palace in 2013, has he taken a political position about anything apart from the unacceptable and provocative actions by Turkey, which is the easiest target for all politicians on the make. His political creed has always been to express no views that might mildly offend anyone, and he has elevated talking without saying anything into an art form.
When he was government spokesman and Prez Nik wanted him to respond to public criticism by Akel he would always delegate the job to his deputy, Victoras, because he did not want to alienate the comrades, whose vote he could seek one day in 2023. The approach clearly works with the electorate, a sizeable part of which sees this sly, scheming, self-serving Paphite as the Mr Nice Guy of politics.
It is this popularity Christodoulides uses as his main argument for being anointed Disy candidate. He is prettier than Averof, so why should he subject himself to an electoral contest in which he would have to express political views he does not have.
IT IS VERY HARD to know from where Christodoulides (he has been a public employee all his life who has never taken a risk) derives this stainless-steel self-confidence to snub Disy and be determined to stand for the presidency with or without the party's support?
Some say he has the backing of the Church, being a devout churchgoer. His father-in-law, meanwhile, a grocery-store owner from Limassol, who has been canvassing for votes, last June posted on Facebook a selfie he had taken with an arm around Georgian, Thessaloniki-based billionaire Ivan Savvidis. It was taken down after a few hours, for unknown reasons.
Nobody knows whether Karseras was there to seek funding for his son-in-law's election campaign or simply wanted to be photographed with the owner of Paok football club, who, according to Wikipedia, is closely-linked to Vladimir Putin and in 2013 was listed by Forbes magazine as the 30th richest Russian businessman in the world.
The million-dollar question is: does Christodoulides use hair dye or boot polish to give his hair that unnatural jet-black colour?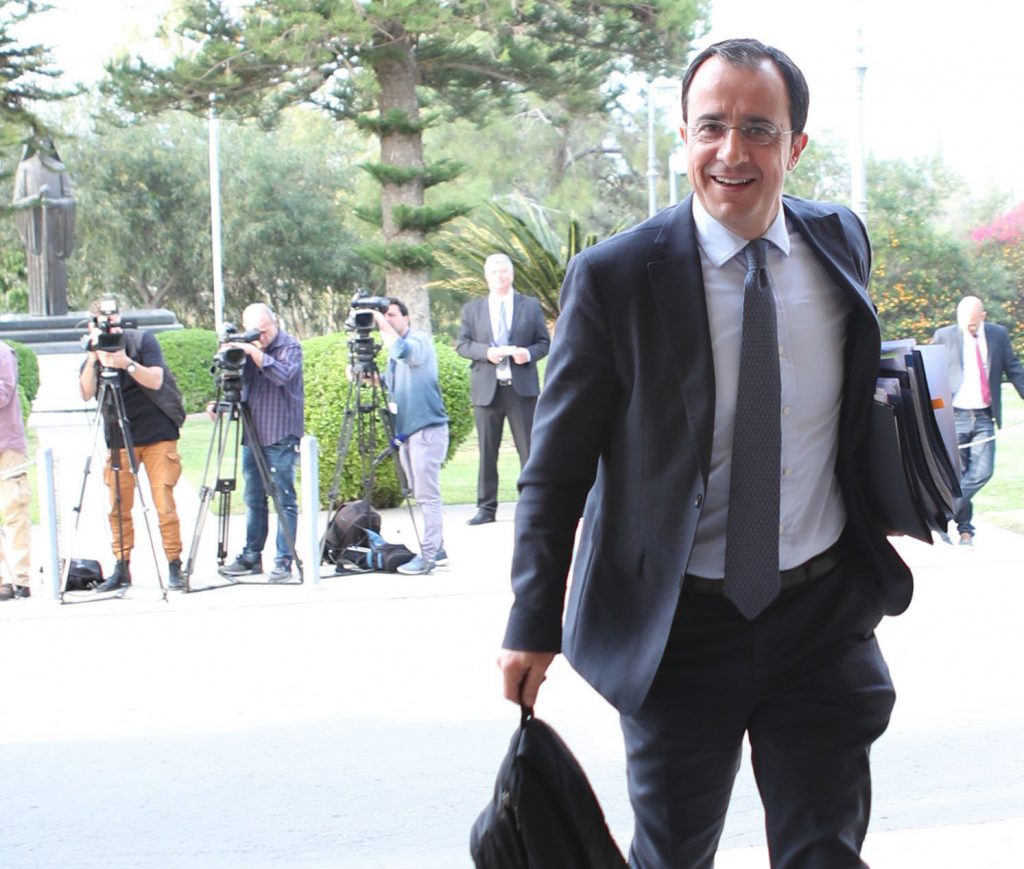 ANOTHER million-dollar question is what Prez Nik will do if Monday's deadline passes and his Paphite protégé does not submit his candidacy at Disy? Will he keep him in the government being fully aware that he would carry on engaging in his election campaigning at the taxpayer's expense, having turned the foreign ministry into his campaign HQ?
Nik could turn a blind eye to that, but he cannot ignore the fact that his minister is plotting how to win Disy votes from the party candidate, without which he would not stand a chance in hell of being elected.
Of course, if the closet candidate had political cojones, he would have stopped the pathetic pussy-footing, submitted his resignation and announced his plan to stand as an independent candidate, instead of claiming he will make the decision he took more than a year ago this spring so he can continue living off the taxpayer for a few more months.
SURPRISED to see former justice minister Emily Yiolitis using her twitter account to have a dig at the Green deputy Alexandra Attalides because she was one of 12 individuals worldwide to have been honoured by the US State Department for her work to combat corruption. She was named an 'Anticorruption champion'.
Yiolitis responded to a tweet by Attalides on the film Don't Look Up, which she described as "Tragically, tremendously topical," by tweeting the following: "You are concerned but parallel to this you accepted an award from America, as the self-proclaimed custodian world ethics and transparency (and Akel applauds)."
What was the point she was making? That Attalides did not have the right to be touched by a film about the world's failure to deal with climate change, because she had received an award from the US? What other issues is Attalides not allowed to be concerned about because she received an award from the US? Yiolitis did not say.
CONGRATULATIONS to Professor Leontios Kostrikis and his team of scientists at the University of Cyprus for identifying a new coronavirus variant in the community. This could raise the profile of our Kyproulla for a good reason for a change. I particularly liked the name given to the new variant discovered – Deltacron – as it sounds more like the title of sci-fi game. It was given this name because it shares some the genetic background of the Delta variant along with some of the mutations of Omicron. It something like a mixed kebab.
I just hope word does not get round the world and Kyproulla residents are banned from visiting other countries in order to prevent the spread of Deltacron.
PERHAPS the writers of the decrees micro-managing our lives have been reading the Coffeeshop, which on a couple of occasions pointed out that the 'discotheques' referred to in the decrees alongside, bars, clubs and music venues ceased to exist some time in the 80s. In the latest decree there was no mention of 'discotheques' among the clubs and music venues the maximum capacity of which was limited to 200 people that had to be nailed to their chairs. I consider this a small triumph for our oft-ignored establishment as someone out there is taking it seriously.
I VISITED Café Nero on Thursday and as I was waiting at the bar to put my order a very polite young woman with 'Trainee' emblazoned on the back of her T-shirt asked for my Covid Pass, which I showed her. She then asked to see my ID, which I did not like and made some remark about being in a police state. I showed it to her anyway, but I felt the state giving waiters the right to demand to see your ID is a step too far down the slippery slope to authoritarianism. Waiters have become the cops of the Covid era, inspecting rather than serving customers.
THE COFFEESHOP, which could be accused of being overly negative, has resolved for 2022 to feature at least one positive item each week. Here is the first:
A little over a month ago, I made a discovery that I feel obliged to share because it has given me many hours of fun and pleasure. I refer to the Bob Dylan radio shows broadcast a few years ago but all available on the website of Theme Time Radio. You just have to type this into Google and you will have more than 100 one-hour shows to listen to. Each show features songs on a particular theme – whiskey, kiss, divorce, money etc – and Dylan is a brilliant presenter, funny, witty and enlightening. There are songs of all types, from as far back as the 1930s to the noughties. If you are a popular music omnivore, Theme Time Radio Hour is heaven.