By Sarah Coyne
It is a brave restaurant owner who launches a new business during these uncertain times. Thankfully, this did not stand in the way of the team at the Cliff Social All Day Project, which opened its doors last December. This large venue must have been a considerable investment for the owners.
Located on the cliff (hence the name) below the Moutallos school building, it offers sweeping views of Paphos and the coastline. The interior has a very trendy 'Shoreditch' London vibe and offers  various seating options, with areas divided into smoking and non-smoking, and a vast outside terrace, which really makes the most of the views.
When I write a restaurant review, I always visit the venue incognito and for nearly four years, I have always managed to get away without the restaurant knowing that they are being reviewed. However, I was found out for the first time at this new restaurant. On seeing me writing notes, our waiter asked if I was writing a review. The fact that he worked out I was writing a critique is a credit to the service and attention offered at this restaurant.
The whole team is led by the very experienced manager, Stelios Stylianou. This high level of service was clear from the start when my mother had huge problems showing her proof of her NHS vaccinations. The waiter had the patience of a saint. I think I would have just asked us to leave and possibly not return, but he spent ages telling her different things to do on her phone until it eventually worked.
The menu is extensive, offering traditional dishes with a modern twist. The Cliff Social Menu starts with a fabulous brunch menu, offering sweet and savoury pancakes, a healthy Acai bowl, Eggs Benedict and Shakshuka Eggs. After 1 pm, the main menu starts and is available all day until 10 pm, when it switches to Sharing Platters and Nachos, until late. There are eight entrées ranging from Halloumi bites to Oysters.
As we noticed the generous main course portions going past the table, we went straight to the main event. The menu is divided into an awe-inspiring selection of salads, including poke bowls, pizzas, pasta, burgers and their ten 'House Suggestions', named after different movies. The burger section includes six unique variations using pork, chicken or Angus beef. There is also a 'No Regrets Burger', which is vegan, made with soya cheese and vegan honey mustard sauce.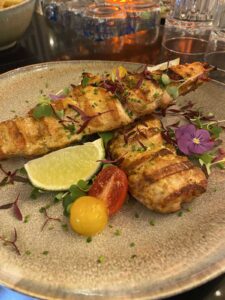 We opted for two of their house options: the 'Second to None – Rustic Chicken' and a Spicy Chicken Penne. The chicken dish, perfectly cooked on the grill, was thyme scented and served with a Dijon mustard sauce. On the side, there were fries and grilled vegetables. The sauce was excellent, but if there was one minor criticism, it could have done with a little more.
The pasta was also a generous portion and included chicken, rocket, Manouri cheese, chilli peppers and pistachios. It was a melt in the mouth experience.
For dessert, they have a new concept called, The Sweeterie. This is where you can put together your choice of pancakes, doughnuts, mini waffles or ice cream. It starts at a very reasonable 3.50 euros for two doughnuts or pancakes, with a choice of filling. The Sweeterie is only open from 10am to 6.30pm daily and would undoubtedly appeal to anyone with children, together with the further attraction of a playground at the back of the building.
A Signature Cocktail list offers a choice of seven cocktails, inspired by the artworks of Turkish Cypriot artist Ümit Inatçi, which stand outside the restaurant. The wine list certainly shows an expert behind it, by selecting some leading Cypriot and Greek wines. Some fine examples range in price up to 70 euros, including our local Tsangarides winery as the house option.
There is much to love about the Cliff Social Project: exciting architecture, great food, superb service, and easy car parking. I shall certainly return. They have the winning formula for a strong future regardless of world events, with a very experienced, observant and well trained team.
SPECIALTY International
WHERE Kâmil Toçan 1, 8016 Paphos.
WHEN Brunch 9.30 – 1 pm. Main Menu 1pm – 10pm. Nachos and Platter 10 pm – Midnight.
CONTACT 99 580 313
HOW MUCH Main Courses from 10 euros