We visited Indian restaurant Saffron on a blisteringly cold weekday evening, the cuisine serving to complement the innumerable layers of clothing we had donned for our outing. Because once you run out of warm things to add externally, your last resort is to inject some heat from the inside.
Walking through the narrow, vacant, sodden streets of old town Limassol, we quickly realised that our reservation might not have been needed. With a handful of exceptions, bar after bar, restaurant after restaurant, was either empty or shut altogether. Indeed, once we arrived at Saffron, the kitchen and staff were solely preoccupied with takeaway and delivery orders, with only one other table arriving throughout our visit. Regardless, the staff were attentive, courteous and helpful with any questions and requests.
Our drinks included a simple local beer and a mango lassi. The lassi was quite mild and pleasant, fruity but not overly sweet, cool and naturally creamy, although my dining companion would have preferred a touch more cardamom. We opted for the vegetable samosas as a starter, of which you receive two. The samosas had a quite crispy exterior, which I liked, and a steaming, fragrant interior, very mildly spicy, with soft potato and peas. They were accompanied with a dipping sauce, which was somewhat sweet, and spicier than the samosas themselves.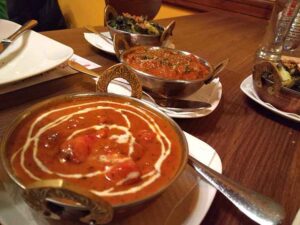 Although hardcore Indian cuisine aficionados will bemoan the lack of daring in our main dishes, I had been hankering for some murgh makhani (butter chicken) for quite some time, and that itch had to be scratched. The other meat dish we ordered was the kadhai lamb, a North Indian curry made with tomatoes, onions, bell peppers and coarsely ground spices. We partnered the two curries with steamed basmati rice, which was perfectly fluffy, a cheese naan bread, and saag aloo, cubed potatoes cooked with various spices, browned garlic and onion, mixed with spinach and dried fenugreek leaves. The restaurant offered to adjust both curry dishes to our desired level of spiciness.
When every dish, after the aforementioned samosas, arrived, as beautifully presented as they were, I must confess that my greedy, gluttonous, sheer volume-seeking eyes betrayed the slightest hint of disappointment at the size of the portions. However, not only was I pleasantly surprised to find out that the food we had ordered was more than enough, but we actually had to ask the restaurant to pack the leftovers for us to take home.
The food itself was very pleasant and well-cooked. The butter chicken was as good as I have had in Indian restaurants in both Rusholme and London, particularly over the blank canvas that is the plain basmati rice. The same applies to the kadhai lamb, which was equally as nice. The only change I would make in hindsight was to order a single portion of saag aloo instead of two as that proved to be excessive. All things considered, the visit was very pleasant and we would return again.
VITAL STATISTICS
SPECIALTY Indian
WHERE Saffron, Eleftherias 50, Limassol
WHEN 12 noon – 11pm
CONTACT 96 293737
HOW MUCH €5-8 for a starter, €13 for a curry, €4-7 for a side