By Sarah Coyne
Now that the weather is warming up, it is the perfect time to travel further afield and enjoy some of the island's best restaurants. Several people have mentioned the Harmony by the Sea restaurant to me over the years, but being located in Pissouri meant that it was just that little bit too far for a bite to eat. However, on a glorious sunny Sunday, we decided to venture out to this beautiful place and see what all the fuss was about.
The restaurant is positioned just off the mini-roundabout in Pissouri. It is a cosy place and has only just reopened for the season, complete with a new head chef. The dark interior is full of character and is beautifully presented with large upholstered chairs. Outside, there are limited tables on the cobbled street, which leads down to the sea. Sitting at the right angle outside, you have a fabulous view with the background noise of crashing waves.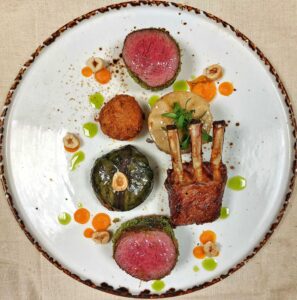 As it was a Sunday, we were presented with the Sunday menu, which offered a limited choice of just three starters, mains (including two roasts) and desserts. Of particular note at this restaurant is the quality of the service. It is second to none and possibly one of the highest levels in Cyprus we have ever experienced. We were served by an exceptional manager called Ivan. From the moment we arrived, this was a man who knew the true meaning of the word 'hospitality'. The meal ran seamlessly under his direction, and unusually, we had absolutely nothing to niggle about. If I owned a restaurant, I would steal him!
The meal started with a breadbasket together with an unusual butter. The basket contained four kinds of bread, the perfect base for the lightest butter, presented on a layer of salt flakes. We selected the Heritage Beetroots and the Smoked Ricotta as our starters. This is where the new chef, Petros Yiangou, offers flair and experience, having worked in France, Switzerland, UK and America.
The beetroot dish had a selection of three types: the standard, golden and candy varieties. It came covered with grated Anari cheese, olives and walnuts, and a citrus dressing. The perfect flavour combination. The Smoked Ricotta was also very different from the norm with an earthy espuma, compressed pear with calvados, hazelnuts and popped buckwheat. Again, an interesting blend of flavours and textures. The only slight criticism I had was that the presentation, in a full bowl, reminded me of a bowl of porridge! It deserves to be served as delicate quenelles on a plate, as a stand-out dish.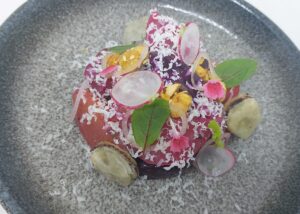 As we all know, Sunday roasts can vary greatly when we dine out, but both the lamb and roast beef options at this restaurant were excellent. Both had a very generous portion of meat – moist, beautifully cooked and full of flavour – and served with roast potatoes and vegetables. However, I did miss horseradish sauce, which was requested but not available. I consider this an essential accompaniment for beef. To be fair, this was the restaurant's first Sunday roast service of the season, and they did say that other diners had also desired it and that they would be getting some in.
At the end of the meal, my partner chose a Baba au Rum from the choice of three desserts, with the other options being a variation on Bread and Butter Pudding and All About Chocolate. The pudding was served with a small shot of rum on the side, with the sponge sitting on a base of citrus segments and topped with a diplomatic cream (half crème pâtisserie and half whipped cream), sprinkled with pistachio nuts. He definitely enjoyed it.
The regular menu offers a much greater choice of dishes, and next time I might try the Risotto, Seafood Linguine, Catch of the Day or Beef Fillet Rossini, to mention a few. The chef is much in evidence during the meal passing from table to table, which is always good to see and a sign of confidence in his work. We did hear him offer the alternative menu to other diners, so that is worth remembering, if a roast is not to your liking on a Sunday. There is also a vegetarian option on both the starters and mains. The Harmony by the Sea restaurant also has a weekly menu with one additional starter, three different mains and another dessert option.
After such a substantial meal, it was just a few steps to the beach, the perfect place to enjoy a walk whilst the resort is quiet and without tourists. Pissouri is well-positioned for both Paphos and Limassol, and the Harmony by the Sea is highly recommended as a memorable go-to dining destination.
VITAL STATISTICS
SPECIALTY Mediterranean
WHERE Ampelonon 80, Pissouri Bay.
WHEN Wednesday-Sunday: Lunch 12-3pm, Dinner 6-9.30pm. Subject to change. Monday and Tuesday: closed.
CONTACT 25 581497 (booking advised)
HOW MUCH Starters from ¤6, mains from ¤12, desserts from ¤6