We always talk of the tango. Yes, it's the world's sexiest dance, born in the brothels of Buenos Aires, and once banned by the church. But did you know that Buenos Aires boasts more bookstores per capita than any other city in the world? Vibrant, cheerful, and cosmopolitan, the Argentine capital should be on everyone's bucket list.
The city is also ranked among the safest in Latin America (deemed safer than Los Angeles, Mexico City and Brussels). So it's no wonder the three million residents are free to enjoy a never-ending host of happenings that includes film festivals, football finals, and fabulous food fetes…
This is the home of singularly succulent steaks. Here, you can indulge in a meat-fest courtesy of the local asado (ribs, sirloin, and tenderloin grilled to perfection, and accompanied by fresh, crisp salads), and Milanesa de carne (breadcrumb-coated steak topped with fried eggs or mozzarella). Or you could enjoy a choripán: a delicious pork sausage sandwich topped with mayo or mustard in its original form, and with avocado, rocket, or sundried tomatoes in its more modern iteration.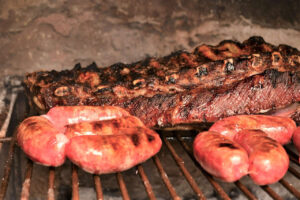 The city's more traditional dishes include locro, a sumptuous stew packed with beans, sausages, and corn. Spicy and thick, locro has its roots in the Argentine Andes. Then there's arroz con leche, a delectably creamy rice pudding flavoured with cinnamon and vanilla that dates back to colonial times. And the time-honoured alfajor, which consists of two or more sweet biscuits sandwiched together with dulce de leche and covered in rich chocolate.
Empanadas make the menu, of course. And in Buenos Aires, you'll find this typical Latin American pastry is most often filled with local meat cuts, ham, cheese, and humita (a sweetcorn filling typical from the north-west of Argentina). And while the local Malbecs are divine, maté (enjoyed with added orange peel or peppermint for extra zing) is the drink that most deserves a special mention…
An infusion of dried, yerba maté leaves in hot water, maté dates back to pre-Hispanic times. But in Buenos Aires this drink is more of a cultural icon – locals consider it the symbol of friendship and happiness. Two things you'll find in abundance in this cheerful, cosmopolitan capital!