By Prudence Wade
Most chefs have at least a few stories about cooking as a child – food is a passion, and for many, this starts young. While Asma Khan has plenty of food-related stories from her youth though, she didn't actually learn how to cook until she got married.
In fact, Khan had no desire to cook at all growing up – "I just wanted to eat," she says with a laugh. "I didn't imagine I would leave home and leave India."
Khan had an arranged marriage, and found herself somewhere quite different: the UK. "I was suddenly in a foreign land with a stranger," she says – and she swiftly realised the best way to connect herself back to her family and the country she left was through cooking.
"Food became my way of going home, but it also became my language of love," she explains. "I was cooking not because I enjoyed cooking – I was cooking to heal, and feed and nourish others. I realised Ammu [her mother] did that her whole life too."
Khan spends much time in her new cookbook, Ammu, describing the sensory experiences of cooking – how dishes should taste and smell, rather than focusing purely on things like cooking times. Ammu is the affectionate term for mother for Bengali Muslims – and it was important for Khan to write it in her mother's lifetime. It's full of family recipes, stories from both Khan and her mother's childhoods, and plenty of pictures.
Khan shares her mother's entrepreneurial spirit, opening the Darjeeling Express restaurant in London in 2017, and becoming the first British chef to feature on Netflix show Chef's Table.
Her tip for cooking is to take your time. "The most expensive ingredient you put into a dish: time. For me, that is the core of how I still cook," says Khan. "It's about time and generosity."
Ma's Prawns
Serves 6
3 onions
150ml mustard oil (if you can't find it, use vegetable oil)
1tsp ginger paste
½tsp garlic paste
½tsp ground turmeric
1½tsp chilli powder
½tsp ground cumin
½tsp ground coriander
2 green chillies, slit in half
1 tsp salt
1.25kg raw peeled prawns, deveined
Fresh coriander, to garnish
Put the onions in a food processor and blitz to a paste.
Heat the oil in a heavy-based pan over a medium–high heat. Add half of the onion paste and cook until it turns light brown. Add the remaining onion paste, ginger, garlic, turmeric, chilli powder, cumin, ground coriander, green chillies, salt and four tablespoons of water and bring to the boil. Reduce the heat, cover and simmer for 15 minutes.
Remove the lid, increase the heat and cook the paste until you can see the oil coming to the surface. Add the prawns and cook, uncovered, over a medium heat for 10–15 minutes until the prawns have changed colour and are cooked through. Serve immediately, garnished with coriander.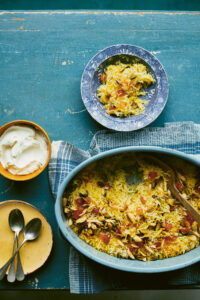 Sweet Rice with Saffron and Nuts
Serves 4-6
½tsp saffron strands
2tbsp milk
250g basmati rice
100g ghee or butter (or flavourless vegetable oil), plus extra for greasing
6 cloves
8 green cardamom pods
40g each shelled unsalted pistachios and unsalted blanched almonds, cut into thick slivers
30g dried apricots, cut into small cubes
150g granulated sugar
2tbsp rose water
Put the saffron in a small bowl, warm the milk to tepid and pour over the saffron strands.
Gently wash the rice in a large bowl with cold water (not under running water as this will break the tips of the rice, which will make the rice sticky). Change the water several times until it looks clear, then soak the rice in cold water for at least 30 minutes or up to three hours. Drain the rice well in a strainer.
Bring one-and-a-half-litres of water to the boil in a large pan. Add the rice once the water is boiling and boil until it is half done. It is hard to give an exact time for this as there are too many variables, but the way to check is to remove a single grain of rice from the hot water and squeeze it between your fingers – there should still be a hard core of slightly uncooked rice. Drain the half-cooked rice in a strainer and spread the rice thinly on a platter to cool and prevent it from continuing to cook.
Preheat the oven to 180C/160C fan/gas 4.
Heat the ghee or butter in a heavy-based pan over a medium–high heat. Add the cloves and cardamoms, followed by the pistachios, almonds and apricots. Add 250ml of cold water and the sugar and stir until the sugar dissolves.
Butter a casserole dish and add the rice, then pour over the warm, spice-infused sugar syrup. Add the saffron-infused milk and stir gently to ensure the saffron is evenly distributed. Cover tightly with foil and bake for 15 minutes.
Take the dish out of the oven. Gently fluff the rice, then re-cover and bake for another 10–15 minutes. Remove the foil and leave the dessert to stand for a few minutes.
Sprinkle the rose water over the warm rice before serving.
Ammu: Indian Home-Cooking To Nourish Your Soul by Asma Khan is available now