By Prudence Wade
When you think about Greek and Greek Cypriot food, your mind might go to a whole lot of meat. "There's just so many kebabs, and we love a grill," admits Georgina Hayden. "That is probably a preconception that is justified."
But there's another side to the cuisine she's keen to uncover – the plant-based food eaten during Lent and other fasting times of the year. And there's an awful lot of fasting: up to 200 days a year, including the 50 days before Easter, 50 days before Christmas, and every Wednesday and Friday.
"If you're doing it properly, that is a lot of days without meat," says Hayden. "But it means when you do eat meat, they go hard – it's about balance."
Hayden, who worked with Jamie Oliver for 12 years, has dedicated her latest cookbook to 'nistisima' – "a Greek word, meaning Lenten food," she explains. It does include shellfish, but Hayden's book is entirely vegan, "for the sake of ease".
And you won't find sad meat replacements or vegan cheese anywhere in the book. Instead, she found so many dishes from Cyprus and the surrounding countries are accidentally vegan, and totally delicious in their own right.
"Instead of trying to replicate cauliflower cheese and make it something it's not, it's about finding new dishes that have been around for centuries that just happen to be plant-based," she says.
"There are so many dishes and so much food from these places that is naturally and traditionally vegan," she explains.
She wrote the book when the pandemic was in full force and she couldn't travel to meet people. She describes, with glee, WhatsApping monks in Lebanon, FaceTiming a woman in Jordan to see what she was making for Lent, and learning from another monk (there were a surprising amount of monks involved in her journey) the trick to the most delicious kibbeh (deep-fried, stuffed pastries) – adding pumpkin puree instead of water to the batter, to really amp up the flavour.
Slow-Cooked Peppers
Serves 4
4 onions
4 garlic cloves
10 peppers, a mixture of red, yellow and orange ones
5 ripe tomatoes
100ml sunflower oil
Sea salt and freshly ground black pepper
A few flat-leaf parsley sprigs, optional
Peel and finely slice the onions and garlic. Halve the peppers, remove and discard the core and seeds, and cut into even sized pieces, around 2-3cm. Score a cross in the top of the tomatoes, place in a heatproof bowl (or pan) and cover with boiling water. Leave for a minute or two, until the skin starts to come away from the flesh, and drain. Peel the tomatoes and then roughly slice or chop the flesh.
Place a wide flameproof casserole on a medium heat, drizzle in the sunflower oil and add all the ingredients (not the parsley). Season generously, with a teaspoon each of salt and pepper, and start to fry. After 10 minutes, reduce the heat to low and fry for around one-and-a-half to two hours. Stir occasionally, until you have a thick, rich and meltingly soft stew. Taste and tweak the seasoning as necessary, then serve, scattered with chopped parsley if you like.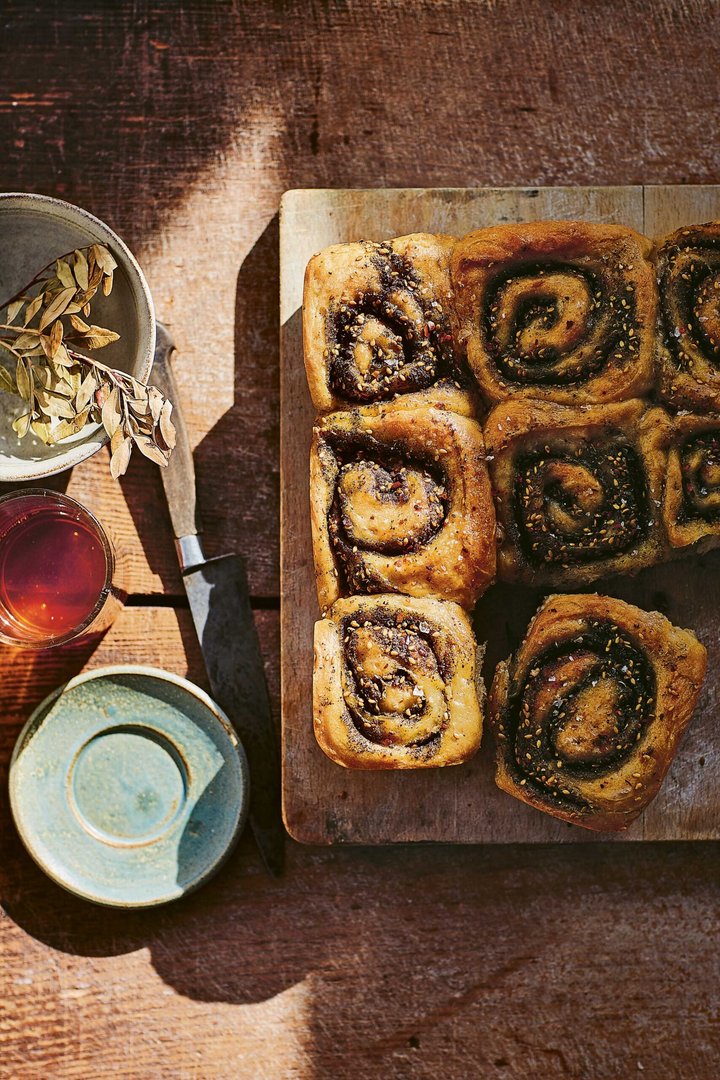 Little Za'atar Buns
Makes 9
1tbsp caster sugar
1 x 7g sachet of fast-action dried yeast
500g strong white bread flour, plus extra for dusting
¾tsp fine sea salt
125ml extra virgin olive oil, plus extra for greasing
6tbsp za'atar
½tsp pul biber
Add the sugar and yeast to a jug and whisk in 275ml of warm water, then leave to one side for a couple of minutes. Place the flour in a large mixing bowl and whisk in the salt, then make a well in the centre. Mix in the yeast water and 25ml of the extra virgin olive oil until well combined – add more water if needed; you want a moist dough, it shouldn't be too dry.
Transfer the dough to a flour-dusted surface and knead for around eight to 10 minutes, until smooth and elastic. Wash and dry the mixing bowl, then lightly oil it. Return it to the bowl, drizzle with a little more oil and leave to prove for around one to one-and-a-half hours (this will depend on how warm your kitchen is), until doubled in size.
When the dough has risen, turn it out onto a clean surface, knock it back and roll into a rectangle about 26 x 40cm. Brush over a layer of olive oil and evenly sprinkle over the za'atar and pul biber, leaving a one centimetre border around the edges. Pat the spice mixture gently into the dough with the back of a tablespoon. Starting with a short side, roll the dough up as tightly as you can. Trim off the uneven excess bits at the end. Slice the dough into nine pieces.
Pour enough oil to just cover the base of a 23cm square cake tin and pop in the slices, swirl facing up. Cover and leave to one side for a second prove to double in size, about 30 minutes. Meanwhile, preheat the oven to 200°C/fan 180°C/gas mark 6. When the buns have roughly doubled in size, bake for 25–30 minutes, until golden. As soon as they come out of the oven, drizzle over the remaining olive oil and leave to absorb in the tin for 10 minutes before serving.
Nistisima: The Secret To Delicious Vegan Cooking From The Mediterranean And Beyond by Georgina Hayden is available now