The very first cookbook known to the world was written by a Greek chef! But it was about Sicilian cuisine… Its author, Mithaecus, travelled widely in the known world, working in Sparta and Athens, but residing in Sicily during the 5th century BC. Back then, Italy didn't exist; the Mediterranean's largest island was basically a Greek outpost for centuries before the Romans came along.
Today, Sicily is strongly Italian, and home to five million residents, as well as Mount Etna, the Teatro Massimo (Italy's largest opera house), and the very first mafia organisation, the Cosa Nostra!
But on to brighter things: did you know, in Sicily, they have ice cream for breakfast? The brioche con gelato is a uniquely Sicilian creation that consists of a buttery, soft Brioche roll split and filled with gelato.
Sicily is known for its unique cuisine: a result of Italian, Greek, Spanish, French and Arab influences; local soil fertility; and the islanders' dedication to fine fare – even if it's just a quick snack. Arancini is probably the island's best-known nibble: a breaded, deep-fried ball of creamy risotto rice that's sold off the street and stuffed with everything from spiced mince to ham and mozzarella.
In honour of the island's wealth of fresh veggies, we get caponata – a delectable stew of aubergines, celery, onion, and tomatoes flavoured with capers, olives, pine nuts, raisins and drizzled with sweetened vinegar. And from the coastline, there's gambero rosso (red prawns) dressed with a little lemon and olive oil and eaten raw.
The Sicilian version of pasta al pesto Genovese includes a sauce made from almonds, tomatoes, basil, garlic and Pecorino cheese over busiate, a pasta that's similar to fusilli. For vegetarians, there's pasta alla Norma (a local masterpiece that makes the most of local tomatoes, aubergines, garlic, basil and salted ricotta). And for those who prefer marine cuisine, there's pasta con le sarde, complete with fresh sardines, salted anchovy fillets, and wild fennel topped with pine nuts, raisins and saffron and served over bucatini pasta.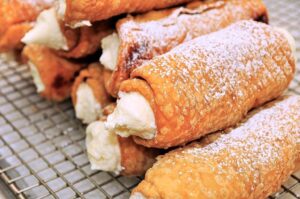 When it comes dessert, Sicilians are spoilt for choice: there's cannoli (deep-fried pastry piped full of ricotta), cassata (a sponge cake flavoured with chocolate, citrus fruits, marzipan and sweetened cream), and semifreddo alle mandorle – an almond parfait that often rounds out what's sure to have been a sumptuous repast.