A seven-year-old boy injured in a traffic accident has died from his wounds, police said on Wednesday.
Limassol resident Sergos Arzoumanides was being treated at the Nicosia general hospital.
He was injured on April 17 when a Russian neighbour, 43, took him for a ride on his large, three-wheel motorbike. Dmitrii Polishchuk, a permanent resident of Cyprus, succumbed to his injuries shortly after the accident.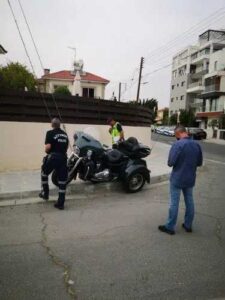 The accident happened on Ambelakion Street in the tourist area of Germasoyia when the man lost control of the bike and it crashed violently into the wall of a house.
The two passengers were not wearing helmets and when the motorcycle overturned both fell on the asphalt, resulting in serious injury and the subsequent death of the 43-year-old, a police spokesperson said at the time.
The boy had a severe head injury and was transferred to Nicosia general.
The motorcycle in question is a three-wheeler, registered in the Republic and permitted to circulate under certain conditions and with a special category license.