The public response to Russia's invasion of Ukraine compares unfavourably with the rest of the EU
I was lucky in that I was born in 1945 at the end of WWII, so I didn't have the experience of going through the tragedy of that war. In fact, I have always had difficulty understanding how a schizophrenic Adolf Hitler could lead the world into such a bloodbath. How could the rest of the world not find a way of stopping a lunatic from committing the atrocities he did? Was there any logic behind that war? Clearly, there was none, other than an insatiable thirst for power, fuelled by nationalism. Today, few doubt the fact that Hitler and his associates had sick, uncontrollable minds, making them capable of actions that normal people would find inconceivable.
Humanity paid a heavy price. Nevertheless, it was comforting to know that, as a result of the pain caused by WWII, the world now had a safety net – organisations such as the UN, the EU – and a prevailing global sentiment of 'never again'.
In the bigger scheme of things, this comfort did not last long. It was dispelled early this year when Vladimir Putin invaded Ukraine, an independent neighbouring country, using pretexts and propaganda very similar to Hitler's. He is trying to flatten the invaded country, while killing thousands of innocent civilians (mainly women and young children) and thousands of soldiers heroically fighting to defend their country.
One does not have to be an expert to appreciate the scale of the destruction caused by the war that has been launched by a dictator, who has already been in power for 22 years. God knows how long he will remain there with the backing of his oligarchs, who are paid handsomely for their supportive role. All one needs to do is look at the pictures of destruction that flood our television screens daily.
No doubt that the ideal world, which was promised by the Russian revolution of 1918, spectacularly failed to materialise. The revolution lasted five years and ended in 1923 with Lenin's Red Army claiming victory and establishing the Soviet Union. Instead, a dictatorial regime ruled the Russian empire for 75 years, resorting to all sorts of despotic and tyrannical techniques to remain in power and to enable a small group of people to enjoy the privileges of belonging to the politburo of the communist party. The system collapsed in 1989, but the core of the old system was taken over by those who were serving the old system in senior positions. It has given birth to one of the most oligopolistic systems that have ever existed in the world: a bunch of oligarchs, headed by a power-hungry Putin.
What is truly surprising is that the new system, which has emerged in Russia and in a handful of ex-Soviet satellites, has nothing to do with the ideals of communism. The state system now in force in Russia is a typical oligarchic system, which aims at enabling a small group of people who are utilised internationally to literally buy out support for the regime. These plutocrats financially sponsor political movements, sporting clubs, as well as business concerns, which thus become supportive of the regime. Such cases are many and quite a few of them are publicly known.
Clearly, smaller countries, such as Cyprus, are more vulnerable to these threats. This comment brings me to the recent Eurobarometer findings on the response of the European Union citizens to the Russian invasion/destruction of Ukraine. Cyprus stands out from all the other 26 member states, as the most Russophile member state, way over the EU average, as the table set in this article, clearly indicates.
Almost 4/5ths of Europeans believe that the "Russian authorities are responsible first and foremost for the current situation". One-half of Cypriots disagree while one quarter disagree "absolutely".
Then, 4/5ths of Europeans are in favour and approve of the economic sanctions imposed on Russia, while half of Cyprus is against the sanctions imposed on Russia, as well as against those imposed on the oligarchs, who have been liberally dispersing incentives to secure a favourable attitude towards the regime in Cyprus and elsewhere.
A few years ago, Russia set up certain state-owned English-language television channels to be used as propaganda tools on an international scale. RT is probably the most well-known. Their objectivity is by definition flawed, and they were mobilised by Russia for propaganda purposes in identical fashion to those used by the Nazis. These propaganda machines were banned in the European Union. Two thirds of Europeans were in favour of the ban, compared to one third of Cypriots. In contrast, two thirds of Cypriots were against the ban, compared to one third of Europeans. The only score in which Cyprus came close to the rest of Europe was in begging for EU funds to level the impact of rising energy prices (Cyprus: 94 per cent/EU27: 90 per cent)!
In a country which is still suffering from an invasion very similar to Ukraine's, these are not very complimentary observations. They confirm the available circumstantial evidence which implies that the Cypriots are happy to sell their homeland for a bit of money. Certainly, not a very complimentary conclusion!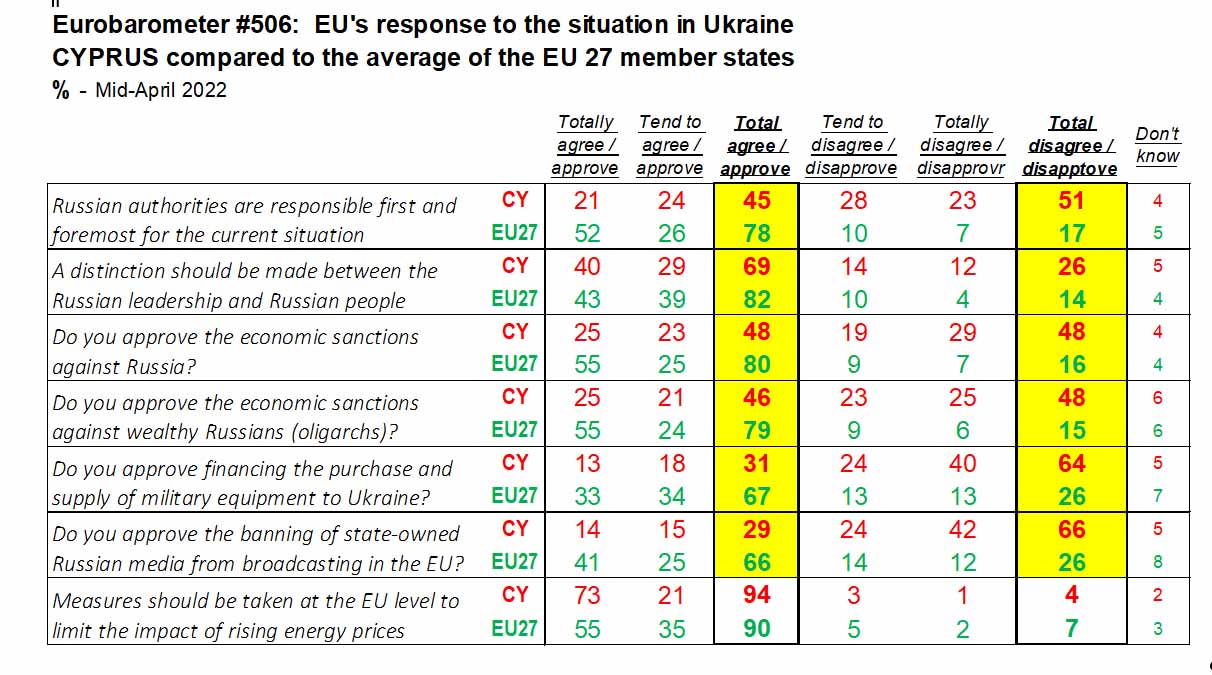 ---
Christos Panayiotides is a regular columnist for the Cyprus Mail, Sunday Mail and Alithia
---