Righteous 'crime' spree turns Cyprus animal welfare on its head
Bird trappers and hunters who mistreat their hunting dogs beware: this novel could well give ideas to those infuriated by your cruelty to animals. And if they act on these ideas, your humiliating punishment will not be meted out by the courts but by an unlikely trio of otherwise respectable and law-abiding vigilantes.
Untethered is set in a fictitious Paphos village called Dromos. It is packed with animal-loving mostly British expats and bears a very close resemblance to Peyia. Here, three disparate women of varying ages and backgrounds bond over their outrage over how animals are treated in Cyprus, from cats and birds to horses and dogs. The focus on the latter two reflect dog and horse owner Andrea Busfield's own passion.
What follows is a lively, part detective, part tragedy, part comedy, part romance, part female empowerment page turner as these women embark on a righteous 'crime' spree.
The flint to their fury is a real event, the appalling tale of Billy the dog who was thrown into a Protaras hotel's cardboard crusher in the summer of 2014 and later died. In Untethered, the event takes place in Paphos.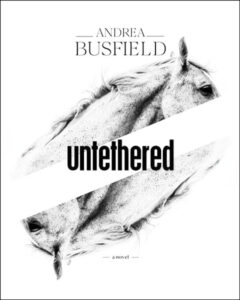 Emilia is a single, peripatetic, gothy Romanian in her 30s who finds meaning in her life as she struggles to maintain a horse she rescued from a diet of stale bread and neglect after he failed to make the grade as a racehorse. Lillian is British, decades into an increasingly strained marriage, who wanders the streets of Dromos feeding stray cats. Cara, also British, is a freelance journalist who came to Cyprus to pick up the pieces after a long-term relationship breaks down and finds solace in her two rescue dogs.
Forming what becomes known as the Dromos Animal Liberation Front, the women decide to wreak revenge on individuals known to have mistreated animals. In a series of increasingly inventive, punitive escapades, the women try to link the punishment to the crime. So, the dog-crushing hotel owner wakes up one morning to find the water in the hotel swimming pool coloured red with paint to represent the blood spilled by Billy. Likewise a restaurant owner who serves ambelopoulia to his customers pays the price by having his floors and doors coated with glue-like paint similar to the limesticks used in bird trapping. And this is just the beginning. Their calling card is a painted animal paw.
Tasked with investigating the exploits is a disillusioned detective, Antonis Glykis, who has requested a transfer from Nicosia to the wild west of Paphos. An animal lover himself, he begins a relationship with Cara, pushing aside his growing suspicions of her involvement.
Because Busfield has a gift for lively, witty dialogue, plot development and characterisation, you don't have to feel passionate about animal rights to thoroughly enjoy Untethered, though it certainly helps. Not all readers will find endearing, for example, Cara's genital-licking, poo-eating, emotionally needy dogs. Nor will they be totally convinced by the final message that the women's relationships with animals trump their relationships with other humans.
But the message is clear, Cyprus' record on animal welfare is deplorable, from the treatment of former racehorses to the poisoning of dogs and cats. Busfield attempts balance as mention is made of animal cruelty in places like the UK and Romania and the many Greek Cypriot individuals who feed Cyprus' thousands of stray cats and run animal shelters. But there is no disguising where she stands. There is a lack of tough legislation and an official indifference to animal welfare which must reflect public opinion to a large degree. Without a clamour for change, change will not happen. The Dromos Animal Liberation Front attempts to kickstart just such a clamour.
Inevitably, Brits writing about Cyprus is sensitive territory, but Busfield is knowledgeable enough and has lived here long enough to make her better placed than most. Untethered is Busfield's second novel set in Cyprus. Her first, Aphrodite's War, was an informative, well researched account of the Eoka uprising and its aftermath which compares most favourably with The Sunrise, the embarrassing and absurd contribution by best-selling British writer Victoria Hislop, which covers some of the same period.
While the subject of animal cruelty might be distressing, Busfield has a light, witty touch and this novel is ultimately uplifting.
Untethered, by Andrea Busfield. Published by Armida Books, price €16