This is where the ancient Greeks believed Atlas lived – holding the heavens aloft. It's a legend that makes sense. The highest peaks in this North African range are well above anything in the Mediterranean region.
Stretching from the Atlantic coast to the Mediterranean, and divided by high plateaus into six separate ranges, this 2,500km range spans most of Morocco, Algeria and Tunisia. Vast and high, it's these mountains that keep the coasts green.
The Berbers, who make up the largest section of the population, live in harsh isolation: scraping out a living through rough farming and raising livestock. But that hasn't stopped them from enjoying a rich cuisine…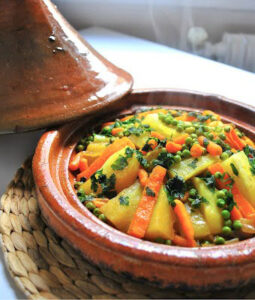 Dishes differ from one area to another, each possessing a distinct and unique identity according to its region of origin. But the fare relies on the same main ingredients: corn, barley, ewe's milk, goat cheese, butter, honey, meat, and game. Here, you'll find the tasty tagine (traditionally cooked in a mud oven made from cow manure), which might include lamb and plums, chicken, or even pigeon, as well as the original couscous – garnished, in Berber tradition, with a bowl of buttermilk.
There's also harira: a soup that's iconic across the whole of the Atlas. Often used to break the fast during the holy month of Ramadan, this is a dish that's laden with tomato, lentils, onions, and chickpeas and rich with spices such as cinnamon, ginger, saffron, cumin and caraway – flavours that also appear in the traditional Berber omelette, alongside eggs, onions, pepper, tomatoes and fresh herbs.
For breakfast, there's often bessara, a tasty soup of dried broad beans topped with a splash of olive oil, a sprinkling of cumin and served with bread fresh from the oven. And to drink, it's always mint tea: a beverage so iconic that, in Morocco, it's nicknamed 'Berber whisky'! Often served five times a day from the old family teapot, it's the drink of the Atlas – just what you need when the winter snows start to drift through the village…