By Sarah Coyne
It is difficult to know what makes us go to a particular restaurant for the first time. Is it a friend's recommendation? The outside of the property? Following a specific chef? A restaurant review or the actual menu? None of these indicate how I ended up at Ficardo Restaurant and Garden in Paphos. A friend thought it would be worth trying, as she followed it on Instagram. So I went with the flow, but what scared me most was how I had dismissed this restaurant many years ago based on nothing more than it looked very small from the road. It has been open for over 20 years and I have driven past many times and never once glanced in its direction.
We entered through the main side entrance into a beautifully designed interior space, full of style and luxury. Neutral and black tones dominate both inside and out and reflect the significant refurbishment which took place two years ago. It was a warm night, so we decided to eat outside in the vast garden. It is hard to believe from the single doorway at the front of the road that this large and beautiful space sits behind it. The tables are positioned with plenty of room in between. The whole ambience has a Beverley Hills vibe in a very smart way.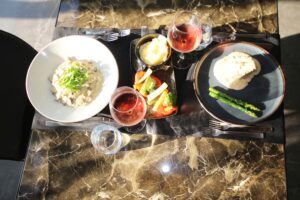 The menu beats many I have seen in a long time. Of course, what we like to eat is down to personal preference, but I struggled to choose as there were many enticing options. Although the menu is divided into the standard Appetisers, Salads, Pasta, Risotto, Meat, Seafood and Steaks, these dishes are way above the norm, with the kitchen doing their own take on Mediterranean dishes with a very modern twist.
Among the appetisers, Burrata cheese, Beef Carpaccio, Salmon Tartare, Bruschetta, Mydopilafo and Kolokithokeftedes were all very appealing, but in the end, we went for their Crusted Halloumi and Kataifi Prawns. As a big fan of halloumi, I enjoyed their slant on it, and it was beautifully presented, wrapped in filo pastry with strong hints of honey and mint. It was undoubtedly one of the better versions I have experienced. The Kataifi Prawns were large, succulent King Prawns wrapped in Kataifi with a generous portion of sweet chilli and orange sauce.
As a restaurant, Ficardo is known for its steaks, and they serve them at their best, with Pepper, Roquefort and Diane being three of the many sauce options. Lobster is available in a spaghetti or risotto dish for those with a luxury budget. Great variations of chicken, duck, pork, lamb and seabass are also available. It was a hard choice, but we went for Prawn Saganaki and Coconut Chicken. All the main courses came with mashed potatoes and fresh vegetables.
The Prawn Saganaki was superb and, unusually, had many prawns in it. The rich tomato sauce was full of flavour mixed with the feta cheese. The Coconut Chicken certainly had Far Eastern influences, with ginger and chilli being the dominant flavours in the creamy coconut sauce. The whole meal was presented beautifully on the most exquisite selection of crockery.
For most of the night, we were looked after by an older gentleman who provided excellent service and served our reasonably priced wine as if it was a Châteauneuf-du-Pape, and the restaurant was bustling both inside and out on the night we visited, with a combination of locals and tourists.
There was a small selection of desserts, and my dining partner decided to go with a Tiramisu. This can often be disappointing when served outside of Italy, but she declared it a real winner. In addition, the owners offered us a complimentary Limoncello, which was served in a large cocktail glass. Always a nice touch. Ficardo was a good lesson for me not to judge a book by its cover. I relish the thought of returning.
SPECIALTY Mediterranean
WHERE Ficardo, 50A Poseidonos Avenue, Paphos
WHEN Daily from 6pm to 11pm
CONTACT 26 960184
HOW MUCH Starters from €6.50, Mains from €16.50, Steaks €32