Though there is a misperception that negative criticism implies honesty, I am delighted when things align in such a way that an experience is overwhelmingly positive. Our visit to French bistro and wine bar Le Bordeaux in Limassol ticked all the right boxes.
Situated in Limassol's old town, within earshot of Anexartisias and the historical Municipal University Library building, Le Bordeaux is somewhat unassuming from the outside, a renovated classic Cypriot house converted into a bar, restaurant and private event space. Upon entering, a longitudinal corridor takes you to the establishment's open-air backyard. The space, particularly suitable for the still-cool June evening weather of our visit, is heavy on stone and wood and replete with an assortment of plants, flowers and trees, lending freshness and vivacity.
After ordering we were presented with a basket of freshly baked bread rolls, alongside a ramekin of French butter, and let's face it, one can never have enough bread and butter, can they? We ordered a bottle of Fabien Jouves La Roque Rouge 2017, a delightful and reasonably priced Malbec that I wholeheartedly recommend.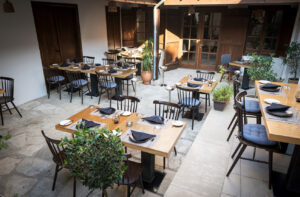 Our starters included the seabass ceviche and roasted aubergine, allowing us to taste both hot and cold items. The roasted aubergine, marinated in miso and served with couscous, pomegranate, raisins, radish, as well as fennel and coriander seeds, was particularly original. It was an extremely layered starter, a reflection of the miso seasoning, which is great for adding depth to a variety of dishes. I do have to say, certain bites veered on the sweet side, however, the couscous does a fantastic job of balancing this out.
The star of the hors d'oeuvres was the ceviche, though. It was recommended to us by the manager and I can see why. It was served in a mango curry sauce and flavoured with coriander, wild rice puffs and cucumber lemon verbena sorbet. The latter addition makes this an excellent option for the summer.
As main dishes, we went with the duck breast and beef fillet. The duck breast, which was served with potato cabbage terrine, confit leg croquette and duck jus, was well cooked, with its fattier sides well-seared to bring out the flavour. If I had one comment to add to this dish, it is that you may want to add a side to more evenly balance out the ratio of protein with the carbs and vegetables, since the two duck pieces are generously sized. The beef fillet was equally well-cooked, perfectly medium-rare, retaining all the juices you would expect with a cut like this. The two fillet pieces were served with grilled broccoli and potato fondant, beef jus, as well as small dollops of parsnip puree. Again, nothing to add here other than to say that the expectations were well and truly met.
Our desserts included layered gateaux with creme brulee, guanaja chocolate cream, passion fruit and vanilla ice cream, as well as the white chocolate mousse with strawberry textures, rhubarb and pistachio ice cream. While the gateaux was lovely, the white chocolate mousse was my pick of the two and something that I would definitely order again on a repeat visit. All in all, a lovely experience, with the level of service matching the quality of the food and drinks.
VITAL STATISTICS
SPECIALTY French cuisine
WHERE Le Bordeaux, 278 Agiou Andreou Street, Limassol
WHEN Tuesday-Saturday, 12-3pm, 5pm – 12am
HOW MUCH €15 for a starter, €20-40 for a main, €10-12 for dessert
CONTACT 25 582360, 99 184451