Publicly baring one's bottom is illegal in Cyprus. But that's not stopping the island's dedicated nudists from finding a spot to sunbathe finds ALIX NORMAN
"Taking it all off does not mean getting it on!" explains Ron. "There's a popular misconception that nudists are all having secret orgies in hidden coves; that as soon as you take off your clothes, you're overwhelmed by your hormones! Nothing could be further from the truth," he laughs. "This isn't Carry On Camping!"
Ron is a nudist. While roughly three per cent of people worldwide have, at one time or another, gone naked on the beach, there are a dedicated few who prefer a state of nature whenever by the coast, "the better to feel the elements on the skin," Ron reveals.
"This isn't naturism," he adds. "I'm not making a lifestyle out of walking round the mall in the nude! It's just that, by the sea, I enjoy being naked. It's very freeing! And though there are no official nudist beaches in Cyprus, there are many stretches of coastline where I can get away and get naked."
Cap'n Barefoot, an online authority on nudism in the eastern Mediterranean, recommends the more deserted reaches of Paramali, certain areas of Latchi, and Cape Greko, though never during the height of summer, when "locals arrive en masse." Avdimou Beach, once a popular nudist spot, is, he suggests, well policed. "Signs advise that nudists will be prosecuted, and naturist bathers were arrested and cautioned for naked bathing," he says. "Despite all these warnings Avdimou seems to have gained the reputation as the non-official nudist beach of Cyprus."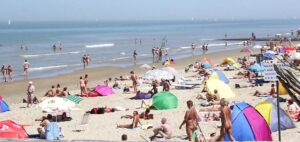 In Cyprus, public nudism is illegal; the powers that be strongly advise that our dangly bits should remain hidden outside the home. But as long as you're not disturbing the peace, authorities tend to turn a blind eye to a bare bottom, says Ron.
"There's something about being completely naked and by the sea that's very freeing. And I know quite a few expats who enjoy a naked swim. It's not something that seems to have caught on amongst the locals," he adds. "Most of the nudists I know are from Britain, Scandinavia, and especially Germany."
Modern nudism has its roots in Germany where, to this day, it enjoys a large and un-self-conscious following. It the 19th century, when the Victorians were swooning at the sight of a well-turned ankle, their continental counterparts were stripping it all off in the name of health; exposure to the elements was believed to cure everything from TB to rheumatism. As early as 1920, Germany had designated a nude beach on the island of Sylt and, today, nakedness on public beaches is still widely accepted: nudism is legal, regulated only for safety and health issues rather than morality.
France is similar. There is a law against disturbing public order (which might include, say, a round of boules in the buff on the banks of the Seine), but nothing explicitly banning nakedness; thus naturist resorts – such as the self-contained nudist city of Cap D'Agde – abound. In Spain, there's a similarly relaxed attitude: the Costa Natura on the Costa del Sol was approved as a nudist beach as early as 1979, and a three-kilometre stretch of nudist beach at the Vera Natura resort attracts naturists in their thousands. And, closer to home, the Greek islands boast any number of designated nudist beaches. Skaithos' famed Banana Beach sees the bold and the beautiful baring all; Mykonos' Super Paradise Beach is well known for its starkers sun worshippers; and Faliraki in Rhodes has a dedicated section (complete with sign and sunbeds) for those who wish to strip and bathe.
But in Cyprus? As long as you're not disturbing the peace, mostly you'll be left alone.
"It's the pervs more than the police who cause problems," says 42-year-old Chloe, a Limassol-based nude bathing enthusiast. "Many people seem to be under the assumption that a naked woman is asking for it. And no matter how well-hidden your spot, occasionally you're going to receive an unwelcome proposition."
Chloe prefers the bays of Ayios Georgios, famed for its well-hidden, sheltered coves. "But you will find the odd testosterone-fuelled voyeur," she adds. "Explaining that I'm a single women who enjoys the experience of swimming and sunbathing naked is not an easy conversation in any language. So I usually claim my husband is exploring the next cove over, and they beat a hasty retreat!"
While there may be safety in numbers, in Cyprus nudism tends to be something you do alone or as a couple, suggests Ron. "Occasionally a few of us get together for a quiet stroll and swim, but I'm not aware of any large gatherings of nudists on the island. People who really enjoy being naked in company tend to go to France or Spain, where there are designated nudist beaches and nobody cares what you wear. Or," he adds, "what you look like…
"Because this isn't exhibitionism. Real nudism is something you do entirely for yourself, in no way flaunting your nakedness. The nudists I've met in Cyprus have always been very respectful of opposing views – we're not here to rock the boat, we just want a private spot to call our own. If someone happens upon me when I'm sans swimsuit, I usually pretend I haven't seen them," he adds. "If they start making outraged noises, it's time to move on – pretty easy when all you need is factor 50 and a towel…"
For those who prefer to feel the sun on their skin, nudism is a delightful experience. "Most of the nudists I've met are well over 40, and very comfortable with their bodies," says Chloe. "And we just enjoy being on an island where you can sunbathe and swim year round," she adds. "I read somewhere that 12 million Germans are nudists. Honestly, if the authorities set up an official, well-run nudist beach or two, it might work wonders for winter tourism!"