Hellenic Bank remains focused on its goal for a long-term positive impact on society and the environment. This commitment is also reflected in the Bank's Annual ESG Impact Report for 2021 which has been prepared in accordance with the Global Reporting Initiative Standards (Core option).
The Bank's Environmental, Social, Governance (ESG) strategy consists of the following four strategic pillars: People, Society, Environment and Marketplace. With the belief that the future is green, Hellenic Bank is leading the transition to a Green Economy, investing in the implementation of sustainable practices and in supporting initiatives and businesses that reduce the environmental footprint.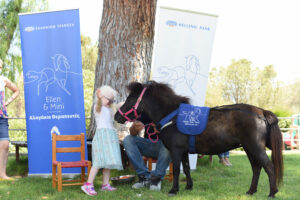 At the same time, it stands by the society with a comprehensive program of Corporate Social Responsibility and with alternative ways of service to facilitate all customers within the framework of modern requirements.
Among other things, in 2021 €63 thousand were given for environmental actions, €160 thousand for scholarships, awards and education and €82 thousand for local communities and cultural actions and €123 thousand for actions related to health.
The Pancyprian Volunteerism Coordinative Council awarded Hellenic Bank for the #HBVolunteersChallenge initiative, within the framework of the Pancyprian Volunteer Week 2020, an action which was organized in 2021, and in which 2,296 staff members took part.
In the same year, all the buildings of the former CCB were successfully included in ISO 50001. At the same time, 160 cases were examined for environmental and social risks and €15,6 million were allocated for the financing of renewable energy sources. At the same time, 631 staff training programs were carried out, while the feedBank App program for the exchange of views between colleagues at all levels and departments of the Bank was launched.
In the following link, you can read the entire Hellenic Bank Annual ESG Impact Report, from which you can extract many interesting facts ESG (hellenicbank.com)