Alix Norman speaks to a local Nascar driver who has his eyes on the biggest of prizes
It's called 'bumper to bumper'. Imagine yourself in rush hour: you're an inch from the car in front, and an inch from the car behind. But instead of being at a standstill, all vehicles are travelling at well over 200 kilometres per hour!
Welcome to the world of Vladimiros Tziortzis, a 25-year-old Nascar driver who's making quite a name for himself in the Nascar Whelen Euro Series – Europe's official National Association of Stock Car Racing series. He's already won the season's first race in Valencia (although was later demoted to 10th on a technicality over a sub-standard car-part); finished third in the second race at Brands Hatch; and is a strong contender for this year's title.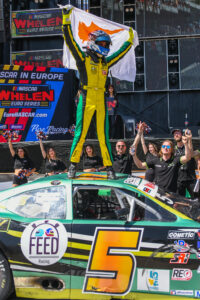 It's quite an achievement for this half-Cypriot, half-Russian, who hails from Nicosia. But it's not the culmination of his dream. As a self-described "tenacious perfectionist", Vladimiros plans to go all the way to the top: to race, and win, in the US Nascar series by the time he's 30 – or earlier!
He'll probably do it. The young racer has been singularly focused since the age of three when his dad first introduced him to go-karting at a Larnaca track. Through years of ups and downs in Formula 3 and Formula 4 racing, despite lost sponsorships and devastating crashes, Vladimiros has remained single-minded in pursuit of his dream. Even now, the morning after his return from a punishing race weekend in the UK, he's up bright and early, taking meetings with potential sponsors, before heading to the gym and, later, the track.
"Last weekend was great," he enthuses, talking of the two races at the Brands Hatch track in Kent. "We practised on Friday, and did qualifying the following morning before the two races on Saturday and Sunday afternoon. I started on pole, and led right up to the end of both!"
Sadly, safety car incidents put Vladimiros down to third – "disappointing, of course, and we did challenge one of the restarts. But the marshals decreed the actions were legal. And so we move on. We move on to Italy, to the Autodromo di Vallelunga and the third of our eight race weekends…"
Vladimiros has been on the circuit for three years now. "I started in 2019, and signed with Academy Motorsport/Alex Caffi this January," he reveals. "That means I represent my team, race under their banner, and use their car – a four-gear, eight-cylinder Chevrolet Camaro; an absolute monster that can easily hit 240 kilometres per hour!"
Like everything in Nascar, the car is designed first for safety and second for speed: equipped with roll bars and six separate harnesses, it's fire-proof for 60 seconds – long enough for the safety teams to pull a driver from the blaze. "Even the gear we wear," says Vladimiros, "must be regulation. That's everything from our flame-retardant underwear to our top-of-the-line helmets. Because, when you're travelling bumper to bumper at high speed, anything might happen…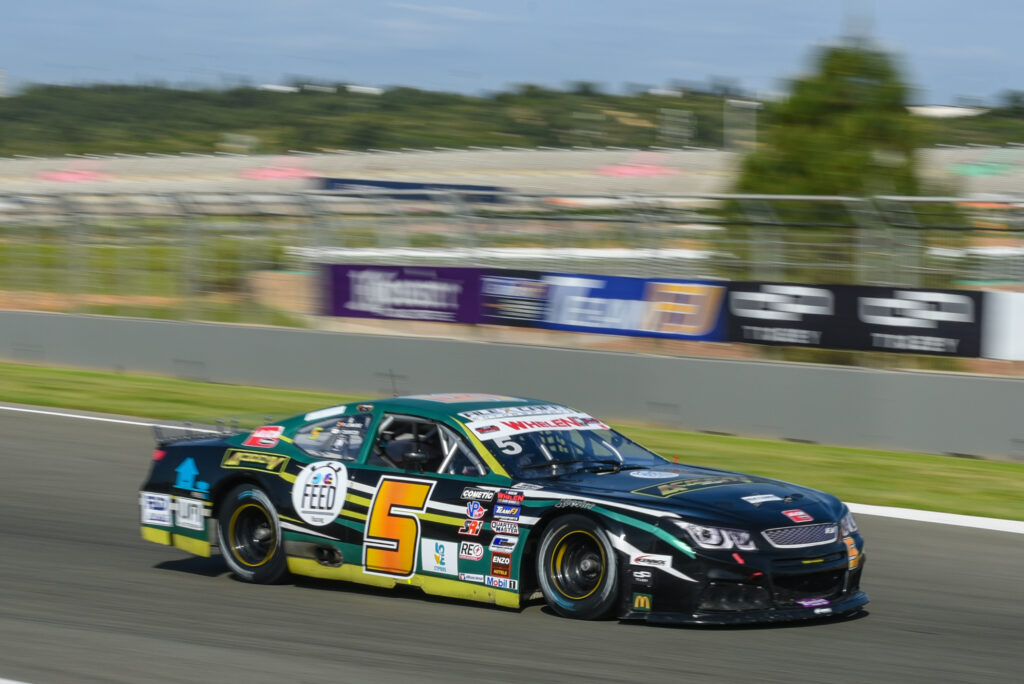 "Nascar isn't like Formula 1," he explains. "You're allowed to touch the other cars – it's kind of expected. So I've definitely been in a few crashes over the years!" The worst, he reveals, was during a Formula 3 Cup Championship at Monza: at the start, five drivers crashed headlong. "I made a split-second decision to swerve, and hit the wall at speed – I was incredibly lucky to walk away with just a burst tyre; it could have been so much worse…"
Nevertheless, Vladimiros continues to have a deep-seated passion for racing. And for his country. "I have a Cypriot racing licence, the Cyprus flag is on both sides of the car when I race and, when I'm on the podium, it's our flag I'm waving."
But breaking into the big leagues from a small island hasn't been easy. Vladimiros hopes to graduate to Euronascar Pro from the current Euronascar2 series at the end of this season, and from there to the US Nascar circuit. "The challenge," he explains, "is finding sponsorship. It's difficult for a Cypriot to get the sponsorship required to compete in such an expensive sport. I have to be both driver and marketeer – I've had to learn how to promote myself, and how to turn every setback into an opportunity."
In 2019, it was just such a setback that prompted Vladimiros' entry into Nascar. "As the pandemic began to sweep the world, sponsorship dried up almost completely," he discloses. "I had hardly any budget, and was almost unable to race that season."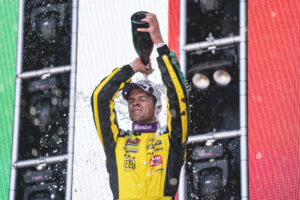 By the end of the year, Vladimiros was desperate. "That was when I saw an online advert for Euronascar drivers – various teams were testing potential drivers in France. I got together the funds, jumped on a plane, and rocked up at the circuit. I had just 10 laps to show what I could do – all in an unfamiliar car, and in the pouring rain!"
Fortunately, talent won out. And the rest, as they say, is history. Or it will be, fingers crossed, once Vladimiros is done winning this year's Euronascar Whelen Euro Series. Then it's onto the Pro circuit, and eventually the States. And then?
"Ultimately I'd like to return to Cyprus and start a racing academy right here," he muses. "At the moment, I don't have the time to give back as much as I'd like; I don't even have time for any hobbies! But in the future, I'd like to be able to help local talent race abroad. It's not an easy road; I'll admit it hasn't been easy for me, and I have had the occasional reservation. But only off the track," he grins. "When I'm in the car, on the track, bumper to bumper, it's pure focus. At 240 kilometres an hour, there's no room for doubt!"
For more information and upcoming races, visit the Facebook page 'Vladimiros Tziortzis' or the Instagram account @vladimirostziortzis