AfroBanana is encouraging deeper critical thinking on sustainability and environment
By Bank of Cyprus and AfroBanana Festival, partners in sustainability
In 1983, the United Nations established the World Commission on Environment and Development in an effort to encourage global cooperation towards sustainable practices that benefit both the economy and the environment.
This group worked to define sustainable development and art, creating the 1987 guidelines that have been used to anchor environmentally conscious decisions in a variety of industries in the decades since: "Sustainable development is development that meets the needs of the present without compromising the ability of future generations to meet their own needs".
Impact on the environment
Artists understand their individual impact on the environment. Ideas around sustainability in art send powerful messages about climate change, political policy and social injustice. It is through sustainable art that artists hope to inspire social and cultural change as well. But just how has this definition taken on new meaning in recent years?
When it comes to art, the term 'sustainability' takes on many meanings.
The 2030 Agenda for Sustainable Development was created by the United Nations in 2015, and outlines seventeen core goals across a variety of categories to help the world become a more environmentally friendly, peaceful and prosperous place.
Social consciousness
While many artists are adopting increasingly eco-friendly practices, some cultures have been implementing these principles for centuries.
So the return of the AfroBanana Festival, after a two-year break due to the pandemic, is marked by the upgrading of issues related to the environment and sustainable development.
Using photovoltaics and drones, AfroBanana unites a tribe of loyal festival fans each year, who return not only for the consistently high-quality musical acts, but also for the holistic escape from reality, surreal otherworldly atmosphere and palpable feeling of connection, community and collaboration.
The whole festival rouses emotions and sensitivities, while encouraging deeper critical thinking on issues such as sustainability and environment, human rights and equality – not just through music, but via exposure to a whole array of experiences.
Geodesic domes encourage community practices, as adults get the chance to charge mobile phones and enjoy collective festival mix tapes made for sharing, while kids are well-catered to with a special area featuring a series of activities for the little ones in which fun, education and innovation will come together in creative workshops.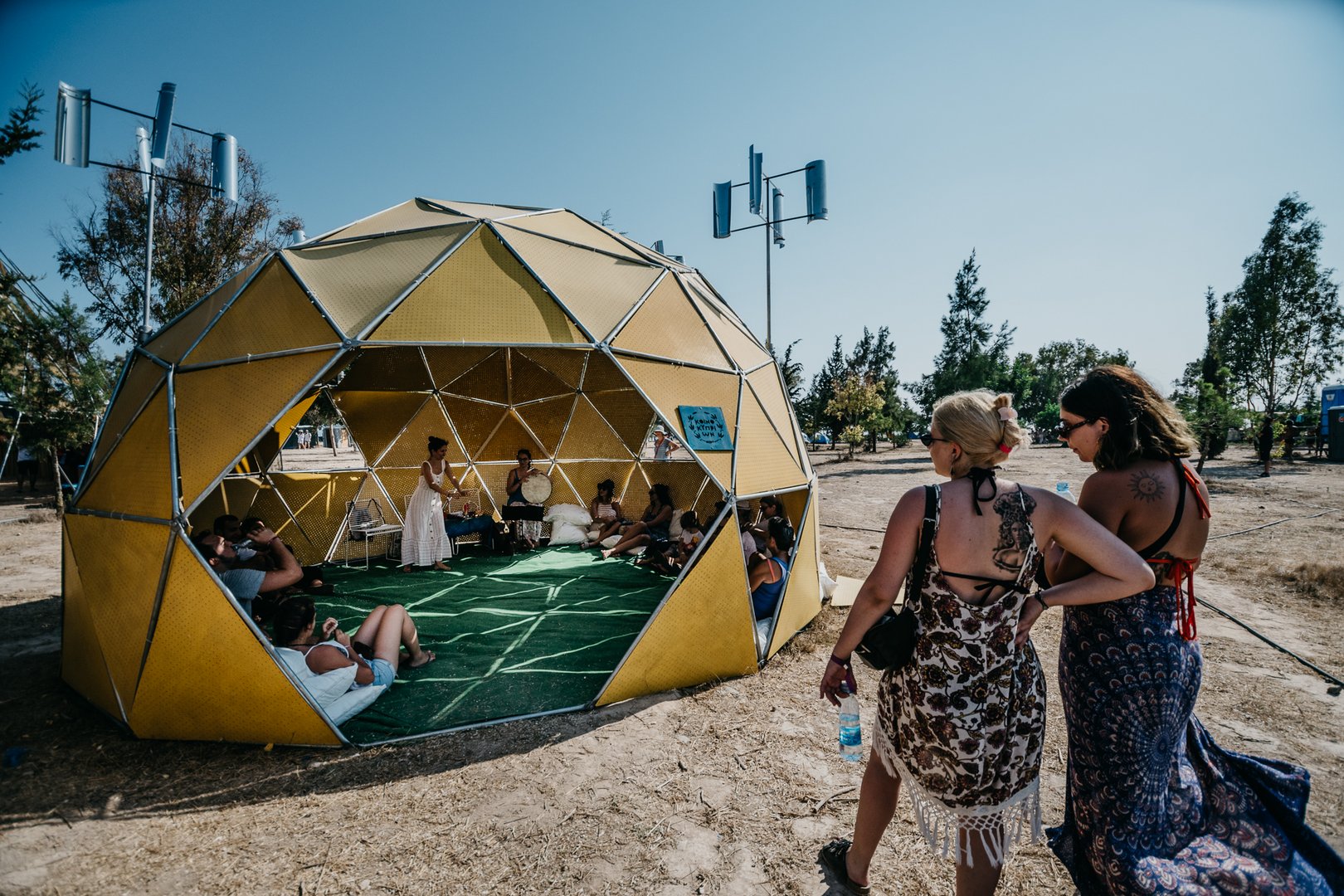 Οn this journey to sustainability, ΑfroBanana has the continuous support of the Bank of Cyprus which is embracing, for another year, the young artists and the alternative art and music. AfroBanana has always been committed to protecting the environment, and this year, to help support its efforts, the festival is joining forces with the bank as partners in sustainability.
The partnership is part of a strategy for supporting creative initiatives, with the participation of new artists and with actions that have a positive impact on the local cultural scene.
Bank of Cyprus has local roots and has focused on elevating society through long-term sustainable practices since its inception in 1899. It continues to work towards building a forward-looking organisation with a clear strategy, supported by effective corporate management aligned with environmental, social and governance (ESG) agenda priorities.
Reawaken the senses
Reuniting the community in a collective mission to break free and lean into unrestricted creativity and self-expression, our event promises to reawaken the senses through an unparalleled line-up of music, workshops, wellness activities, pop-up food and drink stalls and more.
The 2022 edition marks the 10th anniversary of Cyprus' favourite summer festival, with the past decade seeing AfroBanana grow to become the island's most impactful gathering, bringing together culture, wellness and community.
With a well-earned reputation as highly trusted curators of meaningful interdisciplinary experiences, the ABR Festival is famed for its strong participatory ethos and great artistic flair, with a whole array of scheduled happenings encouraging crowds to explore, discover and enjoy totally new interactive experiences.
Encouraging community practices
In keeping with our position as principal purveyors of top quality music, we, together with a hand-picked selection of collaborators, have put together perhaps the best line-up yet for 2022.
Aiming to introduce Cyprus audiences to diverse and promising new creators, while also supporting established names on the creative scene, AfroBanana 2022 is a co-curated exploration of eclectic sounds and immersive experiences.
With such an incredible mix of activities, events and experiences, this year's festival promises to appeal to all ages and interests: a wonderfully immersive and magical escape for all.
Festival dates: Wednesday-Sunday, July 13, 14, 15, 16 and 17, Val's Place, Gialia, Paphos. Gates open at 14:00 on July 13 and close at 22:00 on July 17. www.afrobanana.com