For a weekend escape that entails nothing more adventurous than what is on offer inside the confines of the hotel, PAUL LAMBIS finds the perfect spot
There is a resort in Cyprus that has not only succeeded in fusing modernity and tradition, but has also redefined what it means to receive genuine Cypriot hospitality. Located adjacent to Nissi Beach, one of Ayia Napa's most photographed beaches, the spectacular NissiBlu Beach Resort from a distance reminds one of a luxury liner cruising over Cyprus' eastern shoreline. The hotel takes its name from both its well-known position and the turquoise waters that frame it.
After a refreshing drink and a quick respite on a soft couch in the lobby, I went to my luxurious sea view room. "NissiBlu's smart-room technology has set a new standard for our guests to enjoy a differentiated and personalised five-star experience," General Manager Constantinos Victoras said. "All facilities are conveniently controlled and accessed via a tablet or app installed on guests' personal smartphones."
After unpacking my baggage and getting acquainted with the hotel's digital amenities, I put on sunscreen, plugged my ears into Spotify's summer playlist, and made my way to the large, lagoon-style swimming pool.
NissiBlu has positioned its amenities in a way that always ensures privacy and accessibility. People with disabilities are accommodated in the hotel's open areas, which also feature non-slip flooring both around and inside the pool. The entrance to the swimming pool is supported by a large handrail to prevent slipping or falling, thus ensuring my safe admission into the water.
Like most five-star resorts, NissiBlu's passion is also evident in their culinary delights. The resort provides plenty of dining options within a variety of settings. "Every restaurant within the resort aims to satisfy the palate of even the most discerning of guests," Victoras told Living.
The breakfast and supper buffets are among the biggest and most varied I have ever seen in Cyprus. As soon as the restaurant's doors opened for breakfast, my initial impression of being on one of the world's most luxurious liners quickly resurfaced. The Mediterranean Buffet Restaurant's extensive menu, embracing the room from both ends, offered a variety of house specialties, including a section of elaborate desserts that would end my breakfast feast on a sweet note.
My plate was filled with everything from nearly every type of egg possible to sumptuous pastries made with painstaking attention to detail, traditional Cypriot delicacies, cheese, and cold meat choices, while healthier selections and diet-friendly meals are available for the more disciplined holidaymakers.
Although NissiBlu provides guests with an unmatched experience, the hotel is also accessible to locals who want to take advantage of the five-star amenities, including the widely acclaimed Genesis Spa, which is perfect for finding balance and wellbeing. "Our facilities include a reception where our attentive staff will guide you through a range of treatments that aim to stimulate the body and mind completely," Victoras added.
The resort places a priority on its visitors' wellbeing throughout their stay and offers a heated indoor pool, whirlpool, well-equipped, cutting-edge fitness facility, and sauna, free of charge.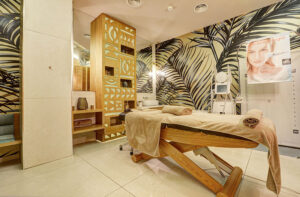 However, if you want to spend the day relaxing like I did, lounging by the pool with a good book, stuffed to the gills and sipping on a cocktail from the pool bar, I highly recommend setting an early wake-up call, indulging in an all-you-can-eat breakfast, and reserving your spot on one of the hotel's plush sunbeds.
As the day slowly eased into evening, I headed back to my room and donned my smart casuals so that I could broaden my culinary knowledge at Al Dente a La Carte, where the fusion of Cypriot and Mediterranean flavours took me on yet another gastronomic journey. Surrounded by cigars and a distinctive range of liquors and wines in a comfortable, sophisticated setting at Habanos Lounge Bar, I savoured the sunset while listening to a live performance of sax and piano melodies.
"We prioritise leisure and engage all five senses in it," Victoras said. And he was right. Despite having one of the best beaches in the world right outside my door, I chose to stay inside the hotel and immerse myself in its contemporary Cypriot culture, spinning on a carousel of culinary pleasures while enjoying the top-notch amenities and entertainment that prevented me from leaving.