By giving hair, people can give cancer patients strength, and also help raise funds for quality wigs finds ALIX NORMAN
Pasykaf wants your hair. As much of it is as possible. And once they've got it, they're going to send it away! Why? Well, to understand that, we have to go back almost 40 years…
In 1986, Dr Anna Achilleoudi (now the President of Pasykaf) and her colleagues determined that standards of care for cancer patients left a lot to be desired. The island desperately needed a strong support network for those diagnosed with cancer – and it wasn't there. And so they founded Pasykaf, the Cyprus Association of Cancer Patients and Friends.
They began by talking with patients, friends and family about what was required; speaking to health care professionals, and gradually working their way up to approaching government representatives. And what started as a small group of volunteers gradually grew and developed…
Four decades on, Pasykaf is an island-wide organisation that works towards cancer awareness and prevention, patient advocacy, professional and evidence-based health care services, quality of life, dignity in end of life care, and ongoing research. It's a person-centred, compassionate organisation that's staffed by people making a real difference. People like Artemis Komatina, a Counselling Psychologist and the Coordinator of Pasykaf Psychosocial Services.
Artemis has been with Pasykaf for 14 years now, and is quick to emphasise that her job is just as rewarding today as it was when she first began. Not many of us can say the same thing, even if we love what we do. But for Artemis and her colleagues, this is clearly a calling rather than a career: "We build relationships with those diagnosed with cancer; we work with and we often accompany them through their entire cancer experience. And through our work we learn so much; we grow professionally as well as personally, and we have the opportunity to help, care for, and inform cancer patients and their families."
As part of Pasykaf's services, the organisation is constantly launching new initiatives. One such is the I'm Still Me programme, which provides relevant information, emotional and practical support to individuals who experience physical changes as a result of cancer.
"Hair loss, skin changes, surgical modification of body parts, weight gain/loss, muscle weakness, lymphoedema, ostomy surgery, head and neck surgery, changes in sexual functioning… Not many people are aware of the legion of changes that result from cancer," says Artemis. "But with our Social Work Clinicians at the heart of the programme, we're able to offer innumerable services to patients; helping people to understand, manage, adapt to, and gradually heal from the many challenges of cancer."
The latest initiative, which falls under the auspices of I'm Still Me, is called Give Hair, Give Strength. Launched in June, it's a venture that asks us, the public, to lend a helping hand – and strand…
"We're asking the public – be they in Cyprus or abroad – to donate their hair to Pasykaf," reveals Artemis. "Why? Because we want to provide cancer patients suffering from hair loss with wigs…"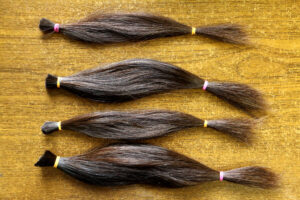 Obviously, there's a lot more to it than that. "Imagine what it's like to be diagnosed with cancer, to deal with chemotherapy, and struggle to come to terms with your entire life turning upside down," says Artemis. "Then, one day, handfuls of hair begin falling out. All you want is a decent wig – something that will make you feel like your old self again. But, with everything that's happening, you haven't got the time, the energy or the money to go out and find one…"
Finding a suitable solution for chemotherapy-induced hair loss is an added stressor that cancer patients simply don't need, Artemis explains. "Yes, there are some stores that sell wigs in Cyprus, but they're few and far between, and the cost is great. So, through Give Hair, Give Strength, we're hoping to alleviate much of that stress and financial burden: providing a wide range of wigs that a person can borrow for as long as they need, a practical solution that can provide comfort and a sense of normalcy through cancer treatments."
So how do we come in? What sort of hair is needed, where should we send it, and what happens to it after it leaves our heads?
"Hair can be mailed or physically dropped off at our offices in Nicosia, Limassol, Larnaca, Paralimni and Paphos, or donated through participating salons island-wide," Artemis explains. "If you're doing it yourself, we ask that hair is ideally 25cm in length, and pulled into a tightly secured ponytail or braid before it is cut. It should be clean and dry, and not permed, colour-treated, or highlighted; if you have temporary colouring or highlights these should be washed out before cutting. And grey hair is accepted but should not exceed five per cent of the total hair donation."
Donations are sent directly to Bergmann Kord, a renowned ethical and professional centre in Greece that specialises in high quality medical wigs for oncology patients. The donated hair is then weighed (a 30-centimetre ponytail can fetch hundreds of euros; made into a wig, it can be worth €3,000!), and the money raised goes immediately to the purchase of quality wigs, which will be sent straight to Pasykaf to offer patients completely free of charge.
In the past two months, the Give Hair, Give Strength initiative has already seen excellent results. "We've been able to purchase a number of quality wigs and lend them out to those in need," says Artemis. "And, with the help of the public, we know that, in time, we'll be able to offer more options from a larger selection of wigs of various lengths, styles and colours.
"For you, a simple haircut may mean an exciting new look; a more efficient morning routine; or a boost in confidence," she concludes. "But for someone with cancer, your donation can be life-changing. You're supporting someone who is dealing with burdensome physical, mental and emotional changes; you're providing them with choice, and you'll be directly helping them maintain that all-important sense of self as they go through their cancer journey."
To find out more about 'Give Hair, Give Strength', call 77771986 or visit https://pasykaf.org/