Eleni Philippou looks at the dining out options for vegetarians and vegans
A few years ago, one of the rare times vegans and vegetarians could really celebrate their diet with an abundance of choice was during Lent when most food establishments offer meat-free meals for those fasting. These days, even though the Cypriot hospitality scene still has a long way to go in catering for veg-eaters, a number of eateries offer plant-based dishes. And yes, beyond salads, grilled halloumi and bean burgers. Nicosia, in particular, has a handful of options that serve nutrient-rich and delicious vegan and vegetarian dishes.
First on the list is an eatery that is exclusively dedicated to green eating. Elysian Plant Based Kitchen Bar & Brunch Nicosia is a noteworthy haven for those wanting to taste meat-free food. It is the first 100 per cent plant-based kitchen bar in the capital with a health-conscious mindset that opened in 2020. Besides being meat-free, the kitchen bar is also refined sugar-free, white flour-free and environmentally friendly. Its large menu includes breakfast options, smoothie bowls, salads, wraps and gyros, burgers and desserts. The Elysian Signature burger, a popular favourite, features a patty made with mushrooms, walnuts, brown rice, oats and minced beetroot topped with salad and a special sauce.
Annabelle, a Nicosia local who has been vegetarian for nearly two decades, names Elysian as one of her favourites. "I think more vegetarian/vegan restaurants should open up like this one where a vegetarian can for once have a whole menu to themselves and not have to skim through the menu to find the two foods that are suitable for them," she says. "So, I love this restaurant because the whole menu is an option for me and their food is delicious even for a meat-eater."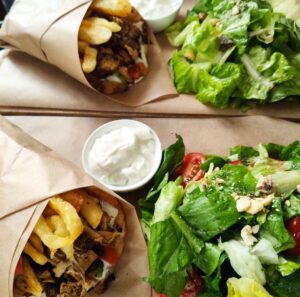 In a nearby neighbourhood, buried in old Nicosia behind the busy Ermou street, is another faithful vegetarian spot – Inga's Veggie Heaven. Although it has been open for years, its hidden location makes it a rather well-kept secret even within the plant-based community. Located on Dimonaktos street near the artists' studios, the restaurant is owned by and named after its Icelandic chef Inga. There she prepares a daily menu with vegan and vegetarian meals that usually features a delicious aubergine and feta lasagna, beetroot and chickpea falafel and stuffed peppers.
"This is my favourite vegan/vegetarian restaurant, Inga's Veggie Heaven," says Nicole who has been vegan for the last five years, "first of all it has been around for years and all things are made from scratch and are super fresh. The environment there is also very welcoming and the food is bursting with flavour, my all-time favourite meal to eat there is the Vegan BBQ Pulled Jack that comes with lovely chips and a great salad."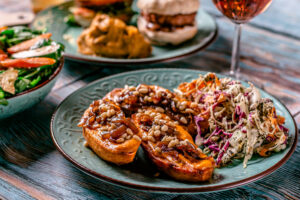 A more recent addition to Nicosia's plant-based scene is Evergreen Vegan & Vegetarian which sits within the Nicosia Municipal Gardens. Nestled between the park's tall trees is a small kitchen that is open for coffee and vegan cakes as well as a vegetarian dinner menu. Think rice noodles with a homemade teriyaki, ginger and tahini sauce, sweet potatoes loaded with a cashew spread and pine nuts, pizzas and veggie burgers. The venue also serves cocktails that accompany the weekly live music nights it hosts during the summer months.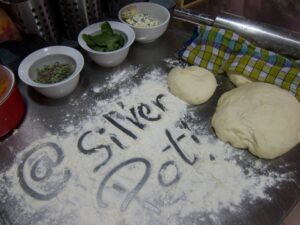 On Themistokli Dervi street is the colourful Silver Pot, a café-eatery that serves healthy, appetising lunch meals and desserts. Though it is not exclusively plant-based, Silver Pot was one of the first eateries to offer a balanced menu of meat and green dishes. Along with a large selection of hearty salads, almost more than half of the menu is meat-free. This includes its popular weekend brunch, lunch and sweet treats and its daily fully-packed tables make it a local's favourite.
Though more choice is available now, it is still a handful of eateries that dedicate a large portion of their menu to non-meat eaters. Most of Nicosia's food establishments only offer a limited option of plant-based dishes and usually lack creativity and flavour. "I feel a lot of restaurants don't put much effort in when it comes to vegan/vegetarians, and always advertise Vegan/Veggie options and label existing things they have on the menu like falafels, salad, chips and dips," adds Nicole.
"If some eateries dedicated some time to create two or three great plant-based options that stand out on the menu that would make a lot of people happy. Something else restaurants could do that makes us vegans/vegetarians feel special is to dedicate a small section of their menu just for us with proper labelling in order to avoid all the questions and so we know where we stand with what is offered."