Paphos is a coastal city offering a relaxed tempo of life to its visitors and residents, and an ideal location for those seeking luxury living. For some, such living means 24/7 access to a quiet place where you can connect with nature and the sea. For others, it means a more active life, where activities like surfing and scuba diving are part of their everyday rhythms. Luckily, Paphos offers a little bit of everything and is perfect for a range of lifestyle preferences.
Leptos Estates offers a unique selection of properties: from modern, large and luxurious villas, to small, cosy apartments, while catering for all budgets.
Examples of Leptos Estates' alluring developments, include Kamares Village – a magnificent hillside development with views of the sea; Armonia Beach Villas – a limited selection of outstanding beachfront detached villas; the award-winning Adonis Beach Villas developed alongside the renowned 'Golden Mile' of Paphos. Located on the coastline and in the pristine, sought-after area of Coral Bay, the property development group's five-star, award-winning Coral Seas Villas is a gated development with luxury onsite facilities. Venus Gardens Resort, currently in its ninth phase of development, is a coastal retreat nestled within lush, landscaped gardens in a community-style environment.
The easy-on-the-eye Paphos region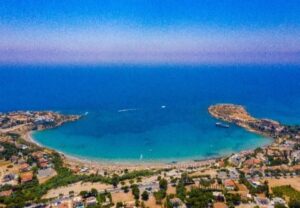 is renowned for its sun-drenched beaches, clear waters and wonderful coastline. The entire district boasts 27 beautiful beaches that are open to the public, 16 of which feature the iconic blue flag in recognition of their high environmental and quality standards. Among the most popular is Coral Bay, a 600-metre-long crescent bay of soft white sand and clean blue waters. This family-friendly beach is ideal for a fun day out. Available in the area are restaurants, beach bars, water sports and the luxurious five-star Coral Beach Hotel and Resort, part of Leptos Calypso Hotels Public Ltd.
Life in Paphos is truly one of a kind, with its residents and visitors spoiled for choice. The sandy beaches, the culture, the activities and the sites one can explore and get involved with – all of these attributes make Paphos a very attractive destination. Furthermore, in addition to fantastic views, natural beauty and in-expensive living, life, in Paphos, is more relaxed and laid back, which means there are many opportunities to go outside and savour the beautiful attractions. The cost of living is generally lower, tax rates are also very low compared to other countries in Europe – a fact that has drawn many international companies to set up operations on the island, creating jobs and providing employment opportunities.