Alaska is by far the coldest state in the US (right now, they're lighting their fires and welcoming the first snowfall of the year!). But among the Lower 48, it's North Dakota that holds the record for iciest climate, enjoying winter lows of -30C. But it's got more to offer than cold: this is a place that's famed for its sweeping national parks, abundance of sunflowers, and quaint churches.
Here, unemployment is among the lowest in the nation; the workforce is happy (the second happiest after Montana); and the state ranks in the top 10 for best places to raise a family.
Like much of the Midwest, North Dakota was originally settled by Europeans. But here, the influx was mainly Norwegian, and much of the state cuisine had its roots in Norway…
The state's many churches often host Norwegian-inspired fellowship dinners, and the annual Norsk Høstfest (held every October) is the largest Scandinavian Festival in North America. Even daily meals tend to come more as a smorgasbord of dishes rather than distinct courses.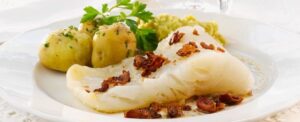 Lefse (a traditional soft Norwegian flatbread made from potatoes, and cooked on a large, flat griddle) is a staple at every meal, as is rømmegrøt, a sort of thick, Nordic-inspired porridge that includes sour cream, whole milk, wheat flour, butter and salt. Pickled herring (caught locally in rivers and lakes) is another popular food that's made its way across the Atlantic, and lutefisk (a type of aged, dried whitefish that's salted and pickled in lye; definitely an acquired taste!) is ubiquitous across the state.
Of course it's not all Nordic nosh. North Dakota is renowned for its cattle – of which there are three times as many as people! Hence the wildly popular hot beef sandwich, a piping concoction that's swimming in gravy and served with creamy mashed potatoes – exactly what you need during the big freeze. After all, this is the state where Fargo is located. Need we say more?