With summer in full swing, there has been a steady flow of friends and family visiting Cyprus for their holiday. Hand-in-hand with this is their desire for a traditional, home-cooked souvla! However, after a point, there is only so much grilling a man can do so I hung up my skewers and we headed out for a meal, and needing a break from the meat, we went for fish.
With a plethora of options available in Zygi, we headed that direction just to see what happened. Most restaurants have a beautiful sea view and the area is generally quiet. We stopped at a tidy looking place called Landa which is actually in Ayios Theodoros, just next to Zygi. Not having a reservation, we tried our luck and the owner was very friendly, welcoming and gave us a table straight away. There was a gentle sea breeze and a great view.
The menu has all the fish options that you would expect from such a restaurant – nothing ground-breaking but we weren't expecting that, the focus was on having something fresh and tasty. However, if you find yourself at Landa and not in the mood for fish, there are a couple of pasta dishes, souvlaki, sieftalies and burgers.
Keeping in line with the relaxed, carefree mood, we went for the easy option and ordered meze. It didn't take long for the cold Keos to come out, with glasses that had clearly been kept in the freezer! No sooner had we said cheers and taken our first sip than the salad, a few dips, olives and bread came out. This is where you have to remind yourself to take it easy, don't fill up on bread but then somehow end up with a pile of fresh, crisp salad, bread and dips on your plate. To be fair, it was difficult to resist the tzatziki; it was really good!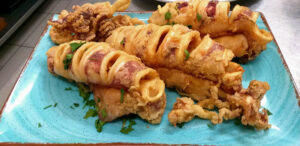 The meze started of slow and small, some mussels and prawns. The mussels had a touch of a garlic flavoured sauce, and the prawns were both fried and grilled. I really enjoyed the grilled ones and having had those, I felt it was a waste to fry others. More fried fish came out and I was starting to wonder if this was the start of a pattern! However, despite being fried, the white, fleshy meat inside was very tasty.
Although I took the fried part off of my fish, I was looking forward to the fried kalamari. It was brought to the table and it was the first time I have seen the actual whole kalamari brought out like that! It did not disappoint. The kalamari was so soft, easy to cut through and tasty. In addition, it was accompanied by some fresh, hand cut, crispy chips.
Fast forward to the 'final dish' and we were brought a very large grilled Tsipoura (Sea Bream) alongside grilled cuttlefish. I cheekily nabbed a bit of the tail of the Tsipoura – very few bones. Once again I reached for my olive oil and lemon, tucked in and really enjoyed the tender Tsipoura. Likewise, the cuttlefish was cooked really well! If overdone or not fresh, it has a tough rubbery texture but this was nothing like that at all, it was brilliantly done!
While I enjoyed the meze, I found it a little on the pricey side. However, I am glad I had it because I now know which of the dishes I really enjoyed and so next time, I can order a selection of favourites for the table and feast on those!
VITAL STATISTICS
SPECIALITY Seafood
WHERE Landa fish tavern, Leoforos Ellados 39, Ayios Theodoros, Larnaca
CONTACT 24 440002
WHEN 10am-11pm (Closed on Monday's)
HOW MUCH €28 for meze