We can thank Budapest for the biro and the Rubik's cube. Budapest is built on a vast labyrinth of caves, which stretch for miles and miles beneath the city. In recent centuries, they've been used as air raid shelters, a hospital, and even as a gaol (apparently Vlad the Impaler, a.k.a. Dracula, was imprisoned here)!
It's the Danube (and associated water sources) that's helped carve out these caves. Europe's second longest river rises in the Black Forest, and flows almost 3,000 km in its journey to the Black Sea. On the way, it passes right through the centre of Budapest, lending it the nickname 'Queen of the Danube'. It's also known as the Capital of Spas, thanks to the mineral-rich waters of its many thermal basins – a major wellness draw for tourists.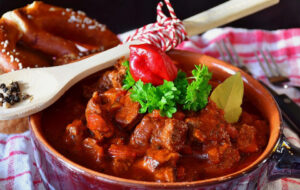 Visitors may not, however, benefit quite so much from the local cuisine! Budapest is famed for its heavy, heart-warming dishes, which tend to be heavy on meat. Beef goulash is a staple here; by far the most popular meal on the menu, and the entire nation's official dish. Originating in the 9th century with Hungarian shepherds (who dried the meat and packed it into a sheep's stomach for their long journeys into the hills), goulash today consists of a comforting beef stew with a rich paprika seasoned broth.
Which brings us to the city's best-known seasoning. Made from dried, ground red peppers, paprika is an eminently Hungarian spice. Apparently, the average Hungarian consumes more than half a kilo of paprika per year, possibly in dishes such as paprikás szalonna (a thick piece of cooled bacon, smothered in paprika and eaten alongside freshly baked bread), csirkepaprikás (chicken smothered in a creamy paprika sauce), and lecsó (a hearty vegetable stew containing tomatoes, peppers and oodles of paprika).
There are, of course, lighter foods to be found. But the most iconic dishes are still not terribly healthy. Strudel, imported from the Austrian Empire, comes in both sweet and savoury versions in Budapest: the former tend towards cherry, plum, apricot, and apple fillings; the latter generally feature cabbage. And the city is also known for its fine confectionary: sugary spearmint sweets have been a local favourite for centuries, along with dobos torta – a decadently rich chocolate cake filled with buttercream and laced with glazed caramel.