After the success halloumi registration as a Protected Designation of Origin (PDO) product, the government is already preparing an official request to register the island's second most important agricultural product, the Cyprus red potato.
A speech by President Nicos Anastasiades delivered by Agriculture Minister Costas Kadis at a rural festival in Lefkara on Saturday night, said: "We attach particular importance to highlighting the uniqueness of Cypriot products. The registration of halloumi as a Protected Designation of Origin product is a collective success and our constant pursuit will be the registration of our other agricultural products on the lists of geographical indicators of the European Union."
According to reports, because the Cyprus potato is so popular abroad, especially in the UK and Greece, there have been potatos sold under the Cypriot name and efforts had begun to class the Cyprus potato as a distinct product grown in the unique red soil used by farmers on the island, which is said to give the tuber its earthy flavour.
"A request is being prepared for the registration of our second most important agricultural product after halloumi, the 'red potato'," the president said in his speech.
The Cyprus potato hit the headlines around a year ago when the 'Big Potato' sculpture was unveiled to much light-hearted ridicule in the potato-growing village of Xylofagou. The sculpture was erected to pay tribute to the potato, the main product of the surrounding 'red villages' – named for their red soil – ahead of the 2021 Potato Festival.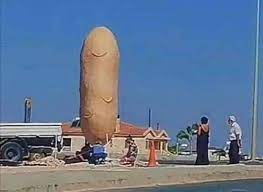 Elsewhere in the speech, the president said that in the same direction as protecting the Cyprus potato, at a national level, the government would soon submit to parliament for approval, the bill for the establishment of the awarding of the Cypriot mark to quality to all agricultural products grown in Cyprus.
He said it was not news that the agricultural sector in Cyprus was currently facing many challenges due to the 2013 economic crises, followed by the coronavirus pandemic, and now Russia's invasion of Ukraine that exacerbated the energy crisis and resulting in a food crisis and inflation.
With an election coming, the president also spoke of how much support the government has given to farmers and said there were big changes afoot under the Cyprus Tomorrow plan that provides for a significant number of projects and reforms "expected to have a direct and indirect positive effect on the agricultural activity of our country".