Several high profile cases involving foreigners have hit the headlines recently. And in the foreground is an international organisation making sure their rights are respected, but Cyprus courts are not its only target finds AGNIESZKA RAKOCZY
The Ayia Napa rape case, the George Low murder, the Paphos 'mercy killing', the 'useless' mukhtar of Mandria: Cyprus in recent years has had an array of highly publicised court cases. And all have seen 36-year-old British lawyer Michael Polak play a significant role.
But his interest is not just in Cyprus. Speaking in one of Nicosia's old town shisha places, Polak said he has also pursued justice in the last 10 years in Cambodia, Bangladesh, Myanmar, China, Somalia, Vietnam… With this litany he disabuses me of the idea that Justice Abroad, the London-based law consultancy he set up three years ago, focuses on our small Mediterranean island alone. His and his team's cases range from missing Bangladeshi lawyers and jailed Somali journalists to democracy activists imprisoned on terrorism charges in Vietnam and entire Uyghurs families detained in Chinese concentration camps.
"My first international case was about a British-trained barrister who was 'disappeared' by the authorities in Bangladesh in 2016," the Australian-born Polak said. "I saw a message about his disappearance on Twitter, contacted the guy who posted it and took on the case. I have been working on it ever since. The lawyer is still missing so we try to keep his case alive, put pressure on the Bangladeshi government, assure a consistent media coverage…"
Lawyer Ahmad bin Quasam was representing his father at a tribunal set up to try crimes committed by pro-Pakistani groups during the Liberation War in 1971. At the outset, it was widely supported by the international community but then criticisms about its lack of impartiality and fairness began to mount from groups like Amnesty International and Human Rights Watch. In 2014, Ahmad's father was convicted and sentenced to death by the tribunal, a verdict his barrister son sought to challenge. In August 2016, Ahmad was forcibly taken from his home by a group of plainclothes men. There was no arrest warrant. He has not been seen since, although reports have surfaced he is being kept in one of Dhaka's notorious secret detention centres, a place called "The House of Mirrors".
"If this is true, there is still hope we can get him out of there," Polak said. "We have to keep on fighting."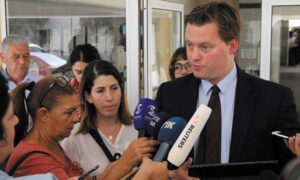 But why did he get involved in this case on a pro bono basis when his chamber's focus is on domestic criminal cases. Viewing the case as terrible, Polak said "I studied international law at the LSE and found this case interesting. I thought I would try to help."
Help? In this day and age, what lawyer just wants to help, the cynical might wonder. I have known him for over three years, having first met him during the Ayia Napa rape trial when he, along with two Greek Cypriot lawyers, represented the 19-year-old British woman convicted for lying about being gang raped (a sentence later overturned by the Supreme Court). I have witnessed him react when he hears stories of some kind legal injustice, most recently the case of the Greek Cypriot peace activist accused in the north of spying. So I for one believe in his passion and commitment for justice and truth.
For a long time, Polak didn't think of becoming a lawyer, his plan being to turn his success as a teenage goalkeeper into a professional career. "I was very tall and had good reflexes so I started playing in various teams. At 17, I pulled out of school and went first to Sydney to train and later to Poland, where I joined the Krakow Football Academy." He was really serious about it, wanting to play for a Polish second division team, to enjoy the crowd and the atmosphere. "But then I continued to get the same shoulder injury. I realised I had to rearrange my plans a bit… I had to withdraw…"
But why Poland? It turns out his grandfather was among the Polish military who managed to get to Great Britain following the German invasion of Poland. "Edward Polak was in the Polish Air Force training in Scotland as a parachutist," Polak explains. "During the war he met my British grandmother, they fell in love, married, had my father, and later moved to Austalia." Polak still has family in Poland.
His pro-football career over, although he still plays a bit and is a "big fan" of the current Australian national team, following them to matches "all over the world", Michael moved to Italy for several months, making ends meet with restaurant jobs. Then he opted for London, given his father's British passport and mindful that he too is "a British citizen as well".
Still athletic, fit and drawing on his Byron Bay childhood, he became a swimming instructor offering sport lessons to wealthy American kids. He also hired himself out to private parties as an expert cocktail mixer, a finesse he had acquired in Italy. Deciding that it was the right time to acquire further educational qualifications, he also enrolled in an access law course. "It was either that or a business course." He went on to study law at the City University of London.
At first he set eyes on joining one of London's big commercial law firms but "a very good international law lecturer made me realise I would be more interested in going the barrister route. To do so meant I needed more experience, so after graduating in 2010 I went to South Africa, killing two birds with one stone. I saw the World Cup and found myself a three-month intership with the Black Sash human rights organisation, the NGO once known for its anti-apartheid activities and now focusing more on social and economic rights."
After heading back to Australia to work as a solicitor, Polak applied for an intership with the UN-backed genocide tribunal in Cambodia, which was trying cases of mass murder committed under the Khmer Rouge regime. "I was given a position with the defence support section for three months," he explained. "We were providing support for all the defence teams, doing lots of general research, checking the backgrounds of the judges, etc. The tribunal was half international and half Cambodian. Everything was done in three languages, English, French and Khmer."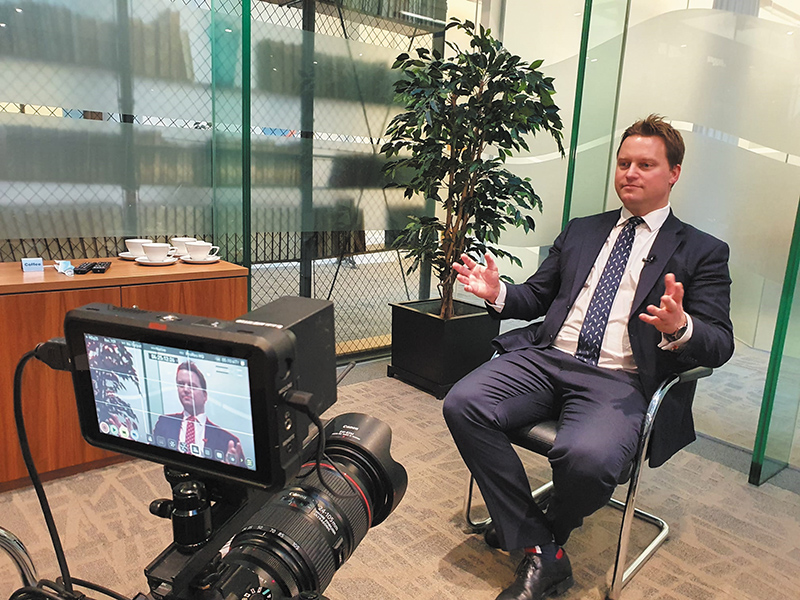 How useful are these international justice tribunals, and can they really serve their intended purpose? "When you look at some of the current authoritarian regimes, you can see that definitely these people think they will never be put on a trial but the truth is that more and more such trials do take place and more and more people are being held responsible for their actions. Dictators are not as safe as they used to be…"
Finally returning to London in 2012, Polak struggled initially, eventually, a voluntary position opened up with the London Olympics panel of lawyers, and later a paralegal job working on the inquest into the death of Alexander Litvinenko. The initial team was small for the task so it was challenging and interesting, he said. "Only two or three of us, based in Camden because that's where he died. Some great barristers were there – Michael Emmerson representing Litvinenko's wife Marina, others from the government and Russian sides. One of the saddest things was that when the Litvinenkos got to the UK, he took his small son to the Tower of London to show him the Crown Jewels and told the boy 'now, you are safe, they will protect you'. But they were not safe. They got him."
In 2000 Litvinenko fled to the UK where he was given asylum. But in November 2006, he suddenly fell ill and was hospitalised after, as it was concluded later, being poisoned with polonium-210. He died from the poisoning on November 23 the same year.
Just before the Litvinenko case, Polak wrapped up his Bar training and was in a position to start the professional career he aspired to, leaving his role at the inquiry.
As a criminal barrister he spent six months following others around and then went to a magistrate's court daily, covering three-to-four cases a day. "There was lots of lower level stuff to follow, domestic violence, guns, drugs and the like. The aim is that even if you are not good at defence at first you are supposed to be very good at it at the end." His pupilage completed, Polak went on to join London's Church Court Chambers, where he still works. He also completed a Masters in public international law at LSE, where the international environment "gave me some very good contacts around the world". Finally he was ready to set up Justice Abroad.
The idea behind it is quite simple. "If you are a millionaire and you have trouble overseas you can hire a big corporate firm to represent you and help you deal with your problems. But if you don't have money you are stuck most of the time. This means there is a gap in the market. Justice Abroad exists to fill that gap and to provide international assistance to foreigners caught up in the legal systems of overseas jurisdictions. Also we advise on international human rights litigation and advocacy."
So is there a link between what Justice Abroad does and his work as a barrister in London?
"Justice Abroad is a consultancy. We work with local lawyers wherever the case takes place. Sometimes, if there is an English element to the case, then I will bring it into the Chambers, but otherwise we keep it apart."
But someone still has to pay. "Everything depends on the case. Crowd-funding for the Ayia Napa rape case was very successful. However, not all cases generate such interest so in some instances clients pay privately…"
In fact, the first case Justice Abroad ever took on was the Ayia Napa rape. It is now before the European Court of Human Rights since, following the decision by the Supreme Court in Cyprus to overturn the British woman's conviction, her lawyers' request that the Attorney General re-open the investigation into her rape was refused.
This week Polak has again been in Cyprus, this time to attend the hearing of 75-year-old British pensioner David Hunter, who is on trial for the pre-meditated murder of his terminally ill wife. Hunter has admitted to the mercy killing of his wife saying he could not bear to see her suffering. Justice Abroad plus local lawyers Nicoletta Charalambidou and Ritsa Pekri have called on the Attorney General of Cyprus to change the charge from murder to assisting suicide, a request that has been rejected as it does not exist as a charge in Cyprus.
"This is the major problem with the Cypriot legal system," Polak claims. "Here the Attorney General can make the most arbitrary decisions and nobody can challenge him. In the UK you can go to the higher court and you might win. In Cyprus the only next step available is the ECHR." He does not believe this to be "a good state of affairs", arguing that it represents a breach of the right to a fair trial. He maintains that a higher court should have a final say and that it should not be left up to "just an individual".
So, despite seeing so many problems in so many places and experiencing so much that passes for obstruction of justice, does he remain convinced that justice will always prevail? "There is always something you can do to push for justice," he said. "For example, we have the case of an Australian Vietnamese democracy activist who crossed illegally to Vietnam from Cambodia on a fake passport to meet with other activists, and who has now been sentenced in Vietnam on terrorism charges to 12 years in prison. The Australian authorities said he was found guilty by a proper court hearing so they cannot get involved in another country's court proceedings. This is a standard government response in such cases. So we submitted an application to the UN Working Group on Unlawful Detentions on grounds that he didn't have a proper court hearing and that he should be released since there is no evidence that he had been involved in terrorism. Now that we have the UN ruling agreeing with us, we can start pushing the Australian government to do something about it.
"We are very lucky when and if we live in countries where we can have recourse through the law. The law and the courts are vitally important. Just knowing that when the government, a government department, the police or an individual does something wrong we can turn to the courts and we can have faith in them makes the whole difference."