By Lauren Taylor
A wok is something many of us have in our kitchen cupboards – and yet most people don't really know how to use it, says Jeremy Pang.
The Chinese-British chef says: "The mass market mindset on Asian cuisine is definitely more educated today than it was 10 years ago, but the basic knowledge of what a wok is and how it should be used is still quite low level."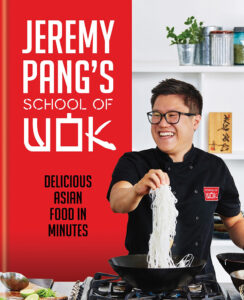 Born in the UK to Chinese parents, Pang spent two years living in Singapore as a child ("Where I really found my love of food," he says) and later Hong Kong, but spent most of his childhood in the UK – while "having the best of both worlds" by travelling extensively across Asia.
Growing up in a "foodie family" – he comes from three generations of Chinese chefs – it was his dad who encouraged him to pursue a career in food before he died in 2009.
In his third cookbook, School Of Wok, Pang weaves his way through Chinese, Korean, Japanese, Thai, Vietnamese, Singaporean, Malaysian and Filipino dishes. "It's a nice nod to the wonders of Asian cuisine – and bringing that to the home table without too much stress," explains Pang.
Crucially, every recipe needs a wok, and it turns out we might have been using it all wrong.
The cardinal sin of stir-frying is throwing ingredients into a wok before you've prepared everything.
A stir-fry may be a student meal of choice, but it's gained an inaccurate reputation for being simple. Yes, stir-frying is quick but that's a difficulty in itself.
And, "you need to get used to high heat!" says Pang.
"One of my catchphrases is never lose your sizzle – if you don't hear something sizzling, especially stir-frying, then you're not stir-frying – you're stir-boiling."
There are a handful of ways to cool the wok, according to Pang. "Number one is stirring, number two is folding your ingredients around the wok, the third one is a wok toss and the fourth, which a lot of people laugh at, is what I call tongue in the head (basically like making an omelette, stirring with your spoon hand and shaking with your left hand)."
Adding new ingredients will cool the pan down too.
Salt and Sichuan Pepper Prawns
serves 2
300g shell-on raw tiger prawns
2tbsp cornflour
Vegetable oil
6–8 garlic cloves, finely chopped
½ thumb-sized piece of ginger, peeled and finely chopped
1 large red chilli, finely chopped
1–2 spring onions, finely chopped
For the spice mix:
1tbsp Sichuan peppercorns
1tsp salt
½tsp white pepper
Pinch of sugar
Butterfly the prawns by cutting through the shells down the backs, running your knife through the meat to open them out. Stop slicing just before the tail to keep it intact. Scrape out the black digestive cord, then place the butterflied prawns in a mixing bowl and wash well in cold water. Score horizontally across the prawn meat four to five times so that they open up nicely while cooking, then dust them with the cornflour.
For the spice mix, toast the Sichuan peppercorns in a dry pan, swirling them around on a medium heat for one to two minutes until they pop and become fragrant. Add the salt to the pan, then add the white pepper and sugar and grind to a powder.
Heat two to three tablespoons and bring to a high heat. Place the prawns meat-side down in the pan and fry for three to four minutes, until they start to turn pink. Turn and cook the prawns until pink all over, then remove from the pan.
Heat one to two tablespoons of oil in your wok over a medium heat. Add the garlic, moving it constantly until it starts to brown and separates a little – about 30 seconds. Then add the ginger, chilli and spring onions. Throw in the spice mix and immediately add the cooked prawns to the wok. Toss through five to six times in the wok to fully coat the prawns before serving.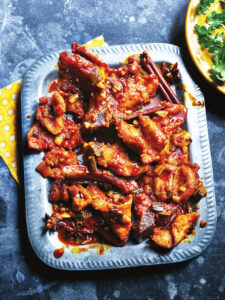 Peking Mandarin Pork
Serves 2
2 pork chops or shoulder steaks
½ thumb-sized piece of ginger, peeled and roughly chopped
2 garlic cloves, roughly chopped
1 spring onion, cut into 2cm chunks
3 star anise
1 small cinnamon stick
Vegetable oil
Handful of coriander leaves, to garnish
For the marinade:
½tsp salt
½tsp Chinese five spice
¼tsp sugar
1tbsp Shaoxing rice wine (or dry sherry)
1tsp sesame oil
4tbsp cornflour
For the sauce:
½tbsp orange marmalade
100ml fresh orange juice
1tbsp rice vinegar
1tbsp plum sauce (or ketchup)
1tbsp light soy sauce
1tsp dark soy sauce
100ml chicken stock
Carefully bash the pork chops or steaks to tenderise the meat, then cut into three to four centimetre pieces and place in a mixing bowl. Massage the marinade ingredients into the pork, taking care to add in the cornflour at the very end and mix well.
Mix the sauce ingredients together in a small bowl.
Deep-fry the pork in vegetable oil in two batches at 180C for four to five minutes until golden brown. Transfer to a plate lined with kitchen paper.
If you used your wok for deep-frying, carefully pour out the oil into a heatproof bowl to cool and give your wok a quick wipe with kitchen paper. Place the wok back on the hob and bring half a tablespoon of vegetable oil to a high heat until smoking hot.
Add the ginger, garlic and spring onion to the wok and stir-fry for 30–60 seconds before adding the star anise and cinnamon stick. Next add the sauce to the wok and bring to a vigorous boil. Once bubbling rapidly, add the fried pieces of pork into the sauce and vigorously boil for a further one to two minutes. Garnish with coriander and serve.
Jeremy Pang's School Of Wok: Delicious Asian food In Minutes is available now