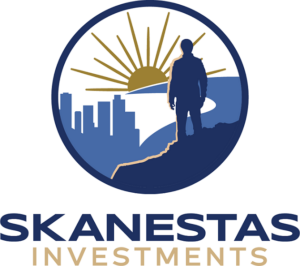 Regardless of what is going on in the market and the world, the demand for traditional brokerage and portfolio management is not going anywhere.
The client-centred approach of Skanestas Investments, as well as its vibrant and dynamic team, helps them stand out from competition. But is that all it took to get them to where they are today?
Let's take a deeper dive into the company's formation, improvement and, of course, the milestones ahead.
Early history
With a clear vision of business opportunity and operation in terms of the EU and US stock markets, it was clear Skanestas would be built upon, and adhere to, all regulatory standards. And what better hub for a connection to both the EU and US stock markets than Cyprus?
Ever since the company's incorporation in 2013, it has grown rapidly, from as few as four employees to over 40 today. Additionally, the years 2020-21 saw an impressive elevation in research and development plans, which involved IT, R&D and Trading departments. Skanestas transformed from a buy-side broker to a real asset manager, demonstrating the ability to adjust to market changes and follow strategic plans consistently.
Licensing and company development
Having received its licence in October 2014, the company became fully operational by January of 2015. Moving forward, by early 2016, thanks to the dynamic inflow of customers, the enterprise was already showing its first substantial results.
But where to go from here? Further growth of the company implied the necessity of using its own capital. Skanestas had its licence extended in January 2019, by adding dealing on their own account. In April 2019, Kirill Kuchinskiy joined the Board of Directors, also taking on the role as one of the company's executive directors. In October 2019, he became the owner of Skanestas Investments.
Products
It was under Kirill's leadership that the company's direction and goals were reshaped, as the focus shifted from order execution to portfolio management and structured solutions, which are now its main offering.
These products, abiding by the principles of best execution, fairness and transparency, were exactly what allowed the streaming of an additional flow of liquidity towards the company.
The company's first and probably main focus currently is portfolio management. Portfolio management is based on the profit-sharing model, where a scaled performance fee is charged on the profits, subject to a hurdle rate and a high watermark. The key advantages for the customers are, no doubt, the high watermark principle, absence of management fees, as well as no interim commission charging – only upon result.
Skanestas Investments has tailored different strategies under portfolio management to suit the needs of clients, with each allowing for varying levels of risk and return.
It has combined unique research with short-term momentum, mean reversion, trend following concepts with automatic order execution and risk procedures. Apart from well-known concepts, they utilise such signals as volatility breakout, reversal, factor timing, and more.
Discretionary portfolio management is the key product for future development.
Skanestas amid market volatility, global recession and regulation
In the current macroeconomic situation, trending towards increasing interest rates and liquidity outflow, Skanestas does not see global factors for the long-term growth of markets with stable trends.
The volatility that will be present in the markets is viewed by the company as an opportunity. Having done thorough research and created strategies adaptive to market trends, they are ready to face the new reality head-on.
The same goes for regulation and compliance. When it comes to the retail sector, the common position of regulators is complex financial products and services are not suitable for retail clients, meaning non-qualified investors cannot afford losses or fully assess their risks.
Retail clients of Skanestas have access to non-complex products only, such as shares and bonds. This fundamental restriction helps them remain 100 per cent compliant, while being on the cutting edge of regulatory innovation.
What makes Skanestas stand out?
When it comes to trading, Skanestas uses a systematic approach to managing customer assets, applying several diversified strategies that allow it to get the returns on both the rise and fall of the market.
The company also takes pride in their customer service and personalised solutions, which are made possible by a team of highly-qualified specialists and customer-focused employees.
Future plans
Skanestas' future plans include the security and maintenance of the ongoing financial viability of the company, as well as future developments, including listing the bonds of one of their affiliated companies, as well as expanding via a listed fund.
More milestones include largely switching to algorithmic trading by the end of 2022, as well as diversifying the markets worked with, from solely American to European and Asian, so as to grant portfolio management clients a wider choice of trading instruments.
Learn more about Skanestas Investments by visiting: https://skanestas.com/