By Sarah Coyne
I am not sure if everyone makes the same mistake as me, but sometimes we just ignore the restaurants right on our doorstep. And missing out on eating at Costas Koloni Tavern for all these years can only be described as a serious dining error. I often drive home, open-mouthed at the number of parked cars outside this establishment but for some reason, I have never stopped and eaten there. However, on a Monday night and with the place not looking the usual full to bursting, we stopped.
The location on the main road is not exceptional, but there is parking. The building itself is a chalet-style property. Inside, if they bought out a raclette or a fondue, you could certainly believe you were in Switzerland. With a very impressive central fire burning away, it certainly has the Swiss vibe. The menu though, is very Cypriot and offers a great selection of traditional dishes.
When we entered, the waiters were there to open the door and welcome us. They must watch for headlights in the car park, as they did this for all arriving guests during the evening. With the winter months upon us, this is a perfect venue for cosy dining, and an excellent meze. A big meal is never quite so appealing in the heat of the summer, but with the colder winter nights, this is the time of year that you can appreciate an indulgent feast.
The menu has a great selection of dishes to start, both hot and cold, including quite a few variations on halloumi. Then, moving to the main event, it is divided into steaks, Cypriot specialities (including moussaka), charcoal dishes and fish. While all these options tempted us, we finally decided to go for the Mini Meze, as opposed to the Full Meze or the Vegetarian Meze. The mini certainly seemed to be enough for us and was reasonably priced at €22 per head.
The Mini Meze started with a super fresh village salad topped with a generous portion of feta. Sometimes restaurants can be rather frugal, with their feta, so this was a good early sign. Six small starters accompanied the salad and two large pittas, piping hot, drizzled with oil and sprinkled with herbs. Mentioning the temperature of the bread, one of the things which made this whole meze so different, was the fact that every single dish was nice and hot.
The cold starters included a beetroot dip, which was delicious, a spicy aubergine one, the usual hummus and tzatziki, plus an incredibly tangy cheese dip with some dipping vegetables. Then the hot starters arrived with halloumi with herbs and a plate of tasty pork and beef sausages. The presentation certainly had a modern twist worthy of a much more expensive restaurant than this one.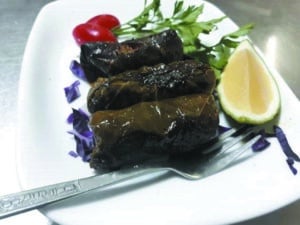 Moving to the main dishes, we enjoyed chicken souvlaki, a tangy rice dish, stuffed vine leaves, lovely stuffed mushrooms, pork souvlaki, sheftalia, beef stifado, which was full of flavour, a bowl of light and crispy hand-cut Cyprus chips and two lamb chops. They were all superb.
We have been travelling for years to a taverna which is over one and a half hours away. We thought it was the best, but upon reflection, it is far inferior in quality to Costas, which is just 10 minutes away. So, the moral of this story is that if you regularly drive past a restaurant in your vicinity with a packed car park, do not ignore it!
Finally, after all those dishes, we declined the included fruit platter and the winning combination of anari cheese with carob syrup. We will definitely try these the next time we go, which will be very soon.
VITAL STATISTICS
SPECIALTY Cypriot
WHERE Arch Makariou lll Avenue 118, Koloni, Paphos
WHEN Monday to Saturday – 6pm to 12am
CONTACT 99 175807
HOW MUCH Mini Meze – €22 per person