This healthful beverage soared in popularity during Covid. Now, for the first time, it's being brewed on the island – and sells out every month!
Cyprus definitely has more than its fair share of drink entrepreneurs! There are any number of local gins on the market, all brimming with indigenous herbs and spices, and more than a few unique tea blends found only on the island. And now, to add to the liquid love, we're getting our very own, locally-brewed kombucha!
A fermented, sweetened tea drink that's packed with vitamins and amino acids, kombucha rocketed in popularity during Covid thanks to its purported health benefits. As consumers shifted toward proactively addressing their diet and wellbeing, sales hit the $3 billion mark for the first time – and continue to grow. But kombucha isn't a passing trend. In fact, it's been around for millennia…
Believed to have been named for Dr Kombu, a Korean physician who brought the beverage to Japan, kombucha originated in Northeast China circa 200 BC. From there, it slowly made its way across Asia, appearing in Europe by the late 19th century (where it became kambucha in Russia, and Kombuchaschwamm in Germany). And by the 1990s, it had reached the US where, thanks to a host of health claims – the drink really took off.
"Of course it takes a little longer for these trends to come to Cyprus," says Demosthenis Katsouris who, along with younger brother Andreas, is behind the island's only locally produced commercial brand, Mikro Kombucha. "But since we're seeing more and more brands importing to Cyprus at great expense – bottled kombucha must be refrigerated for its entire journey to hold fermentation – we thought it might be interesting to make our own local varieties. The beauty of kombucha being," he adds, "that you can add any flavours you like, and Cyprus has some very singular tastes indeed!"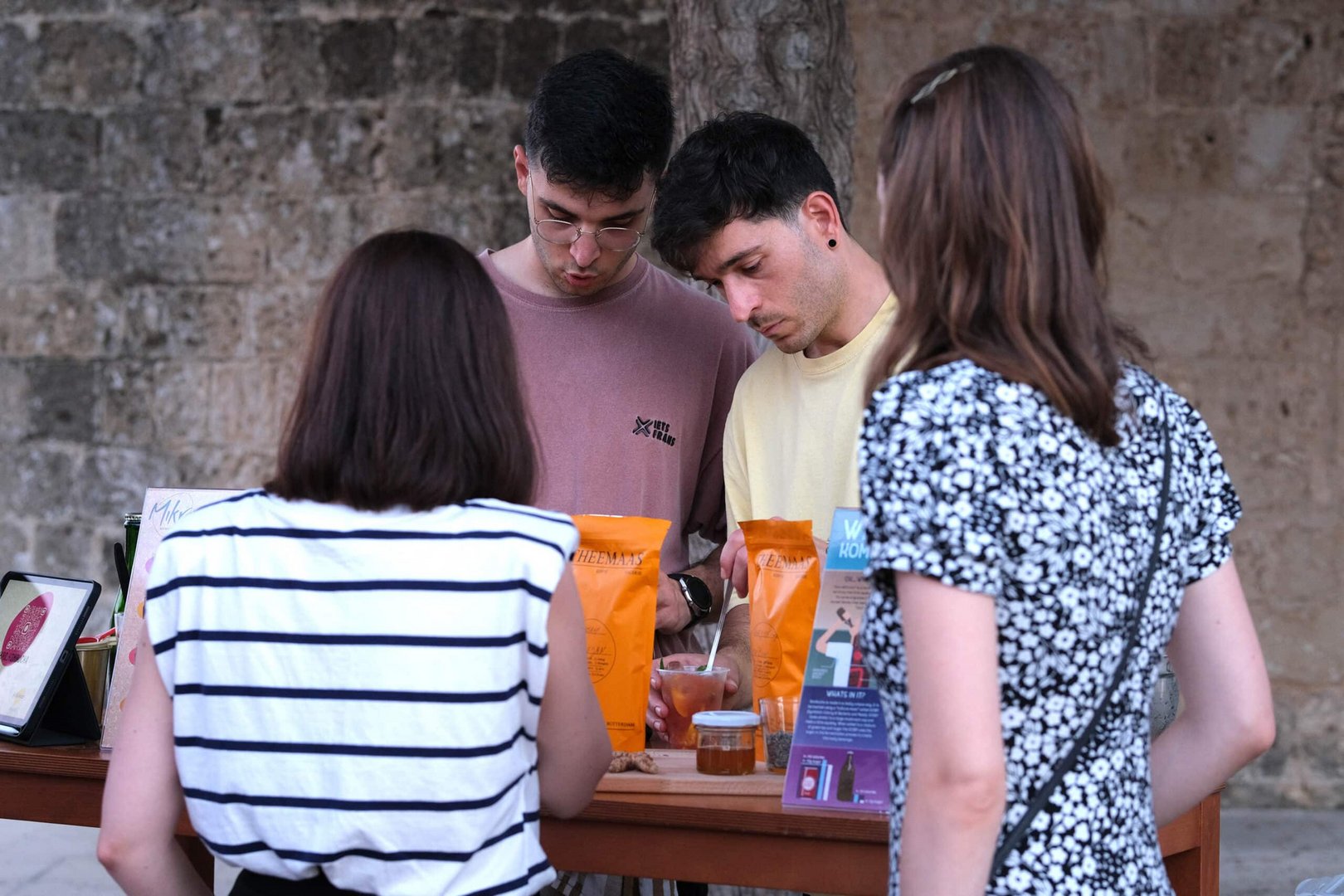 That's not to say we're going to be seeing halloumi kombucha anytime soon! But the two brothers do use homegrown botanicals wherever possible, infusing their four varieties with everything from indigenous lavender to local lemon.
"This is something that's been very important to us from the start," says Demosthenis. "Andreas and I both have a deep love of Cyprus and actively seek opportunities to give something back to the island. And, as a bit of a foodie, I'm also very much into local and seasonal flavours – produce that is sustainable, tasty, and healthy."
It was, in fact, health that began the brothers' kombucha journey. A bout of digestive upset led Demosthenis to try the drink, and his gut immediately began to improve. "Kombucha," he explains, "is fermented. So, like foods such as sauerkraut, kimchi and kefir, it has a number of probiotic benefits. It also contains a large amount of vitamins, specifically B12 – people often experience a post-kombucha energy boost – but only natural sugars, the kind you'd find in fruit. And since it's based on tea, you're also adding beneficial polyphenols to the mix."
While Demosthenis admits that the health benefits of kombucha may be somewhat overhyped, he's certainly seen the drink do far more good than harm. "Through the fermentation process, all the good stuff becomes more bioavailable to the body – it's sort of pre-digested by the bacteria."
Created using a SCOBY (which stands for Symbiotic Culture Of Bacteria and Yeast), kombucha is fairly easy to make at home. But it's a little harder to manufacture for the public, says Demosthenis. "At the moment, we're working out of our home kitchen," he says. "We use large, 10-litre glass jars that are completely sterilised between batches, carefully adding ingredients such as honey, lemon and ginger as needed, and we bottle by hand with the help of family and friends."
Such has been the success of Mikro Kombucha that the brothers are now building their own microbrewery in Paralimni. "It's certainly been a fast journey!" says Demosthenis.
The initial idea for a Cyprus-brewed kombucha came from Demosthenis, who thoroughly researched the product – even visiting breweries in London and Holland – before trialling his own brand in Rotterdam, where he's based for work.
"A friend gave me the SCOBY we still use to this day," he explains, "and I made three 500-mililitre bottles in my kitchen, all different flavours: lavender and hibiscus, ginger and lemon, and a carrot and apple. I was immensely proud of myself," he laughs, "and absolutely fascinated by what I'd produced. So I made a few more bottles and took them to a local market – and sold out immediately! But as I get older," he acknowledges, "my desire to give back to Cyprus strengthens. And as I knew there was no local kombucha produced on the island, I thought I'd give it a shot: I wanted to share the kombucha love!"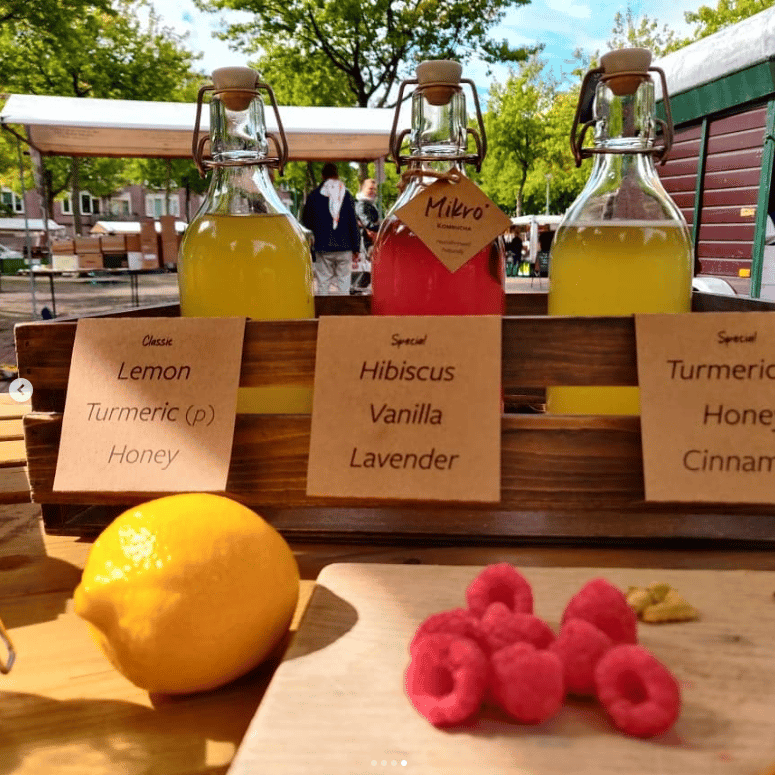 Fortunately, this desire coincided with Covid. And with Demosthenis back in Cyprus working from home, the opportunity was there. "I brewed some kombucha here and took it to a local restaurant, The Loop," he reveals. "both the owner and the chef loved it, and immediately began discussing food pairings! I also launched on Instagram and got more than a few orders that way."
When Demosthenis returned to Holland, his brother Andreas stepped in and took over the entire brewing and bottling process. But Mikro Kombucha is still very much a fraternal effort, with Demosthenis never more than a call away.
"We're still a pilot venture," he adds. "But we have gone from producing 70 bottles a month to over 400 in less than a year. That's roughly 150 litres a month, all sold through Instagram – there's an order form you can fill in if you're interested – or at a couple of local outlets in Paralimni."
By January, when the brothers hope to have their own microbrewery up and running, both production and flavours will increase. But for now, their four varieties are Ruby Lavender, which is redolent of lavender, hibiscus and honey; IPK, which is infused with hops; Punchy Lemonade, which has a ginger, lemon and turmeric flavour; and Hoppy Grapefruit, a self-explanatory name. And all sell out every single month. The kombucha trend, it seems, has finally hit Cyprus!
For more information on Mikro Kombucha, visit the Instagram account @mikro_kombucha